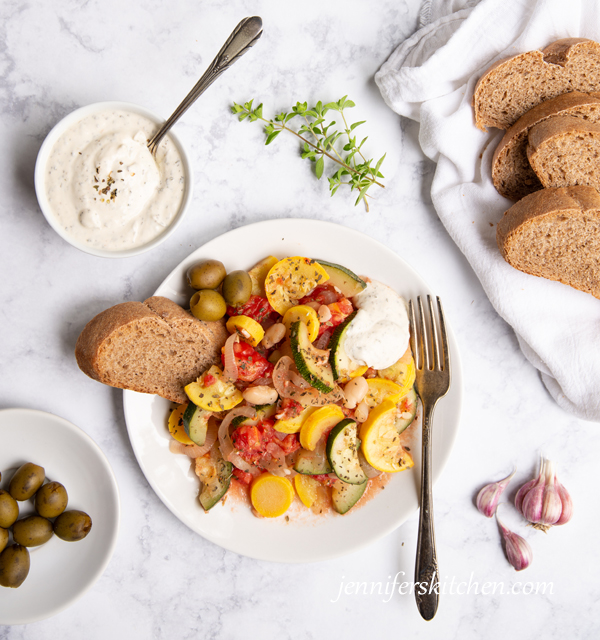 Summer Squash Saute
Yield 5 cups
A delicious and easy meal for summer time produce.
Ingredients
1 medium onion, halved and sliced
4 cloves garlic, minced
1 medium (or 2 very small) zucchini, halved lengthwise and sliced (about 2 cups)
1 medium (or 2 very small) yellow summer squash, halved lengthwise and sliced (about 2 cups)
1 1/4 teaspoons dried basil
1 teaspoon dried oregano
1 teaspoon granulated onion
1/2 - 3/4 teaspoon salt
1/4 teaspoon granulated garlic
3/4 cup cooked great northern beans, drained but not rinsed
2 medium fresh tomatoes, chopped
1 tablespoon Jennifer's Kitchen Creamy Italian Dressing - optional 
Instructions
Heat medium saucepan over medium heat until warm. Add onion and saute for 2 minutes. (Use this method to saute without oil OR saute in 1 tablespoon of oil.)
Stir in minced garlic and saute for an additional minute.
Stir in zucchini, summer squash, and seasonings and stir to combine. Cover and reduce heat to just over low. Cook, stirring occasionally, until the vegetables are tender, 10 to 14 minutes or until vegetables are tender-crisp.
Increase heat to medium. Stir in beans and tomatoes. Cook until heated through, about 2 minutes. Stir in Creamy Italian Dressing if using.
Serve hot with crusty bread or over pasta or rice.
Notes
The amount of time needed to saute the summer squash will depend on how mature the squash is, how much liquid is in the squash, and how hot your stove is.
If the tomatoes are really seedy, you might want to remove some of the seeds.
Recipe by JennifersKitchen at https://jenniferskitchen.com/2021/08/summer-squash-saute.html