Creamy Italian Salad Dressing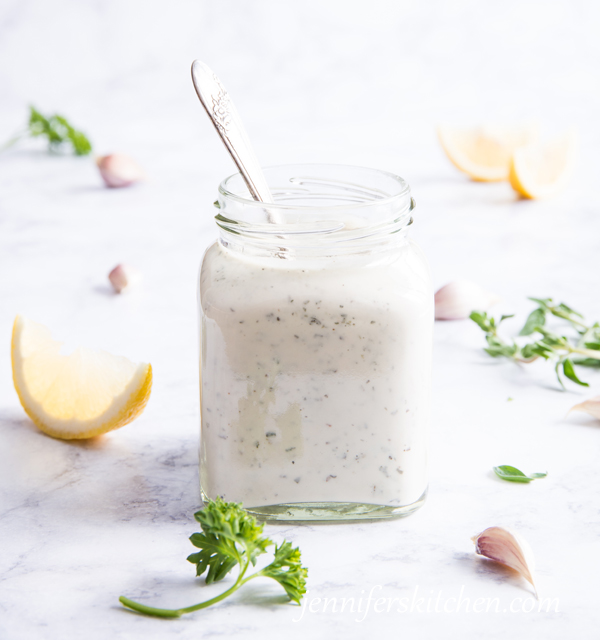 High in fiber and a great source of magnesium (which makes your bones strong, helps control blood sugar, and has even been shown to relieve symptoms of PMS) – there's no need to skimp on this salad dressing. It's good for you! So, go ahead – use as much as your little heart desires.
An Oldie but a Goodie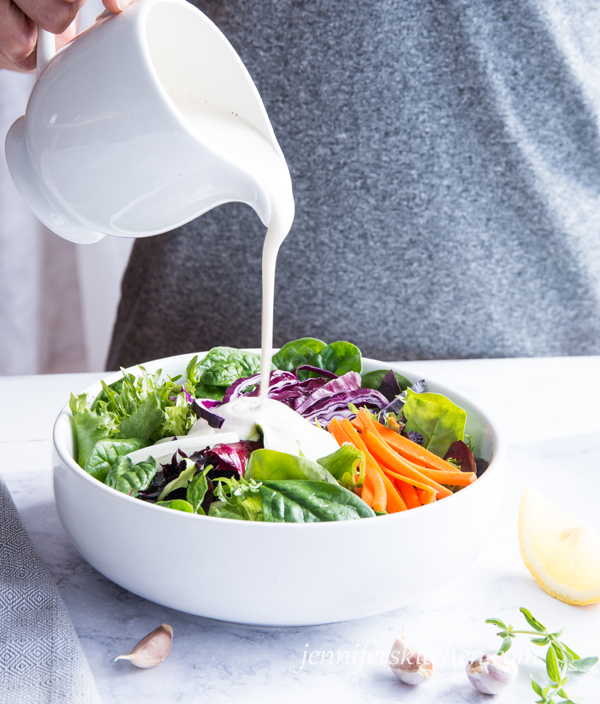 This homemade, vegan Creamy Italian Salad Dressing is actually a re-post of a recipe that I posted back in 2012. Why am I re-posting it?
1. This vegan Creamy Italian recipe has consistently been one of the most popular recipes on this blog, so I decided you deserved a pretty, new photo.
2. After 7 years of making this dressing almost every week and finding hundreds of creative and delicious uses for it, I wanted to share these ideas with you.
3. Fresh garden tomatoes will be here soon and this dressing makes the best – and I do mean the BEST – tomato sandwiches.
4. It's spring (!) and the fresh baby lettuce is just begging for some of this creamy, luscious dressing.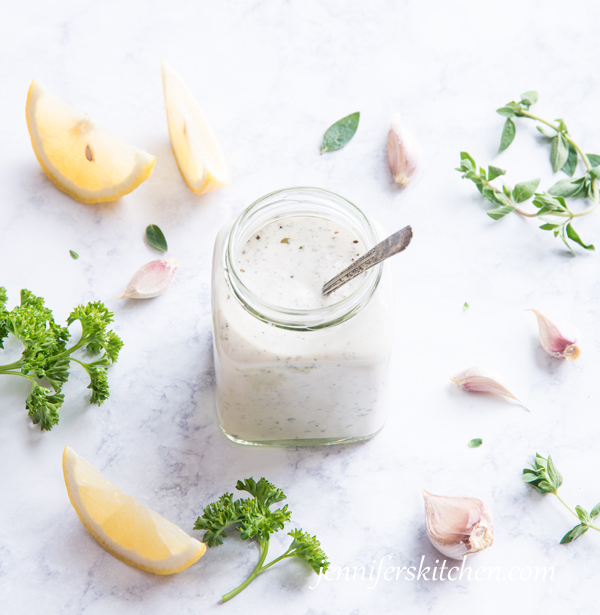 Beyond Salads
We eat this dressing – or variations of it – almost every week.
It helps transform a ho-hum salad into a fabulous Power Salad.
We also use it:
We love it. And I think you will too.
Good Enough for Dessert?
Did you know that green salads actually feed your good gut bacteria and fight inflammation? It's true.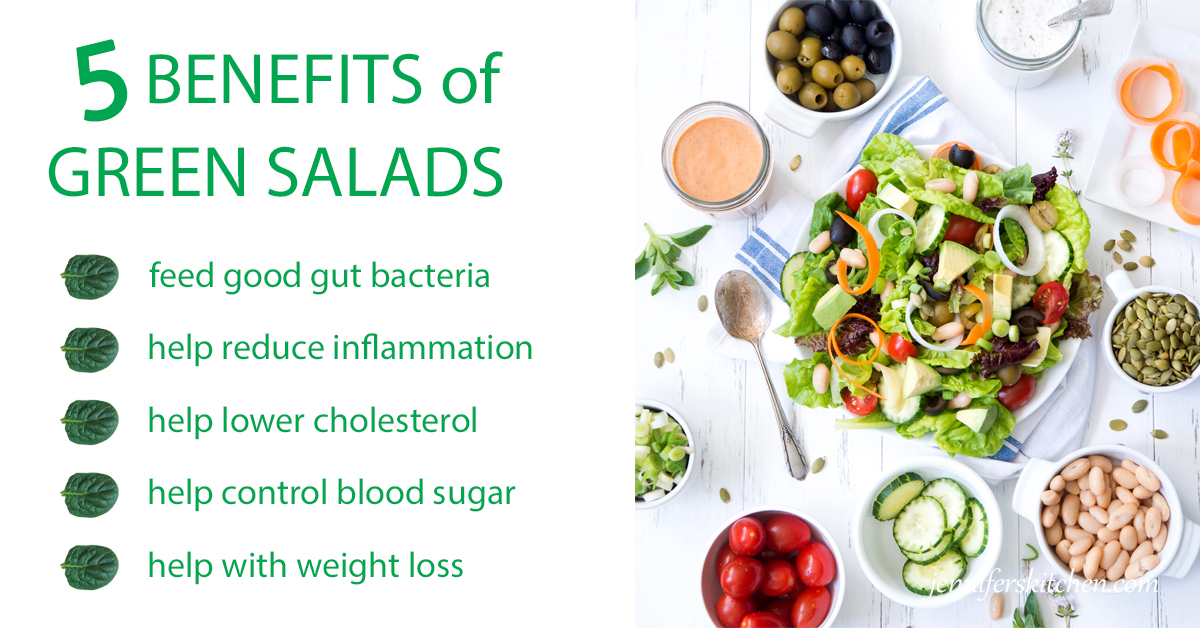 But you have to actually eat the salad to get the benefits, and this dressing can help with that because it will make your salad tastes soooo good that you may even start craving salad for dessert. Ok, that may be a stretch, but I guarantee you will really, really like salad with this Creamy Italian Salad Dressing on it.
So Good for You!
Not only does this dressing help you eat more healthy salads, but the salad dressing itself is super good for you! It's loaded with fiber (not many salad dressings can say that!) which makes it great for weight loss. And it's also a good source of magnesium, manganese, and protein.
Better than Store-Bought
Even the healthiest dressing you can buy at the grocery store cannot compare with this salad dressing. Unlike store-bought dressings, this dressing is made from healthy, unrefined, whole food ingredients. And it even provides a good dose of fiber – something no dressing from the grocery store can boast.
Enjoy!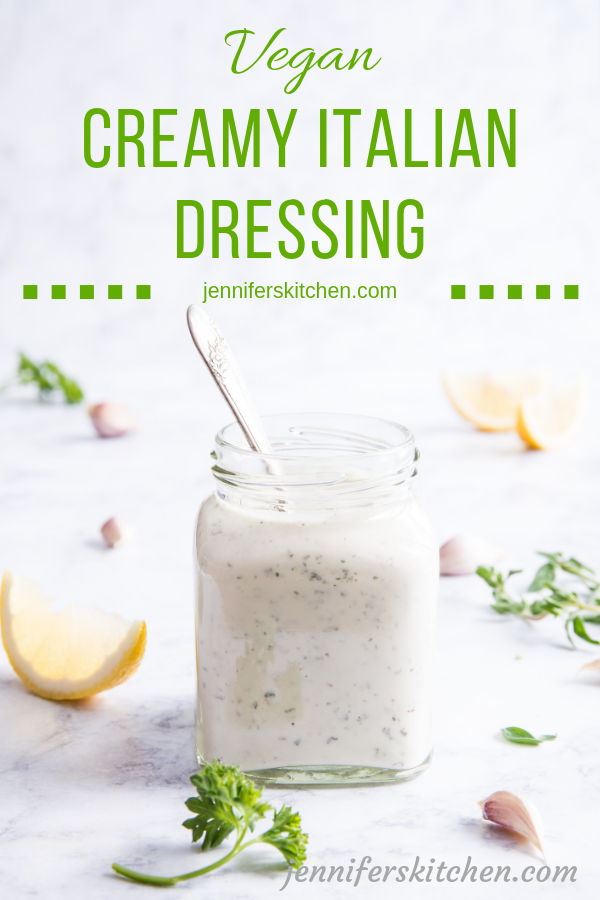 This website is brought to you without annoying ads because we can better live healthier lives without the influence of marketing. But running a high-traffic site is expensive. How can you help? If you purchase anything through the affiliate links on my site, your cost is the same, but I receive a small commission. Thank you!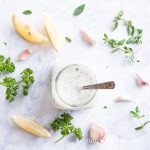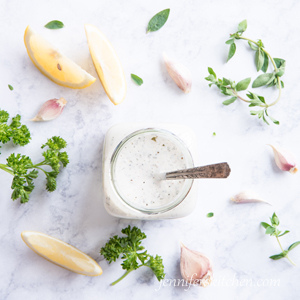 Vegan Creamy Italian Salad Dressing
Made from healthy, whole-food ingredients, this lusciously creamy salad dressing is so delicious and so good for you!
Instructions
Place cashews in a colander and rinse under hot water. Drain well.

Place 2/3 cup water, cashews, lemon juice, and garlic into blender and blend on high speed until very smooth and creamy.

NOTE: For a smooth and creamy dressing, be sure to use a high-powered blender. Without one, the results won't be creamy.

Add oil and blend very well.

Add seasonings and blend until mixed.

Chill.

Stir before using.
Notes
Some have commented that they felt the dressing was too salty. Others have said that it is just right. If you like your food on the less-salty-side, you may want to start with less and add more to taste.
Yield: 1 1/4 cups
>> One quick request: if you like this recipe, please leave a rating and a comment. Ratings help more people find these healthy recipes!
Print Recipe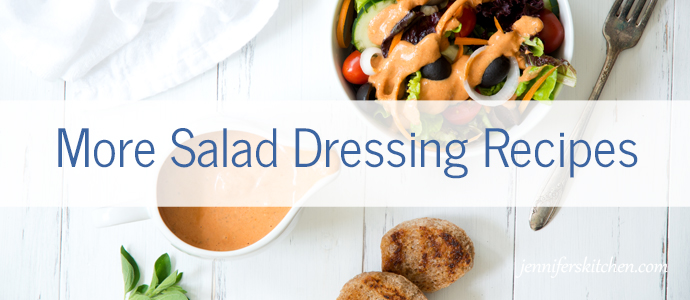 You my also like:
Before you go . . .
Did you know that you can eat all this delicious food AND lose weight? You can!
No calorie counting. No portion sizes.
Join my online weight loss program today!