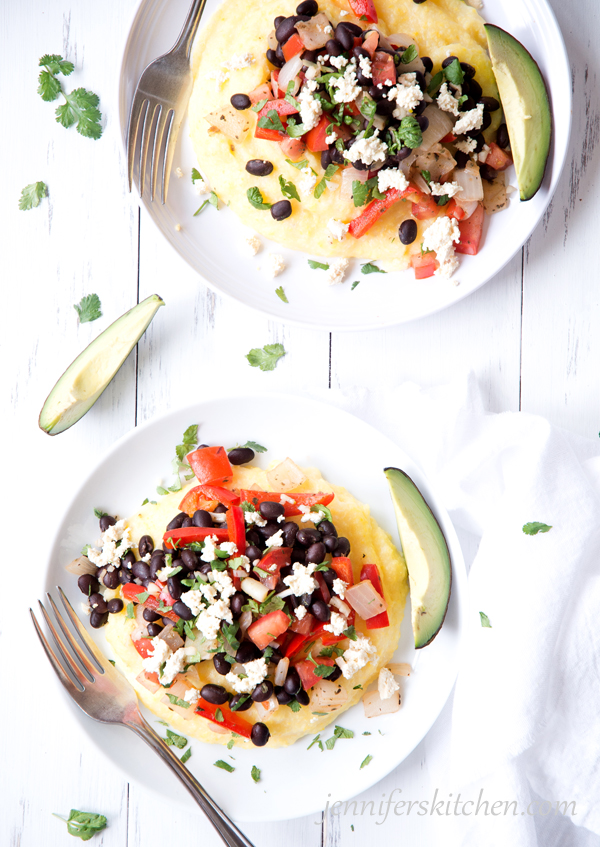 Need a meal that comes together in less than 15 minutes? Need a dinner that's easy to prepare?
This Mexican Black Beans over Polenta has you covered!
No stress. No mess. Dinner on the table in 15 minutes or less.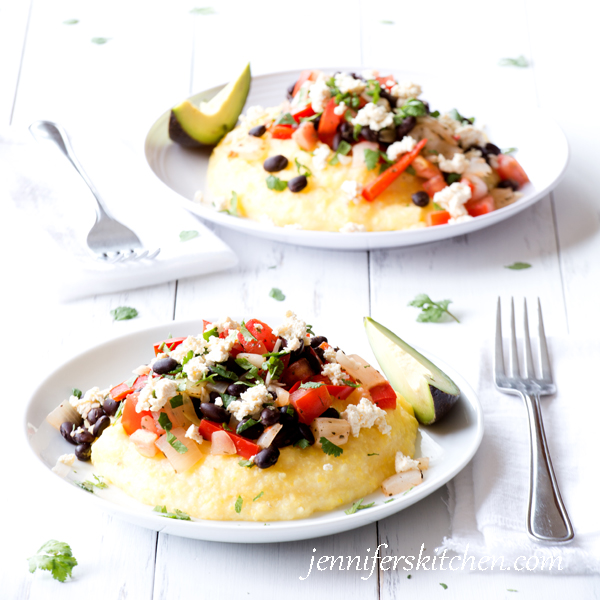 Quick Cooking
A few tips for getting this meal on the table in 15-minute or less:
1. Cook your polenta in the crock pot according to these directions. I place mine in my slow cooker in the morning, so it's ready when it's time to eat. (If you don't have any crock pot polenta ready, follow instructions on this post for pan-cooked polenta and add 15 minutes to prep time.)
2. Start the skillet heating while you cut the onions.
3. Use a veggie chopper to cut the vegetables. (Optional, but saves time and work.)
4. Put the onions in the skillet while you quickly cut the peppers.
5. Peel and mince the garlic while the onions and peppers are sautéing.
6. Measure out seasonings (into a bowl), and open the can of beans and drain them while the onions and peppers are sautéing.
7. Dice tomatoes while beans are heating.
Viola! You are outta that kitchen. And enjoying this delicious meal 🙂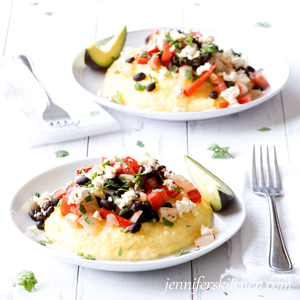 Print
Mexican Black Beans over Polenta - That Was Easy!
Yield 2 - 4 servings
Add a fresh, green salad with a creamy dressing and you have a delicious meatless meal.
Ingredients
5 cups cooked polenta (See easy directions here.)
1 large yellow onion or sweet onion, diced
1 red bell pepper, diced
1 tablespoon oil
4 cloves garlic, minced
1 1/2 teaspoons granulated onion
3/4 teaspoon cumin
1/2 teaspoon granulated garlic
1/2 teaspoon dried basil
1/4 teaspoon dried oregano
1/8 teaspoon paprika
1/4 to 1/2 teaspoon salt if using beans with salt, or 3/4 teaspoon salt if using unsalted beans
2 teaspoons lime juice
1 1/2 cups (one 15-ounce can) black beans, rinsed and drained
2 fresh Roma tomatoes, diced
1/2 cup fresh minced cilantro
OPTIONAL
avocado dices
crumbled tofu
lime wedges
Instructions
In a skillet, sauté onion and pepper in oil over medium heat until onions are translucent, stirring often (about 8 minutes).
Add garlic and sauté one additional minute.
Add seasonings, lime juice, and black beans. Turn heat to high and cook until thoroughly heated (about 2 minutes).
Stir in tomatoes. Remove from heat.
Divide polenta among four plates or shallow bowls, spoon bean mixture over polenta and top with cilantro and other desired toppings.
Serve hot.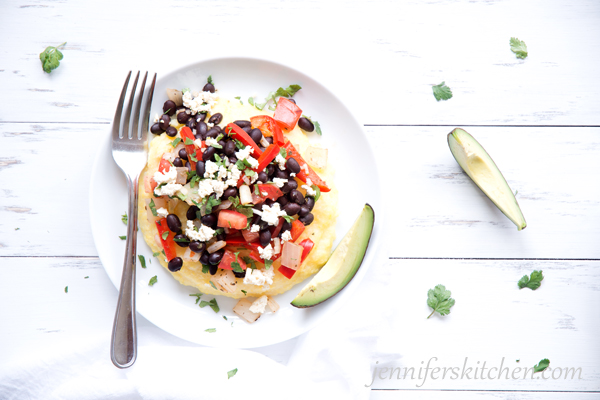 Popular Posts