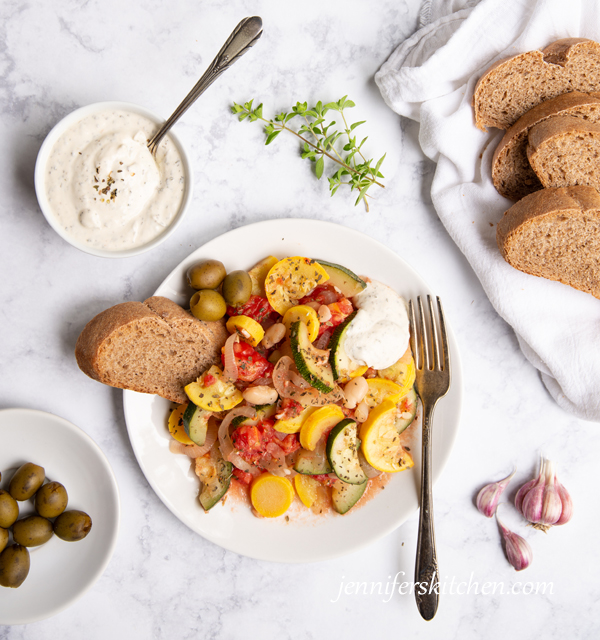 With all the delicious summer produce right now, it's the perfect time to nudge your diet to include more healthy foods! Gardens, produce markets, and CSAs are abundant with zucchini, tomatoes, cucumbers, green beans, basil, eggplant, and yellow summer squash.
But no one wants to spend a bunch of time in the kitchen on these beautiful summer days, so what we want is a quick and easy recipe that includes healthy summer produce and is also delicious.
This Summer Squash Saute fits the bill. So easy and so delicious. And so good for you.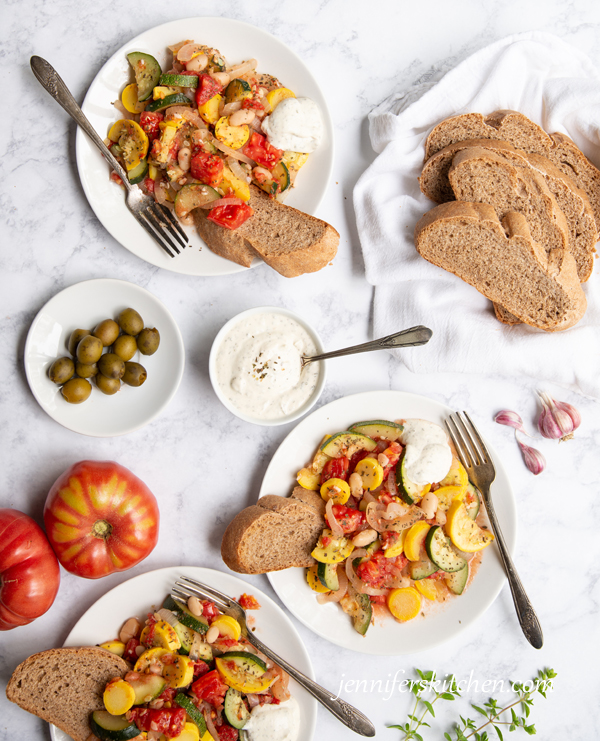 Head to the garden on a warm summer morning and gather some buttery yellow summer squash, tender baby zucchini, a fresh onion and garlic, and some juicy, warm tomatoes. Sauté it all together. Add some white beans (optional, but it makes this dish a main dish). Top it with a drizzle of this luscious homemade Creamy Italian Dressing, serve with some crusty bread, and you have a delicious, nutrient-packed, veggie-centric meal that took only minutes to prepare.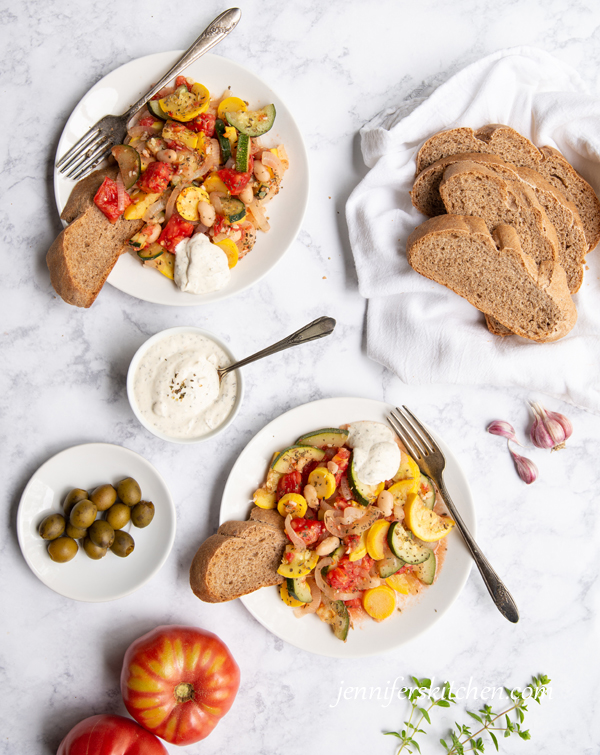 How to Select Summer Squash
If you want your meals to taste good, you have to start with quality ingredients. Growing your own garden makes this easy (as long as you pick your zucchini before it grows to the size of a baseball bat!), but if you don't have a garden, you can still get quality produce at the farmers market or grocery store if you know what to look for.
When choosing summer squash (zucchini, yellow squash, crookneck squash, etc.) opt for the very small (even tiny) squash. The small ones will be more tender, more buttery, and better flavored than the larger ones. And they'll have fewer seeds. They should have glossy skins and be firm to the touch.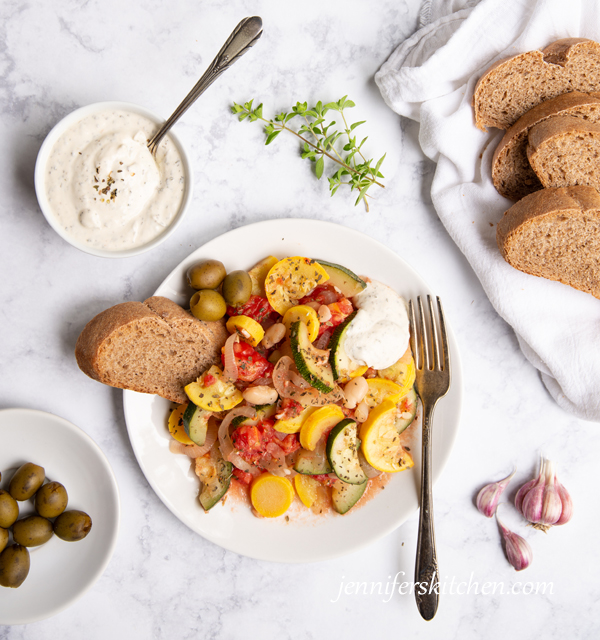 Summer Squash Saute
A delicious and easy meal for summer time produce.
Instructions
Stir in minced garlic and saute for an additional minute.

Stir in zucchini, summer squash, and seasonings and stir to combine. Cover and reduce heat to just over low. Cook, stirring occasionally, until the vegetables are tender, 10 to 14 minutes or until vegetables are tender-crisp.

Increase heat to medium. Stir in beans and tomatoes. Cook until heated through, about 2 minutes. Stir in Creamy Italian Dressing if using.

Serve hot with crusty bread or over pasta or rice.
Notes
The amount of time needed to saute the summer squash will depend on how mature the squash is, how much liquid is in the squash, and how hot your stove is.
If the tomatoes are really seedy, you might want to remove some of the seeds.
* * * This recipe for Summer Squash Saute is … gluten-free, plant based, oil-free, sugar-free, high in fiber, dairy free, egg-free, vegetarian, vegan, and made from real, whole foods.
>> One quick request: if you like this recipe, please leave a rating and a comment. Ratings help more people find these healthy recipes!
Print Recipe
Want More?
For more healthy and delicious recipes like this one that will simplify your journey to a healthier and thinner you, check out my
Healthy Weight Loss Program!
You my also like:
Before you go . . .
Did you know that you can eat all this delicious food AND lose weight? You can!
No calorie counting. No portion sizes.
Join my online weight loss program today!