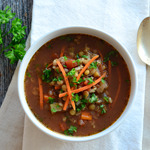 Italian Lentil Vegetable Soup
The seasoning measurements in this nourishing soup may seem like a lot, but they're not a typo. The flavor is delish.
Ingredients
2 tablespoons olive oil
3 stalks celery, sliced or diced
2 medium carrots, sliced, diced, or julienned (see note)
1 medium onion, diced
2 - 3 cloves garlic, minced
1 cup uncooked lentils
1/2 cup uncooked long-grain brown rice
8 cups water or broth
2 tablespoons fresh minced parsley
1 tablespoon + 1 teaspoon granulated onion
1 tablespoon + 1/2 teaspoon dried oregano
1 tablespoon dried basil
1 1/2 cups (one 14-ounce can) diced tomatoes (I like petite diced tomatoes)
1 1/2 cups (one 14-ounce can) tomato puree
1 tablespoon lemon juice
1 tablespoon honey or other sweetener
1 1/2 teaspoons salt – or to taste
Instructions
In a soup pan, sauté celery, carrots, and onion in oil over medium heat until onions begin to look translucent (about 6 to 8 minutes).
Add garlic and sauté for 1 additional minute.
Meanwhile, rinse lentils in colander under running water. Set aside to drain.
Add 8 cups water (or broth), rice, and rinsed lentils to pan. Turn heat to high.
Add seasonings. Cover and bring to boil.
Reduce heat and simmer for 20 minutes.
Add tomatoes and tomato puree, return to boil, then reduce heat and continue to simmer, uncovered, for 20 minutes or until lentils and rice are tender.Note: All stoves cook differently, so be sure to test the lentils to see if they are done.
Add lemon juice and sweetener and season with salt to taste.Serve hot.
Notes
I use my julienne peeler to cut the carrots. It makes the prettiest carrots in just a few seconds!
This soup tastes even better the next day.
Even though I've categorized this recipe under "Freezes Well", the rice does break down slightly after being frozen. But it still tastes good.
Recipe by JennifersKitchen at https://jenniferskitchen.com/2013/12/italian-lentil-soup.html