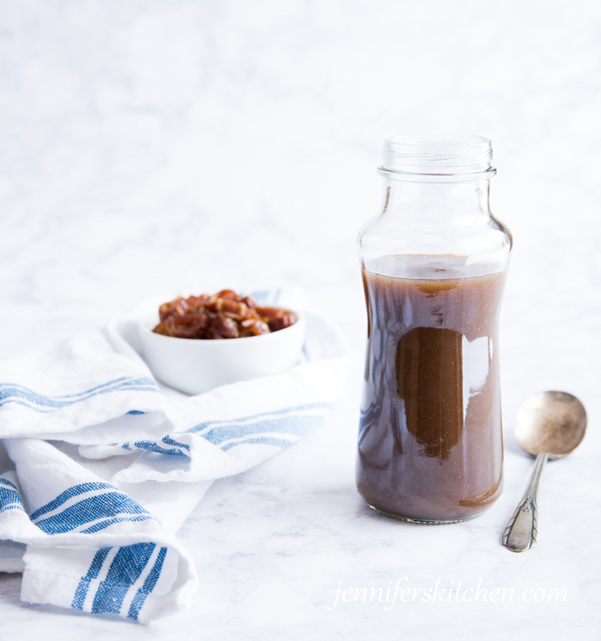 – Better blood sugar levels
– Reduced IBS symptoms
– Easier weight loss
– A clearer mind
– Fewer mood swings
– And many more benefits!

How? Simply from eating less sugar.
How to Make It Happen
But we like our sweets. How do we get from "good idea" to actually putting it into practice?
One approach that has been shown to be successful is to replace sugary foods with a healthier alternative. That way you don't feel deprived of the sugary food because you have something delicious to eat in its place.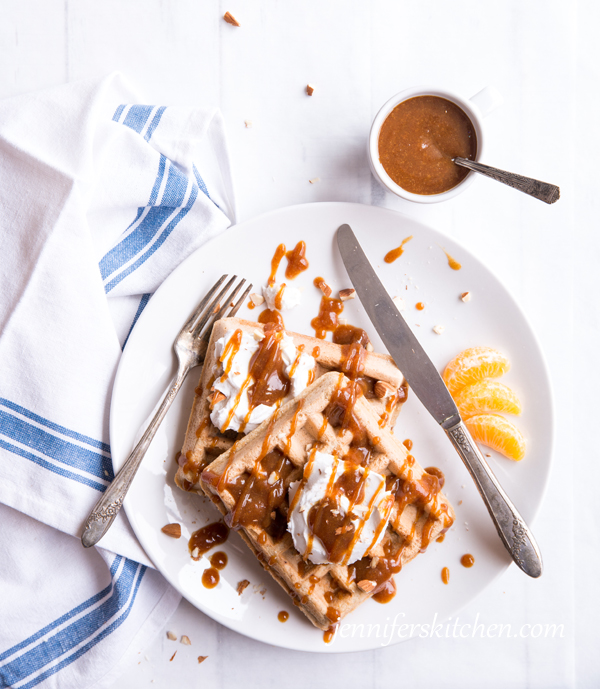 That's where this lovely Maple Date Syrup shines.

This website is brought to you without annoying ads because we can better live healthier lives without the influence of marketing. But running a high-traffic site is expensive. How can you help? If you purchase anything through the affiliate links on my site, your cost is the same, but I receive a small commission. Thank you!
How to Use Maple Date Syrup
This Maple Date Syrup can be used to replace sugar in so many ways.
For example, instead of syrup or sugary sauces (like commercial fruit sauces) over French toast, waffles, and pancakes, pour on some of this delicious syrup. (I like to put fresh fruit over my waffles and then drizzle the Maple Date Syrup over all.)
Instead of buying oatmeal with sugar-added, you can cook plain oatmeal and drizzle Maple Date Syrup on top of it.
It's even yummy as a spread for bread.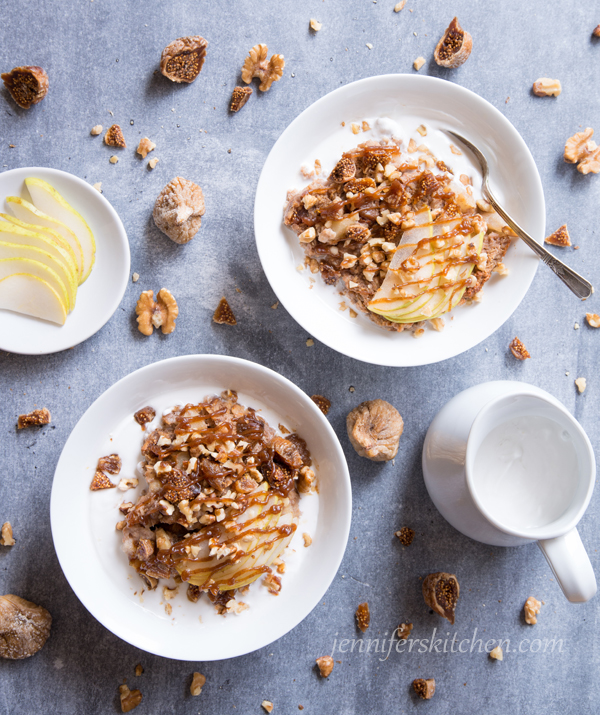 Pure maple syrup vs pancake syrup
Pleeeeease do not use regular pancake syrup in this recipe. Why? What's the difference?
Pancake syrup and maple syrup are not the same
Although they may look the same, pancake syrup and pure maple syrup couldn't be more different.
Pure maple syrup is a natural food that is made by concentrating the sap from maple trees. Nothing is added and nothing is taken away (except that water is evaporated from the sap to concentrate it).
Pancake syrup is a highly processed product that is made from lots of potentially harmful ingredients such as corn syrup, caramel color, gums, flavorings, and preservatives. (I'm looking at you, Aunt Jemima.) Even organic pancake syrup that doesn't have corn syrup in it is still a very highly-processed food that contributes to obesity, diabetes, and other healthy issues.
Is pure maple syrup healthier than pancake syrup?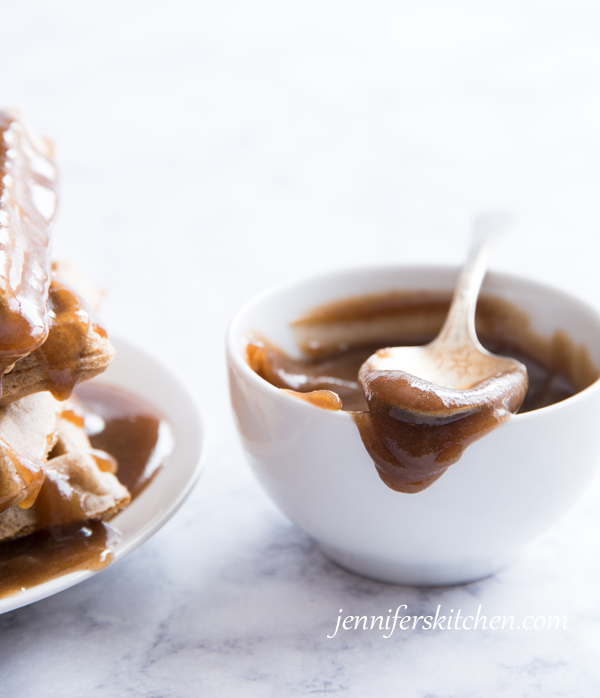 Much healthier. But only because pancake syrup is so bad for you.

There is nothing super healthy about pure maple syrup. Yes, it does have a few naturally-occurring nutrients, like manganese and zinc, and it is not highly processed like pancake syrup – but it certainly isn't a health food.
So why this Maple Date Syrup recipe?
This recipe is an attempt to help us all refrain from eating any more highly-processed pancake syrup and to help us be able to sweeten our breakfast in a little bit healthier way than just straight pure maple syrup.
Yes, it would be better to eat only fresh fruit or a sugar-free, naturally-sweetened fruit sauce over waffles, pancakes, oatmeal, etc., but if you aren't quite ready for that, this Maple Date Syrup is a huge step in a much healthier direction.
Date Nutrition
Every recipe of Maple Date Syrup has 1 1/2 cups of naturally-sweet dates in it. Dates are a whole food that are full of fiber – which is the key nutrient for weight loss – and other beneficial nutrients like potassium – a nutrient many people are lacking in their diets.
Because dates are a whole food, are very good for you, and are naturally-sweet, they're a great substitute for sugar in a lot of recipes, like these yummy breakfast cookies.
Looking for more delicious ways to eat less sugar?
I have lots of yummy, sugar-free recipes!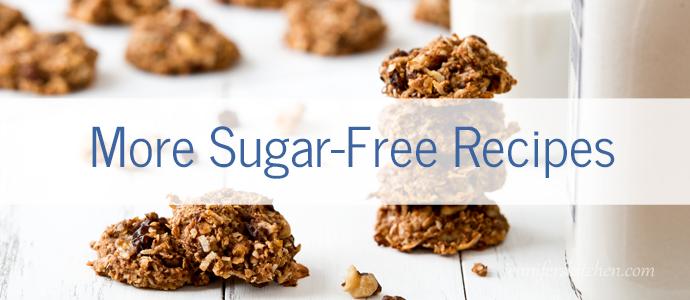 Want to avoid hidden sugar?
Check out my post about Hidden Sugar – How it Affects Your Body and What to Do About It.
Looking for some more healthy waffle and pancake toppings?
Here are some of my favorites.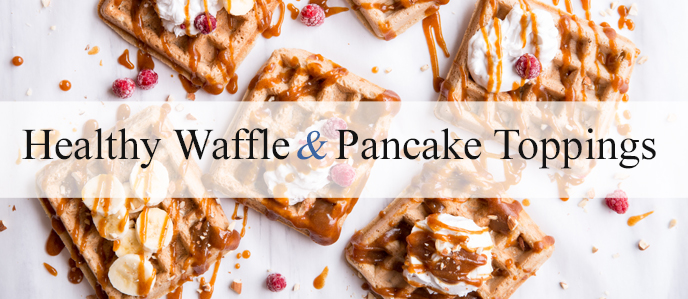 Healthy (Slimming) Breakfast
Now you can eat your waffles and be skinny too!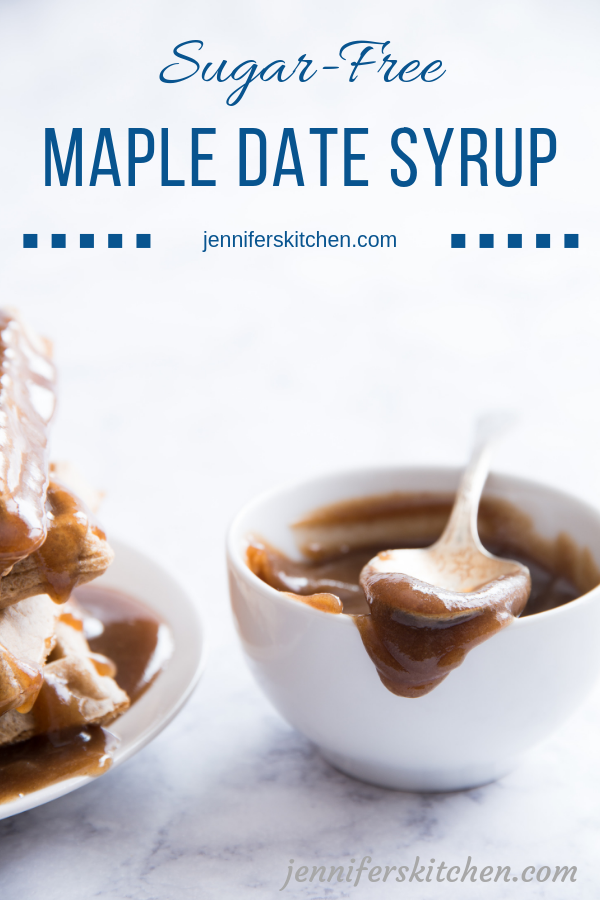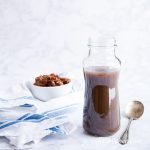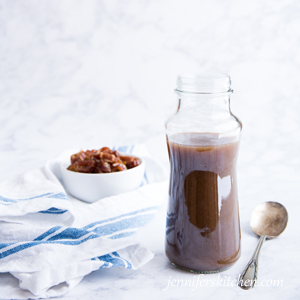 Maple Date Syrup
A healthy and wholesome way to sweeten your morning.
Ingredients
1 1/2

cup

whole, pitted dates

3/4

cup

water

2/3

cup

pure maple syrup -

– or up to 1/3 cup more if desired

1/4

teaspoon

maple flavor

2

teaspoons

frozen orange juice concentrate

-

– optional
Instructions
Place dates and water in a saucepan, cover, and bring to a boil. Reduce heat and simmer for 5 minutes or until dates are very, very soft.

Transfer dates and water to blender, add maple syrup and maple flavor and blend until very smooth.

Add more maple syrup or water to thin to desired consistency.
Notes
Keeps in the refrigerator for up to three weeks. If it thickens, add water to desired consistency.
Can be frozen.
Yield: 1 3/4 cups
>> One quick request: if you like this recipe, please leave a rating and a comment. Ratings help more people find these healthy recipes!
Print Recipe
Want More?
For more healthy and delicious recipes like this one that will simplify your journey to a healthier and thinner you, check out my
Healthy Weight Loss Program!
You my also like:
Before you go . . .
Did you know that you can eat all this delicious food AND lose weight? You can!
No calorie counting. No portion sizes.
Join my online weight loss program today!