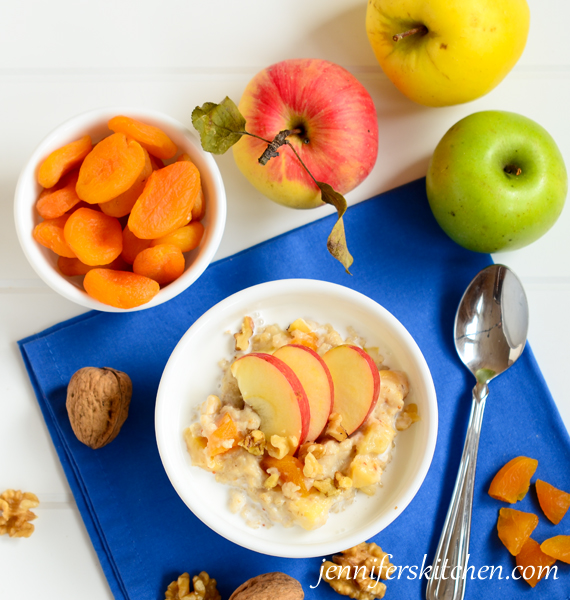 This website is brought to you without annoying ads because we can better live healthier lives without the influence of marketing. But running a high-traffic site is expensive. How can you help? If you purchase anything through the affiliate links on my site, your cost is the same, but I receive a small commission. Thank you!
It's cooooollllldddd outside!!!! But I'm not complaining. The frigid weather just gives me an excuse to make this warming and nourishing breakfast.
Speaking of nourishing, how about some chocolate fudge for breakfast? I can't say it would be the healthiest choice, but, remarkably, some breakfast cereals pack more sugar into your bowl than a serving of chocolate fudge.
In fact, breakfast cereal can be one of the highest – and sneakiest – sources of sugar in your day. Most granola on the grocery store shelves contains as much sugar in one bowl as a Twinkie! A serving of Quaker Honey Nut Oats will load you up with more sugar than a Butterfinger bar.
Fight Holiday Weight Gain Before the Holidays!
If you don't want to gain weight over the holidays, what you need to do is eat a good breakfast. Well, ok, a few other strategies in your game plan may help as well, but research has shown that people who eat breakfast every day enjoy easier weight loss and have more physical and mental energy throughout the day than those who don't eat breakfast.
So, by including this simple, painless (compare it to working out for 3 hours) habit in your day, you may lessen your risk of gaining weight through the holidays and make it easier to get back on a healthy track once the holidays are over (if you got off track).
Oats and Their Whole-Grain Goodness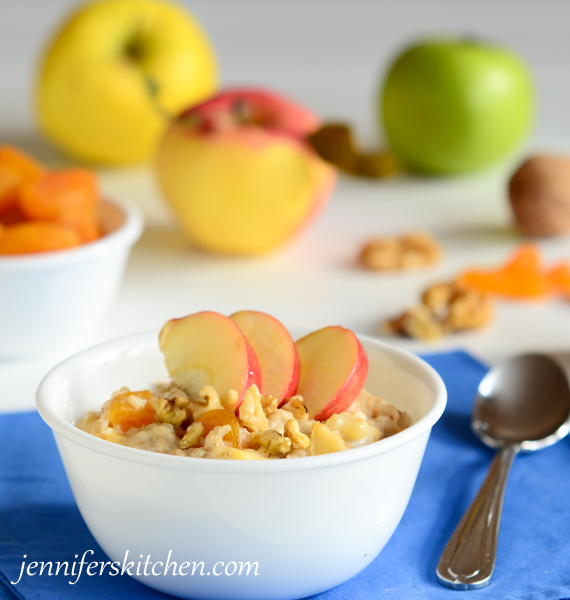 Not only have oats been shown to reduce cholesterol, help control blood glucose and insulin levels, reduce asthma risk in children, and boost the immune system, oats also have a fiber compound called beta-glucan which encourages your body to release hunger-suppressing hormones.
And dried apricots, fresh apples, and dried figs give this Harvest Oatmeal a flavorful sweetness without added sugar.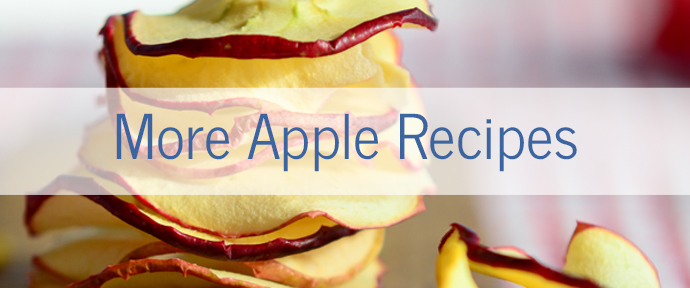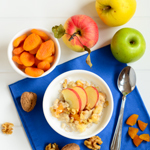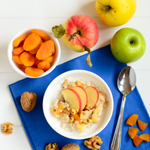 Harvest Oatmeal
A delicious way to include more slimming whole grains in your diet.
Instructions
Place milk and salt in a medium saucepan.

Stir in oats, cover, and begin heating over medium-high heat.

Meanwhile, cut the apple into small pieces and stir into oats.

Cut apricots and figs into small pieces. (I cut the apricots into 4 pieces and the figs into 6 pieces.)  Stir these into oatmeal when it comes to a boil.

Reduce heat and simmer, covered, for 10 to 15 minutes, stirring often to prevent oats from sticking to the bottom of the pan.

When oatmeal is done, stir in walnuts, sweetener, and vanilla.

Serve hot.
Notes
1. Be sure to use quick oats not rolled oats in this recipe.
2. Be sure to trims stems from figs before adding to oats.
3. This recipe makes enough to serve 2 people if there are other foods served with it (like toast or fruit, etc.)
Yield: 1 to 2 servings
>> One quick request: if you like this recipe, please leave a rating and a comment. Ratings help more people find these healthy recipes!
Print Recipe
Want More?
For more healthy and delicious recipes like this one that will simplify your journey to a healthier and thinner you, check out my
Healthy Weight Loss Program!
Leave a comment
Your comments make my day! 🙂
You my also like:
Before you go . . .
Did you know that you can eat all this delicious food AND lose weight? You can!
No calorie counting. No portion sizes.
Join my online weight loss program today!