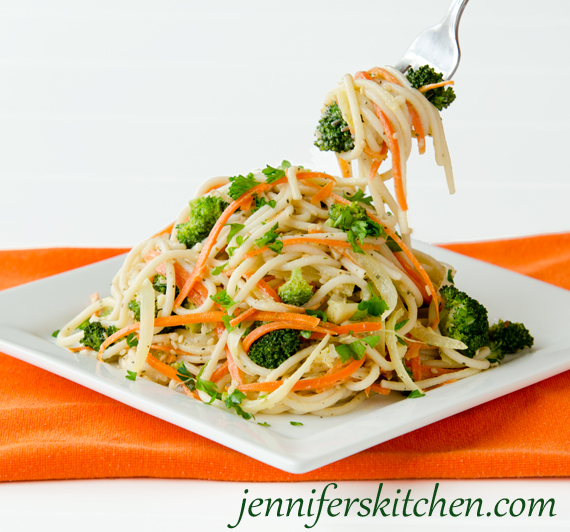 Winter is here and some say the weather forecast is cloudy with a chance of sick. With flu season upon us, you may be thinking of what you can do to stay healthy this year.
In Praise of Garlic
Garlic may have a stinky reputation, but in reality it's a super-food loaded with great things like antioxidants, vitamins, and minerals; and it's good medicine as well, as garlic has been found to have antiviral, anti-fungal, and antibacterial properties.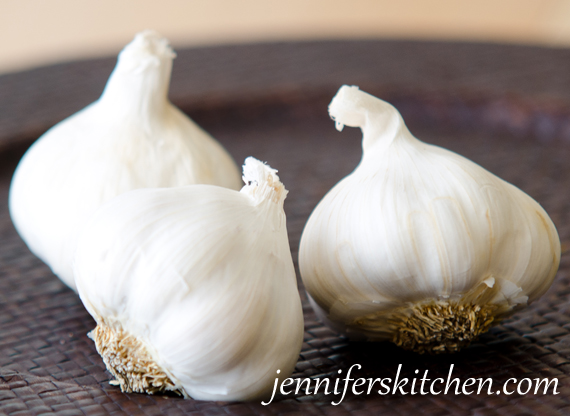 Throughout history, when antibiotics and other medicines did not exist, a bulb of garlic represented a whole pharmacy providing remedies for a variety of illnesses. Superstitious medieval medicine? Maybe not.
In modern day, multiple scientific studies indicate numerous benefits of the consumption of fresh garlic. One recent study showed that a clove of fresh garlic a day may cut prostate-cancer risk in half. Other research links consumption of fresh garlic to a lowered incidence of stomach, colon, and breast cancers. Garlic has also been shown to lower cholesterol and triglycerides, prevent blood clots, and fight high blood pressure.
And because of its antiviral, antifungal, and antibacterial properties, garlic is great for the immune system. It seems that fresh garlic may have the ability to fight off a cold, a sore throat, a cough, the flu, ear infections, and chest congestion.
Garlic's analgesic and anesthetizing properties can help treat toothaches too.
Garlic's Secrets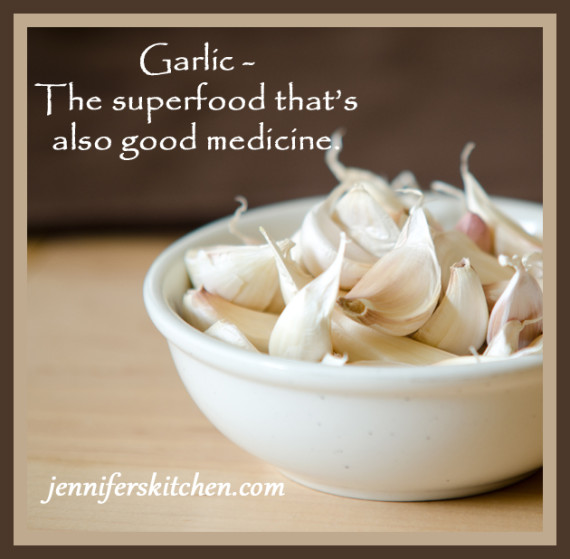 The secret to garlic's many beneficial qualities is in its unique combination of flavonoids and sulfur-containing nutrients. But take note: researchers have found that for maximum benefits, the cloves should be chopped or crushed and then let sit for 5 to 15 minutes before using to allows garlic's beneficial compounds to fully develop. The more you damage garlic's cell walls the more sulfide-transforming enzymes you release. Just be sure to use the crushed garlic within an hour or so, as garlic left longer than that will begin to lose its active health agents.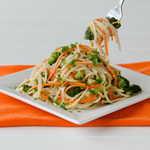 Print
Pasta with Vegetables, Garlic, and Sesame
Ingredients
8 ounces uncooked pasta (I use Tinkyada pasta.)
4 cups fresh broccoli florets, diced small – see note
2 medium carrots, julienned or diced very small – see note
2 medium onions, cut into slivers
3 tablespoons olive oil
6 cloves garlic, minced or sliced thin
3 tablespoons sesame seeds
1 tablespoon granulated onion
1 teaspoon dried basil
1 teaspoon salt
1 tablespoon lemon juice
1/2 cup Skinny Mayo from my weight loss program
1/4 cup chopped fresh parsley or 1 tablespoon dried parsley
Instructions
Cook pasta according to package directions. Reserve 1/2 cup pasta water before draining.
Meanwhile, in a very large skillet or pan, heat 2 tablespoons oil over medium heat. Add broccoli and stir to coat with oil. If using diced carrots, add them at this time. (If using julienned carrots, wait and add them with onions.)
Sauté until broccoli is very bright green and slightly tender (about 8 to 10 minutes).
Push vegetables to one side of the pan, add remaining oil, and stir in onions until they are coated with oil. If using julienned carrots, add them at this time.
Mix together broccoli, carrots, and onion and continue sautéing until onions begin to appear translucent. (This will take about 7 minutes, but time will vary depending on the size of your pan and the heat of your stove.)Stir often to prevent vegetables from scorching.
Add minced garlic and sesame seeds. Sauté until garlic is cooked but not browned (about 1 minute).
Stir in seasonings, lemon juice, mayonnaise, and reserved 1/2 cup pasta water.
Combine cooked and drained pasta with vegetables and serve immediately.
Notes
Be sure to dice broccoli stems very small (about 1/4-inch) so they cook as fast as the florets (3/4-inch). I use my julienne peeler to cut the carrots. It's such a cool little tool! It only takes a minute to julienne a large carrot and this size of carrots works perfectly in this dish.
Popular Posts