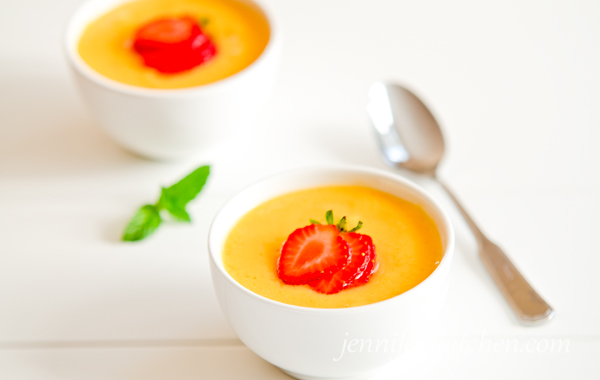 It's that time of year.  We've eaten our fill of fresh cherries, blueberries, and all the other luscious fruit of summertime, and I can barely open the door of my frig without cucumbers , zucchini, and green beans falling out.  And my mom just brought us a whole bushel of peaches!  I'm feeling overwhelmed very, very blessed.
Besides eating our peaches fresh, we've been enjoying peach crisp, peach smoothies, and this special chilled peach soup.
Have you ever had cold soup?  Is soup still soup if it's cold?  It does seem like an oxymoron, but nevertheless, I'm lovin' this soup!!
Cool and tangy peach soup is perfect for hot summer days  … and it keeps us from eating too much ice cream. 🙂  It's so pretty and so elegant, and yet it only takes minutes to make.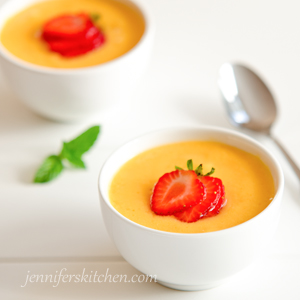 Print
Chilled Peach Soup
You won't believe how quick and easy to make this refreshing chilled summer- time soup is!
Ingredients
4 medium to large fresh peaches (See note)
1/4 cup frozen orange-peach-mango juice concentrate
1/2 cup full-fat coconut milk (unsweetened)
1/8 teaspoon salt
2 teaspoons lime juice, scant
1 teaspoon vanilla
1/2 cup sliced strawberries, approximately
Instructions
Bring a medium pan of water to boil. Place peaches in boiling water for 40 seconds.
Using a slotted spoon, remove peaches from water and place in a colander. Rinse briefly with cold water. (Or you can plunge them in ice water for a few seconds.)
When peaches are cool enough to handle, remove the skins. The skins should peel off easily. (You may want to make a small incision in the skin with a knife to get it started.)
Cut peaches into large slices, discarding the pit. Place peaches into a blender jar.
Add all remaining ingredients, except strawberries, and blend until very smooth.
Place in refrigerator for 20 minutes to 2 hours to chill.
Garnish with sliced strawberries before serving.
Notes
For best results, try to use good-tasting FRESH peaches for this soup, like those you would get from an orchard. Sometimes, the peaches you get from the grocery store taste like cardboard. Making them into a soup won't magically change the taste of those peaches.
Don't substitute orange juice for the orange peach mango juice; orange juice adds too much tangy tartness to the soup. If you absolutely can't find orange peach mango juice concentrate, you can use pineapple juice concentrate, but the results are sooo much better with mango!
Popular Posts