Sugar-Free, Gluten-Free Apple Crisp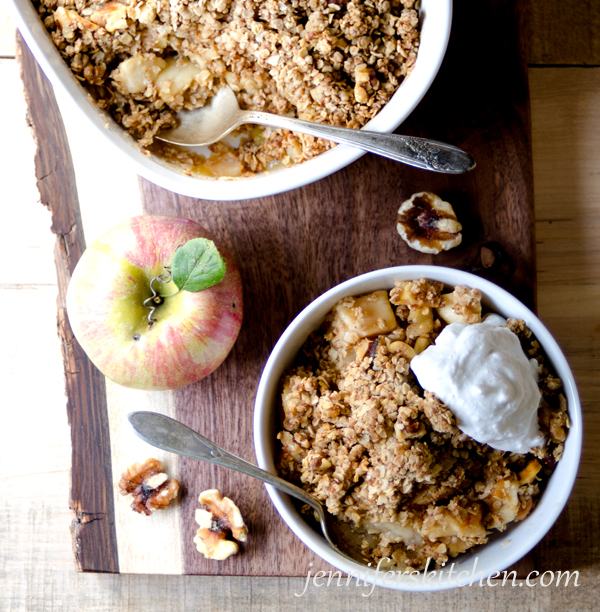 This website is brought to you without annoying ads because we can better live healthier lives without the influence of marketing. But running a high-traffic site is expensive. How can you help? If you purchase anything through the affiliate links on my site, your cost is the same, but I receive a small commission. Thank you!
In the 1800's, the amount of refined sugar consumed by the average American was just under 1 1/2 teaspoons a day. But now, the average American eats over 22 teaspoons of sugar per day.
How are we getting so much sugar?
Refined sugar is hidden in over 70% of packaged foods, and then we add it in abundance to home-baked foods.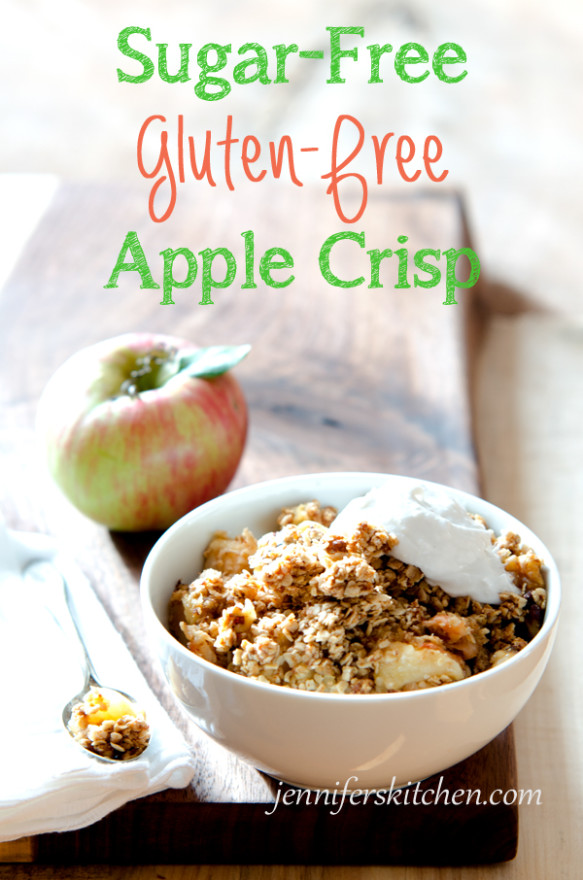 This delicious Sugar-Free Apple Crisp offers a sweet solution. Instead of using refined sugar, it's sweetened with date sugar and pure maple syrup.

What is date sugar?
Date sugar isn't really a sugar. It's a very tasty, natural sweetener made from dried dates – a very healthful, nutritious fruit. It adds a luscious, naturally sweet flavor to this healthy apple crisp.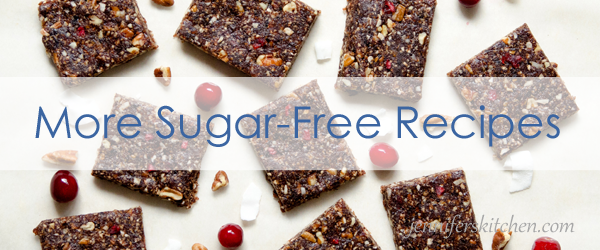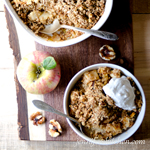 Sugar-Free Apple Crisp
This fruit crisp is sweetened with date sugar which really isn't sugar at all. Date sugar is simply dried, ground dates.
Instructions
Stir together oats, flour, date sugar, and salt in a large mixing bowl.

Cut in coconut oil until thoroughly incorporated.

Stir in maple syrup and 2 tablespoons of apple juice.

Mix in walnuts. Set aside.

Prepare filling. Stir together arrowroot or cornstarch and juice concentrate in a large mixing bowl.

Peel and dice apples into small pieces. Add to juice/starch mixture and mix well.

Transfer apples to an oiled 8-inch x 8-inch baking dish. Spoon topping mixture over apples and lightly pat down.

Bake at 350°F for 30 to 35 minutes or until topping is lightly browned. Serve hot, warm, or cold.
>> One quick request: if you like this recipe, please leave a rating and a comment. Ratings help more people find these healthy recipes!
Print Recipe
Want More?
For more healthy and delicious recipes like this one that will simplify your journey to a healthier and thinner you, check out my
Healthy Weight Loss Program!
You my also like:
Before you go . . .
Did you know that you can eat all this delicious food AND lose weight? You can!
No calorie counting. No portion sizes.
Join my online weight loss program today!