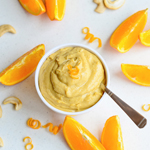 Dreamy Creamy Orange Cashew Butter
Ingredients
1 1/2 cup roasted and salted cashews
1/2 teaspoon orange zest (see note below this recipe)
1/4 teaspoon salt – or to taste (see note below this recipe)
1 tablespoon honey or agave nectar
1/2 teaspoon vanilla
1/3 cup orange juice
Instructions
Place cashews in food processor and process until smooth, stopping processor often to scrape mixture off sides. This will take several minutes. (See note on how to make nut butters with a food processor below.)
Stop processor and scrape mixture off bottom and edges. Process again. Repeat this step several times until you have a super creamy butter.
Add remaining ingredients and process until mixture becomes very smooth and creamy. Store in a sealed container in refrigerator.
Recipe by JennifersKitchen at https://jenniferskitchen.com/2013/03/dreamy-creamy-orange-cashew-butter.html