Dreamy Creamy Orange Cashew Butter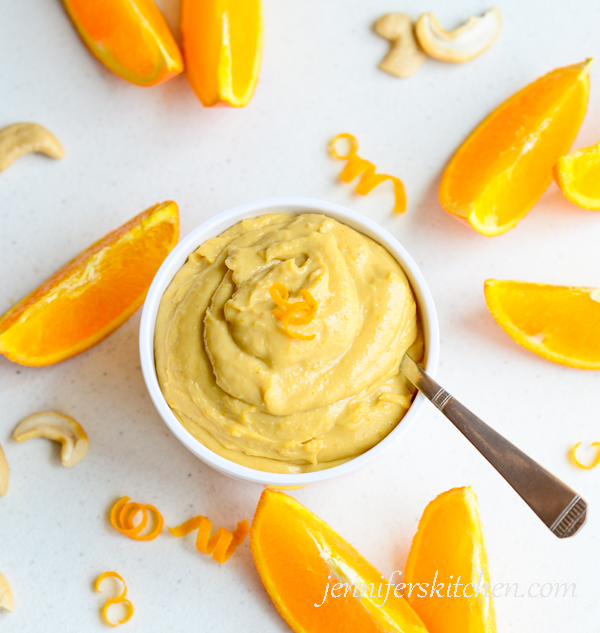 Super creamy.
Delightfully rich.
Ultra smooth.
A hint of sweetness.
And a whisper of orange.
This Dreamy Creamy Orange Cashew Butter is all of these and then some.
My favorite part of owning a food processor is that you can make your own nut butters. (More info on that below.)  And my favorite way to eat Dreamy Creamy Orange Cashew Butter is on fresh strawberries.  mmmm 🙂
RECIPE NOTES
How Much Salt?
The amount of salt needed in this recipe will depend on how salty the roasted cashews are.
How to Make Orange Zest
Wash an orange thoroughly to remove the wax (and germs) from the skin of the orange.  Using a zester, grate the skin of the orange with a light touch. You want to get fine pieces of skin (with which will come the oils from the skin). Be careful to avoid the white part just beneath the skin (the pith) as it has a bitter taste.
How to Make Nut Butters with a Food Processor
You will have the most success with making nut butter if you use a large food processor.  All of the small ones I've seen don't have enough power to turn nuts into a smooth and creamy butter.
1. Place nuts in processor fitted with the "S" blade. You'll want the bowl to be about 1/4 to 1/3 full. Not enough nuts and the mixture will just fly around. Too many and it will bog down the machine.
2. Turn processor on to grind nuts into a very fine meal.
Keep processing.
3. The nuts (especially harder nuts like almonds) will begin to gather around the outside of the bowl. When this happens, stop the processor and scrape down the sides.
Keep processing.
4. The meal will start to get a little sticky and clump together. Again, stop processor occasionally to stir and scrape mixture from sides and bottom of bowl if necessary.
Sometimes the mixture will form a ball. Keep processing. 🙂
5. The nuts will soon begin to form a thick paste. Soft nuts, like walnuts, will do this quickly, but harder nuts, like almonds, take several minutes.
You may be tempted to stop the process there, but don't! It may look like nut butter, but when you try to spread it on something, it will be crumbly.
6. Stir again, taking care to scrape the paste off the sides and the bottom of the bowl.
Continue processing (and stirring if needed) until the butter becomes super smooth and creamy. The longer you process, the smoother it will be. I have found that if I'm patient I can produce a nut butter that's much creamier than any you can buy in the store.
If you have a superior-quality food processor, you can have nut butter in about 4 minutes. A good-quality processor, can take about 7 to 8 minutes. Other processors can take as long as 15 minutes.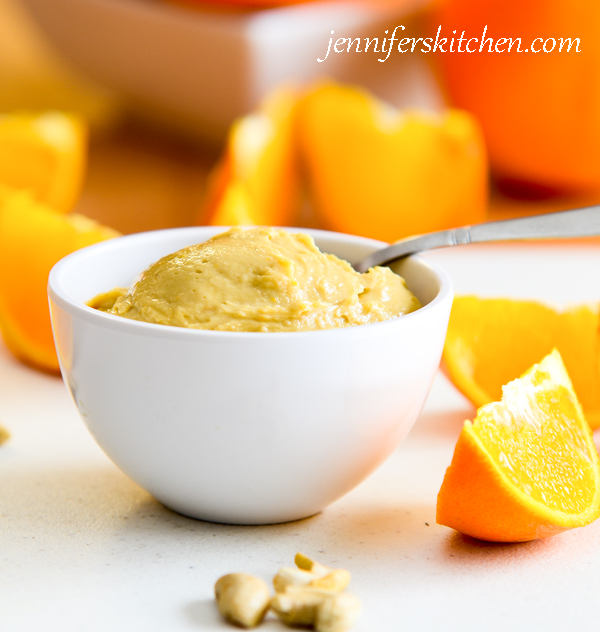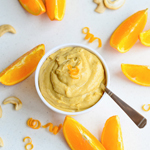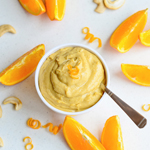 Dreamy Creamy Orange Cashew Butter
Ingredients
1 1/2

cup

roasted and salted cashews

1/2

teaspoon

orange zest

-

(see "How to Make Orange Zest" note in the post)

1/4

teaspoon

salt

-

or to taste, (see "How Much Salt?" note in the post )

1

tablespoon

honey

-

or agave nectar

1/2

teaspoon

vanilla

1/3

cup

orange juice
Instructions
Place cashews in food processor and process until smooth, stopping processor often to scrape mixture off sides. This will take several minutes. (See note on how to make nut butters with a food processor below.)

Stop processor and scrape mixture off bottom and edges. Process again. Repeat this step several times until you have a super creamy butter.

Add remaining ingredients and process until mixture becomes very smooth and creamy. Store in a sealed container in refrigerator.
>> One quick request: if you like this recipe, please leave a rating and a comment. Ratings help more people find these healthy recipes!
Print Recipe
Want to Know More about Food Processors and What One Can Do for You?
Click here to see a post I wrote about food processors (including info on whether they are really worth the money).
You my also like:
Before you go . . .
Did you know that you can eat all this delicious food AND lose weight? You can!
No calorie counting. No portion sizes.
Join my online weight loss program today!