Vegan, Nut-Free Ranch Dressing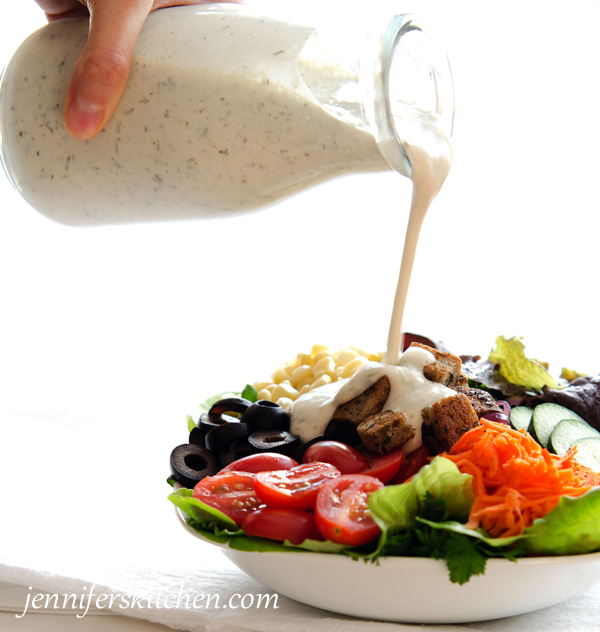 This website is brought to you without annoying ads because we can better live healthier lives without the influence of marketing. But running a high-traffic site is expensive. How can you help? If you purchase anything through the affiliate links on my site, your cost is the same, but I receive a small commission. Thank you!
After posting my Creamy Italian Dressing recipe, several of you have asked for a nut-free, vegan salad dressing recipe.
Most vegan salad dressings are made from cashews (a very healthy and slimming option unless you're allergic to nuts). If you look for a tree-nut-free salad dressing on the internet, you'll come across those made with silken tofu, a lot of oil, hemp seed, or Vegenaise.
I didn't want to use Vegenaise because I didn't want the vinegar (an ingredient we try to avoid) or the heavy load of oil.  Hemp isn't my favorite, so I avoided that option. I lean toward a whole-food diet, so I wanted to avoid a dressing with lots of oil. And I've tried a few recipes made from tofu and they're pretty good, but I was thinking a soy-free dressing may come in handy for those who have a soy allergy.
Nut-free, Soy-free Vegan Ranch Dressing
So here it is – a nut-free, soy-free (low-oil, hemp-free) vegan ranch dressing. This healthy salad dressing is also free of high fructose corn syrup, preservatives, and monosodium glutamate (ingredients found in store-bought dressing).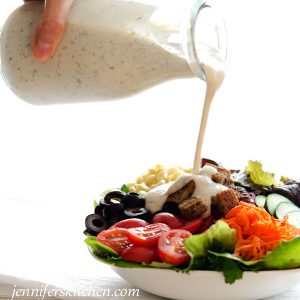 Vegan, Nut-Free Ranch Dressing
A super-healthy, nut-free, soy-free, vegan ranch dressing.
Ingredients
2/3

cup

raw sunflower seeds

2

cups

water

1/3

cup

lemon juice

2/3

cup

water

1/2

cup

non-dairy milk

- (I like almond milk, but if you want this to be nut-free, use another non-dairy milk.)

2

tablespoons

olive oil

1/2

teaspoon

salt

1/2

teaspoon

raw sugar

- (such as turbinado sugar)

1

teaspoon

granulated onion

1/4

teaspoon

granulated garlic

1

tablespoon

dried parsley

1

tablespoon

dried dill weed

1

teaspoon

dried chives

1

teaspoon

dried minced onion
Instructions
Place sunflower seeds and 2 cups water in bowl and place in refrigerator for at lease 8 hours or overnight.

Transfer soaked sunflower seeds to colander and rinse with fresh water.

Place soaked sunflower seeds in blender.

Add remaining ingredients except parsley, dill, chives, and dried minced onion in blender. Blend until very smooth and creamy.

Scrape down sides of blender, replace lid, and blend again. A heavy-duty blender works best to get the sunflower seeds smooth and creamy. Other blenders tend to leave a little bit of graininess in the dressing.

Add remaining ingredients and pulse just until mixed.

Chill before serving. (This will thicken slightly in the frig.) Keeps in the frig for about 5 days.
>> One quick request: if you like this recipe, please leave a rating and a comment. Ratings help more people find these healthy recipes!
Print Recipe
Healthy Dressing
This healthy, vegan ranch dressing is an excellent source of vitamin E, thiamin, niacin, and folate and makes a fabulous dip for veggies or a super dressing for a green salad or a great substitute for regular, fattening ranch dressing to use with anything you normally eat with ranch.
More Healthy Salad Dressing Recipes
Check out my other healthy salad dressing recipes.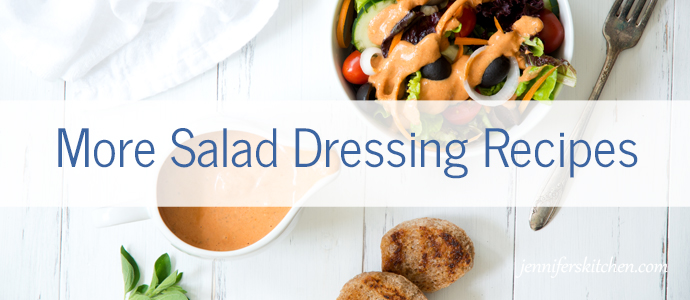 You my also like:
Before you go . . .
Did you know that you can eat all this delicious food AND lose weight? You can!
No calorie counting. No portion sizes.
Join my online weight loss program today!