Apple Breakfast Salad with Orange Almond Sauce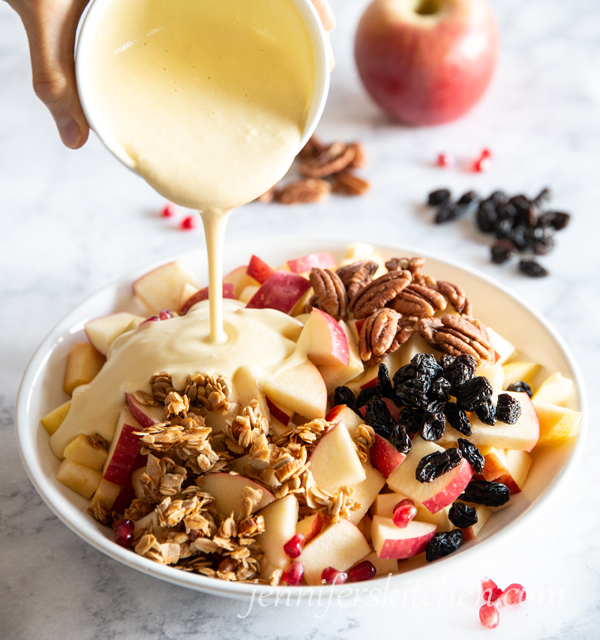 Sweet apples, chewy raisins, hearty nuts, and crunchy pomegranate seeds all covered in a luscious and creamy sauce. This delicious apple salad takes breakfast from "ho-hum" to "oh yum!"
Bonus points: it's a cinch to make!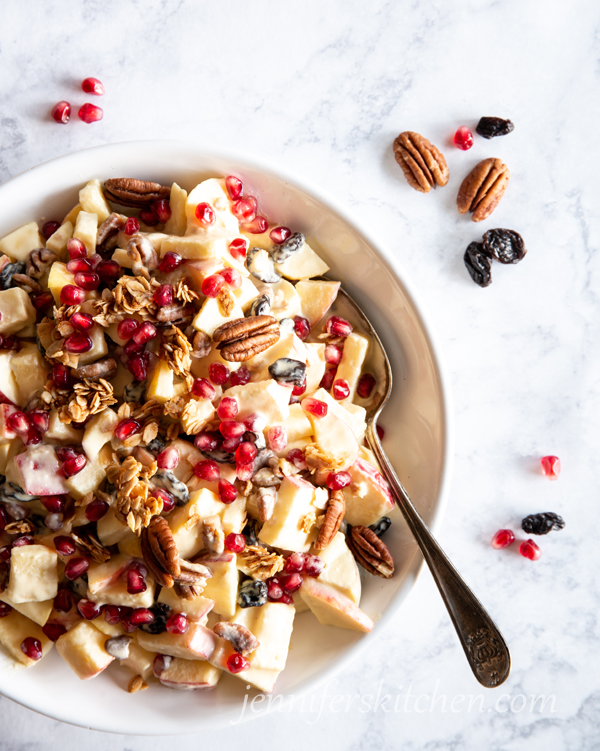 How to Make this Yummy Apple Breakfast Salad
Apples
In this apple salad, I used a variety of apples, including Jonagolds, Fuji, and an unnamed variety from an old apple tree that belongs to my sweet friend Heather. (Thank you, Heather.) I like using a combination of apple varieties because it gives the salad a fuller flavor, but this apple salad isn't picky – feel free to whatever variety you like, and I'm confident it will be delicious!
Be sure to cut your apples dices small enough so each piece gets well-coated with the luscious orange almond sauce and so the apple flavor is perfectly balanced with the crunchy nuts and chewy raisins.
Nuts
Fresh, raw nuts provide crunch and richness to this apple salad. My favorite nuts to use in this salad are pecans, but walnuts are also delicious.
Raisins
I originally included raisins in this recipe for the purpose of sweetness and flavor, but it's the chewiness that they bring to the salad that I really love.
Granola
To help this apple salad reach stick-with-you breakfast status, I sprinkle some sugar-free or low-sugar granola over top. The whole grains in the granola provide good nourishment for your day.
I suggest using maple granola or apple granola as their flavor blends wonderfully with this Apple Breakfast Salad.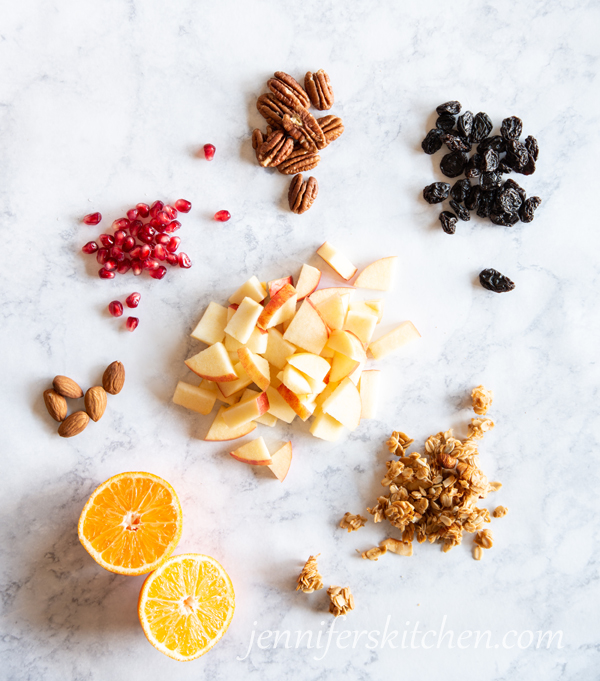 This website is brought to you without annoying ads because we can better live healthier lives without the influence of marketing. But running a high-traffic site is expensive. How can you help? If you purchase anything through the affiliate links on my site, your cost is the same, but I receive a small commission. Thank you!
How to serve this Apple Breakfast Salad
My favorite way to serve this delicious Apple Breakfast Salad is alongside some warm oatmeal or brown rice. It's also great with whole-grain toast.
Apple Breakfast Salad with Orange Almond Sauce is best served fresh; but it will keep reasonably well in the refrigerator for a couple hours, especially if you choose an apple variety that isn't quick to oxidize.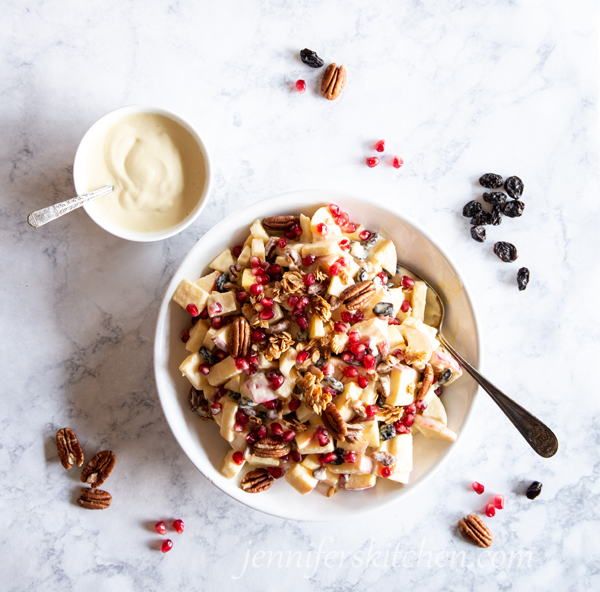 Make Ahead Breakfast?
If you're like me, the last thing you feel like doing in the morning is cooking breakfast. (In our house, if can't be put together in less than 5 morning minutes, you won't see it on the breakfast table.) Thankfully, you can prepare the sauce for this Apple Breakfast Salad ahead of time. You can also combine the granola, nuts, and raisins, and have the pomegranate seeds ready.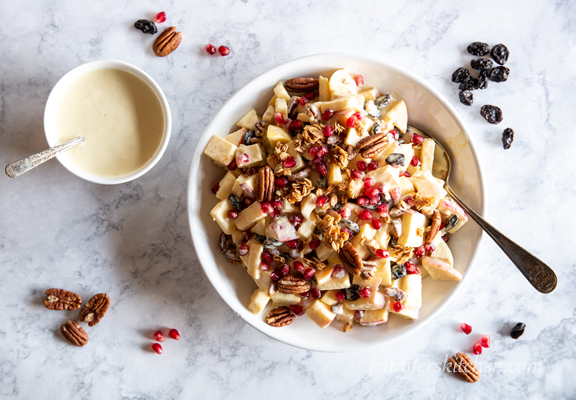 Then, in the morning, all you have to do is cut up the apple and mix it all together.

Can you cut this recipe in half?
If you want to cut the recipe in half, you can do so, but most blenders aren't able to blend very small amounts smoothly, so I recommend making the entire recipe of the sauce. In other words, use only half of the other ingredients, but prepare the entire recipe of the sauce.
What do you do with the other half recipe of sauce?
It keeps for about 4 days in the refrigerator and can be used in a number of ways. It's delicious on top of oatmeal, makes a good dip for pears, tastes great over hot brown rice (as a breakfast dish), can be used as a spread for toast, and, of course, is delicious over another apple breakfast salad later in the week.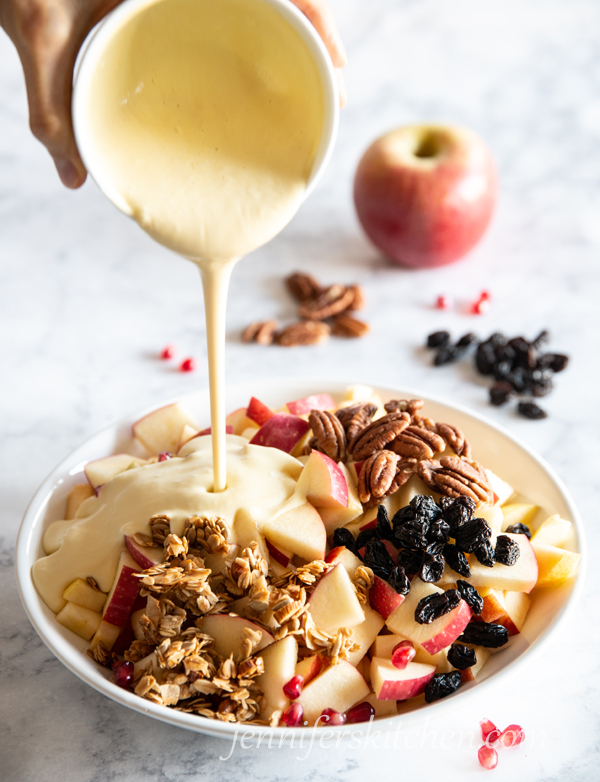 Apple Nutrition
Apples and Weight Loss
Apples are one of the best weight loss foods. Add an apple to your breakfast and you'll increase fiber intake by 5 grams! That apple will also help you feel fuller longer and help fight fat!
Smaller waist – Bigger brain
Not only are apples helpful for weight loss, but they boost brain power as well.
Research shows that apples contain many healthy-brain nutrients that can help improve memory and concentration, prevent the decline of neurotransmitters, boost overall cognitive performance, and protect against Alzheimer's disease.
Many of these brain-boosting nutrients are found in the skin of the apple, so it's a smart choice to eat apples with the peel intact.
Cholesterol-lowering breakfast
The consumption of apples is also associated with lower cholesterol levels and lower rates of cardiovascular disease (probably due to the fruit's antioxidant, fiber, and pectin content). Replace your eggs and bacon breakfast with this apple salad and whole grain toast and your heart will be doing the happy dance . . . and thanking you for many years to come.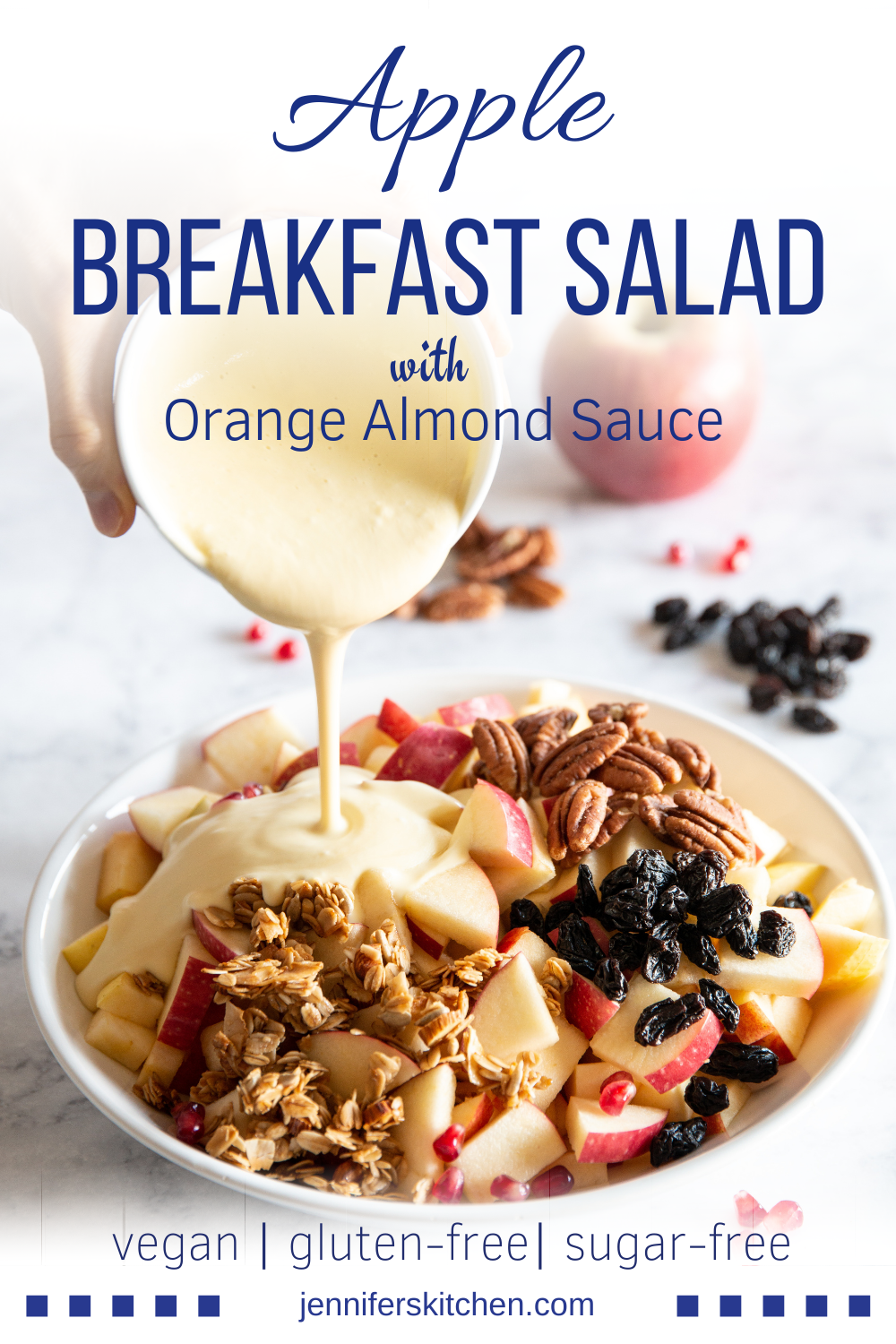 Breakfast is the most important meal of the day, so you might as well make it delicious. 😉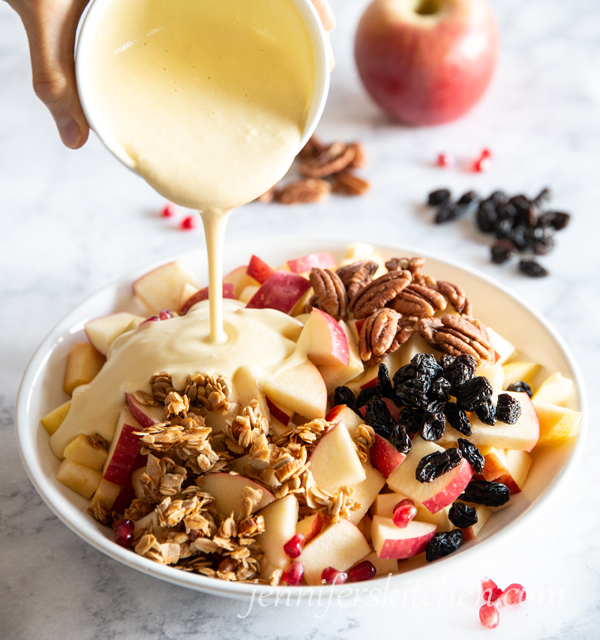 Apple Breakfast Salad with Orange Almond Sauce
Sweet and delicious, this healthy salad offers whole grains, fresh fruit, omega-3's, and fabulous taste!
Ingredients
SAUCE
1

cup

freshly-squeezed orange juice

-

(about 4 oranges)

3/4

cup

blanched raw almonds

2

tablespoons

orange juice concentrate

-

(found in the freezer section of grocery stores)

1/4

teaspoon

salt

1/2

teaspoon

vanilla
SALAD
4

cups

diced apples

-

(diced very small)

1/3

cup

walnuts, coarsely chopped -

or pecans

1/4

cup

raisins

1/4

cup

pomegranate seeds

-

(found in the produce section of grocery stores)
TOPPING
1/3

cup

granola -

or other crunchy cereal

pomegranate seeds
Instructions
Squeeze oranges to make orange juice.

Place sauce ingredients in blender and blend on high until very smooth. I recommend a very powerful blender for this sauce to ensure it comes out nice and smooth.

In a bowl, combine salad ingredients. Pour dressing over salad.

Sprinkle topping over salad and serve immediately.
Variation:
Mix 1/4 cup coconut cream into sauce.
Notes
 * * * This Recipe for Apple Breakfast Salad with Orange Almond Sauce is… gluten-free, plant based, oil-free, sugar-free, high in fiber, dairy free, egg-free, vegetarian, vegan, and made from real, whole foods.
>> One quick request: if you like this recipe, please leave a rating and a comment. Ratings help more people find these healthy recipes!
Print Recipe
Want More?
For more healthy and delicious recipes like this one that will simplify your journey to a healthier and thinner you, check out my
Healthy Weight Loss Program!
You my also like:
Before you go . . .
Did you know that you can eat all this delicious food AND lose weight? You can!
No calorie counting. No portion sizes.
Join my online weight loss program today!