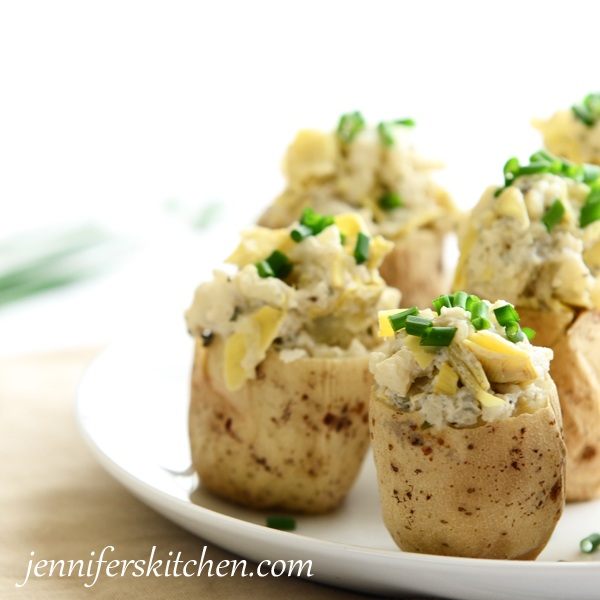 This post is for those of you who, like me, typically avoid fancy-pants food that might take more than 20 minutes to make and which would've tasted just as good if all ingredients were just thrown together in a pan without the uppity presentation.
This recipe has only four ingredients and, aside from scooping out the potato (which was actually easier than I thought it was going to be), it really only took a few minutes to make.
That said, they do take a tiny bit of pre-planning. I baked the potatoes before mixing with other ingredients (which means I had to remember that everyone's going to want to eat before they want to eat).
And since I wanted these to be weight-loss-friendly, I used this Creamy Italian Dressing (which takes about 5 minutes longer than opening a bottle of store-bought). But, truth is, it really didn't take any extra time because I had some on hand in my frig (which, thankfully, is the norm – we almost always have some in our frig because we eat it on nearly everything).
Stuffed potatoes get a makeover and you reap the deliciousness!
More Potato Recipes
Hey! After you make this delicious recipe, check out some of my other fabulous potato recipes!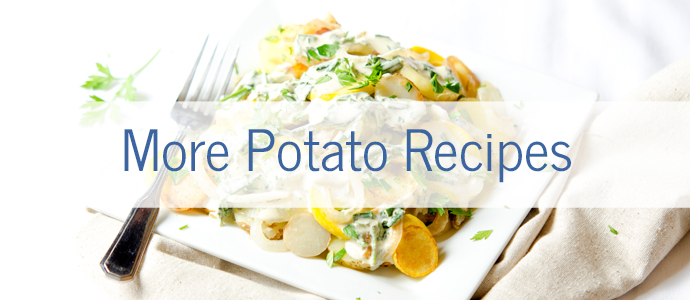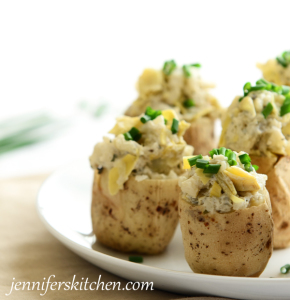 Print
Artichoke-Stuffed Potatoes
Ingredients
4 medium potatoes - see note
1 cup Creamy Italian Dressing - see note
1 14-ounce can artichoke hearts
2 cloves garlic, crushed
Instructions
Preheat oven to 400°F. Scrub potatoes and pierce with fork.
Bake potatoes for 50 to 60 minutes or until tender but not mushy.
Remove potatoes from oven. Allow to cool enough to handle or hold a potato with a clean towel and cut a slice off the top. Or, you can cut the potato in half lengthwise.
Using a spoon, scoop out potato flesh into a large mixing bowl, leaving a 1/4-inch shell.Repeat with remaining potatoes.
Add Creamy Italian Dressing to potato flesh and cream together with an electric hand mixer. (A fork can be used instead, but it's more difficult.)
Drain artichoke hearts and coarsely chop.
Add chopped artichoke hearts and crushed garlic to potato mixture and mix well. Spoon mixture back into potato shells.
Return to oven and bake at 350°F for 5 to 15 minutes or until thoroughly heated. (The amount of time needed will depend on how much potatoes have cooled and whether dressing was cold or at room temperature.)Serve hot.
Notes
1. A medium size potato is about 5 to 6 ounces and about 4 inches in length or close to the size of a large computer mouse. Be sure to use medium potatoes for the correct ratio of potato to other ingredients.
2. I made this with my homemade dairy-free Creamy Italian Salad Dressing. You could also use this Creamy Dill Salad Dressing. I think it would probably work with store-bought, but I've never tried it, so no guarantees.
3. To give filling a crispy top, spritz tops of stuffed potatoes with a small amount of olive oil, and place potatoes under broiler for 2 to 3 minutes.
Popular Posts