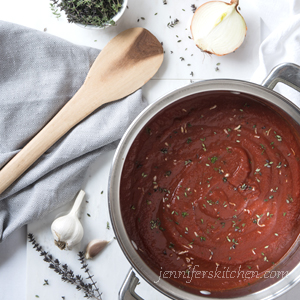 Healthy Marinara Sauce
Yield 6 cups
Rich, authentic Italian flavor without spending hours in the kitchen.
Ingredients
2 tablespoons olive oil
1 1/2 cups diced yellow onion
3 tablespoons fresh garlic, minced
6 cups (two 28-ounce cans) crushed tomatoes
2 1/2 teaspoons dried basil
2 teaspoons granulated onion
1 teaspoon salt (more or less depending on how much salt is in tomatoes)
1 teaspoon turbinado sugar – optional
1/2 teaspoon dried oregano
Instructions
In a large, wide-bottom pot, sauté onion in oil over low to medium heat until onions begin to brown.
Add garlic and sauté for 2 more minutes.
Stir in tomatoes and seasonings.
Cook for 5 to 45 minutes at a slow simmer. Longer simmering time will thicken the sauce and give it a deeper flavor, but the sauce is still delicious even if only simmered for a few minutes.
Recipe by JennifersKitchen at https://jenniferskitchen.com/2018/04/easy-1-pot-7-ingredient-marinara-sauce.html