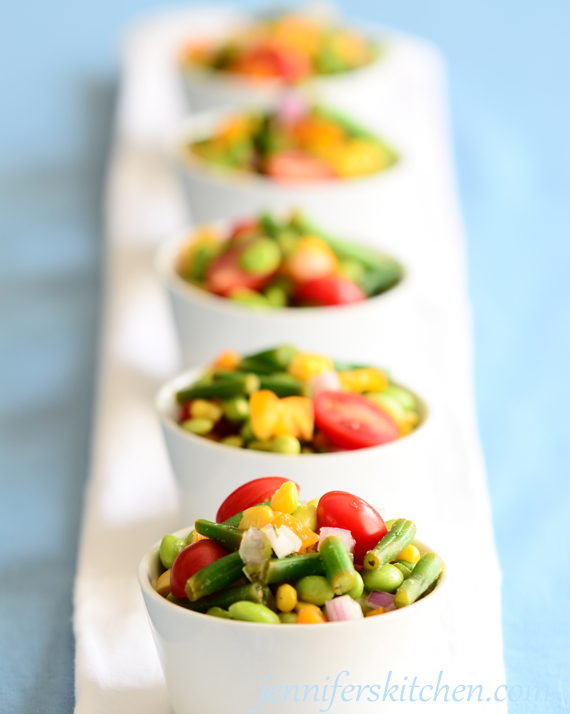 Reason #789 why I like summer.  Fresh, beautiful produce.
This salad is like summertime in a bowl.  And it's picnic-friendly.  Make a batch ahead of time, keep in the frig, and it's ready to go when you are.
What is Edamame?
Edamame, a long-time staple in Japanese cuisine, are the young green soybeans fresh from the pod. Edamame comes in the shell and shelled and can be found in the freezer section of most grocery stores and even at some farmer's markets.
Edamame Nutrition
A half-cup serving of shelled edamame will offer you 9 grams of fiber, 11 grams or protein, 10% of your daily need for vitamin C, and 10% of your daily need for iron. And lots of yumminess.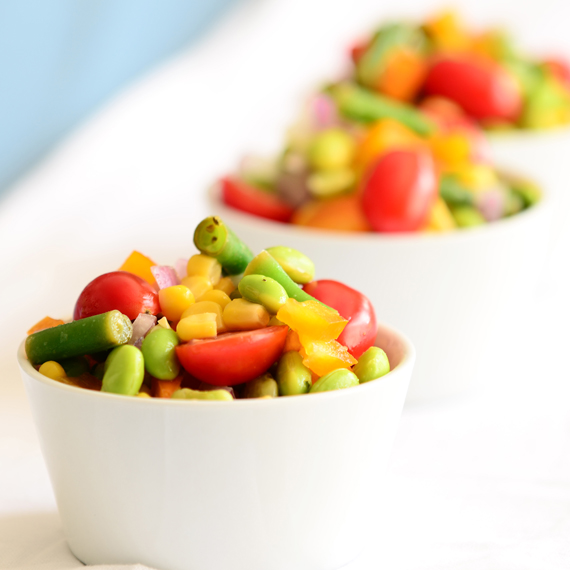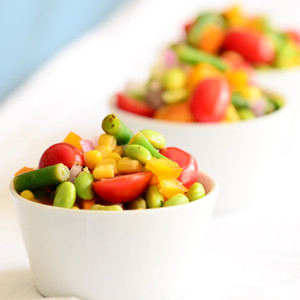 Print
Summertime Farmer's Market Salad
Yield approx. 6 1/2 cups
A beautiful summertime, make-ahead salad – perfect for picnics or backyard potlucks.
Ingredients
2 small handfuls fresh green beans, cut into 1-inch pieces (about 2 cups)
2/3 cup water
1 3/4 cups (or one 8-ounce package) fresh or frozen edamame (shelled) - see note about edamame below this recipe
2/3 cup finely diced red or green onion
1 cup corn kernels (fresh if possible)
1/4 cup lemon juice, scant
2 teaspoons granulated onion
1 teaspoon salt
1/2 teaspoon dried oregano
1/2 teaspoon dried basil
1 tablespoon fresh minced parsley
1 tablespoon olive oil
1/2 orange bell pepper
1 cup fresh grape tomatoes
OPTIONAL ADDITION
1 Hass avocado, peeled and diced
Instructions
Wash green beans and cut into 1-inch pieces.
Bring water to boil in a pot and add edamame. Cover, and cook at a low boil for 3 minutes.
Add green beans to pot, cover, and cook for an additional 2 to 2 1/2 minutes.
Remove from heat, transfer edamame and beans to colander, and briefly rinse with cold water to stop cooking.
Transfer edamame and beans to a large mixing bowl (or return to pan) and add remaining ingredients, except pepper and tomatoes. Mix well.
Place in refrigerator to chill and marinate.
Before serving, dice bell pepper and halve tomatoes and mix into salad.
Popular Posts