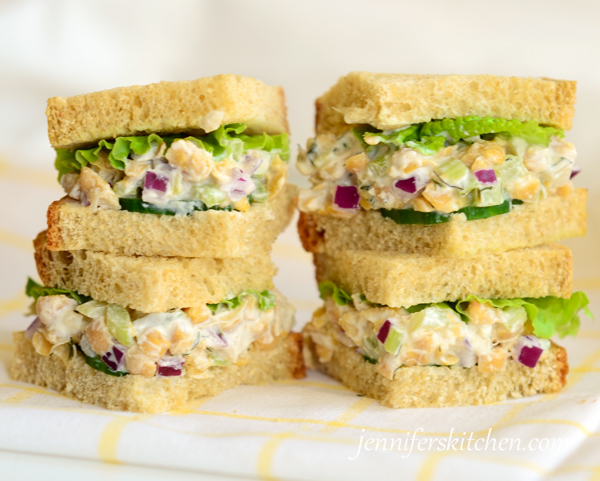 Dear Mr. Sunshine,
Welcome back.  You've been missed!  Now that you're here, I want to spend every spare moment with you, and I certainly have no desire to hang out with Mr. Stove.  Soooo, sandwiches for lunch it is!
Yes, I know sandwiches can be boring, but the zingy red onion, the crunchy cucumber, just-right seasonings, and the creamy mayo in this sandwich filling take the simple sandwich from ho-hum to oh-yum!  And the chick peas – oh yes, the chick peas – they stuff a healthy dose of fiber and protein in between those slices of bread, making this sandwich a super filling, yet remarkably slimming lunch.
So thank you, Mr. Sunshine for showing your happy face, encouraging me to get outside again, and reminding me of how delicious lunchtime can be. But no more sunburns, ok?
Sincerely,
Jennifer
Dear Reader,
What's your favorite, no-stove-needed, summertime food?  I'd love to hear about it!
Here is my collection of no-cook recipes: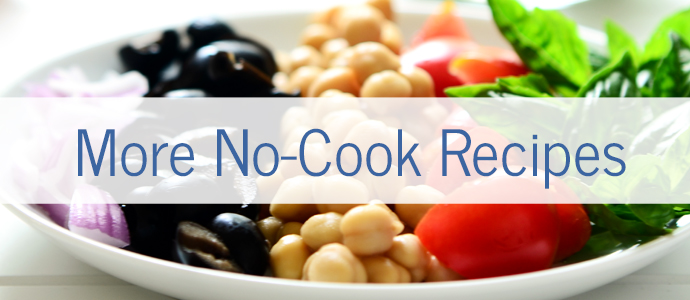 Happy almost-summer,
Jennifer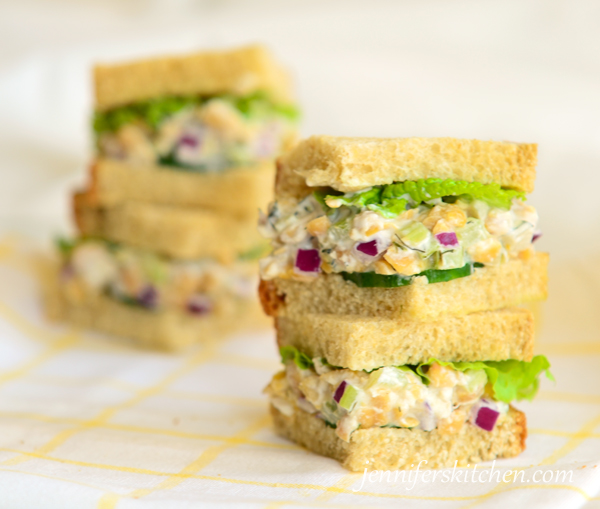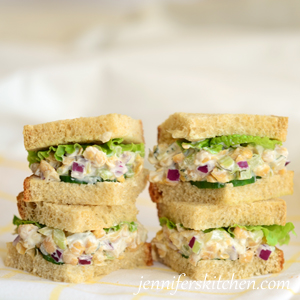 Print
Chickpea Salad Sandwich
Yield 3 to 4 servings
Made with a healthy serving of veggies and high-fiber garbanzo beans, this easy-to-prepare filling just may be the key to the perfect, healthy sandwich.
Ingredients
1 1/2 cups cooked chickpeas (garbanzo beans)
3/4 cup Skinny Mayo from my weight loss program (or you can use this Dill Dressing or this homemade Creamy Italian Dressing)
1 teaspoon granulated onion
1 teaspoon dried dill weed
1 teaspoon dried parsley
1/4 teaspoon celery salt
1/8 teaspoon garlic powder
1/8 teaspoon dried sage
1/2 teaspoon honey or agave nectar
1 stalk celery, diced small
1/4 cup finely-diced red or sweet onion
3 tablespoons finely diced cucumber – optional
whole-grain bread
Instructions
Place garbanzos in a large mixing bowl and lightly mash with a fork or a potato masher or lightly chop using a food processor. (Don't mash them too much; you want some large pieces.)
Add remaining ingredients and mix well.
Chill. Serve on whole-grain bread with lettuce and sliced tomatoes.