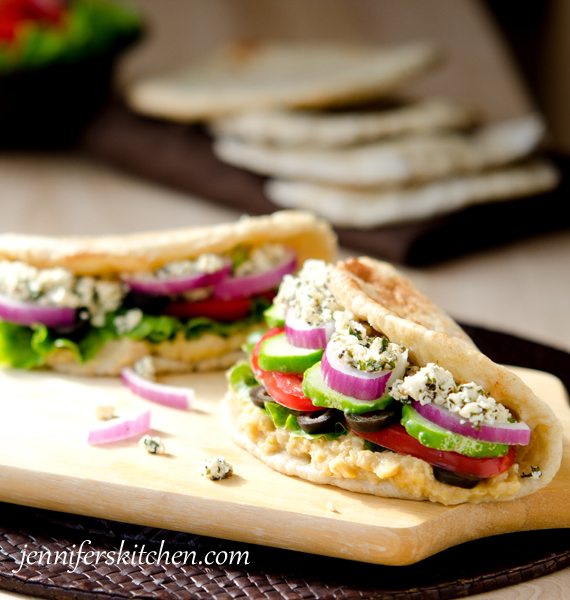 It's summer and that means that I am spending countless hours devising new ways to use the ever-growing pile of produce in my frig and on my counter top.
ME: (as I try to find more room in the frig for the newest picking of cucumbers) "We need to eat these cucumbers."
KIDS: (with mouths full of cucumbers) "Mom, we ate 9 of them for lunch today, 10 yesterday, and 8 the day before. We're eating them as fast as we can."
Actually, I love having all this fresh produce available. It makes cooking and eating loads more fun and much more delicious!
This sandwich is one of my favorites! It is full of flavor, easy to make, and so healthy! And it's great for weight loss.
Here's what you need to know about this sandwich:
1. You don't like tofu? No worries. Even the most die-hard tofu hater will like it in this sandwich. DON'T omit it; the tofu mixture is essential for the flavor of the sandwich. Trust me here.
2. The amounts of the other ingredients, like the cucumber, tomato, lettuce, etc. are flexible. It all depends on how you like it.
3. The mashed and seasoned garbanzo mixture is just that – mashed and seasoned garbanzos. It's not hummus, BUT I do think you could use hummus in this recipe and it would taste very good.
4. I used garbanzos that I cooked in a crockpot for this recipe because I like them better and they're easier to mash. Canned garbanzos (chickpeas) will probably work too.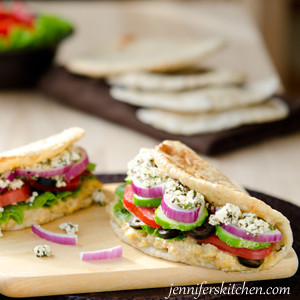 Print
Greek Veggie Pita
Ingredients
1/3 pound (approximately) extra-firm tofu
1 1/2 cups (one 15-ounce can) garbanzo beans, rinsed and drained
2 tablespoons olive oil, optional – divided
3 tablespoons lemon juice – divided
2 cloves garlic, crushed
2 teaspoons granulated onion – divided
1 teaspoon dried parsley
1 teaspoon dried oregano
1 teaspoon dried basil
1 teaspoon salt
1/4 red onion, sliced
1 large fresh tomato, sliced
1 small to medium cucumber, sliced thin
1/2 cup shredded lettuce
1/2 cup (2.25-ounce can) sliced black olives
2 whole pitas
Instructions
Drain tofu. Place it in a colander and set something heavy on top to press water out of tofu. Set aside.
Place garbanzos, 1 tablespoon oil (if using), 2 scant tablespoons lemon juice, crushed garlic, and 1 teaspoon onion powder in a bowl and mash garbanzos with a fork. If garbanzos are unsalted, you may want to add 1/4 t salt. Chill if desired.
Prepare vegetables.
Gently squeeze tofu with a clean kitchen towel to remove as much excess water as possible. Crumble tofu into a separate bowl. Mix in remaining 1 tablespoon lemon juice and oil (if using), remaining 1 teaspoon onion powder, 1 teaspoon parsley, 1 teaspoon oregano, 1 teaspoon basil, and 1 teaspoon salt. Add up to 1/4 teaspoon more of each of the seasonings for a zippier sandwich.
Spread garbanzo mixture inside each pita half. Fill with vegetables, tofu mixture, and olives. Serve immediately.
Notes
1. I use home-cooked garbanzos for this recipe because they're softer, have a little better flavor, are less expensive, and are easier to mash with a fork.
If you use canned garbanzos, you may want to use a food processor or a pastry cutter to mash them.
2. If your garbanzos aren't salted, you may want to add some salt to them.
Did you make this recipe?
Share it on Instagram! Tag @jenniferskitchn and hashtag it #jenniferskitchn
Leave a comment
Your comments make my day! 🙂
Popular Posts