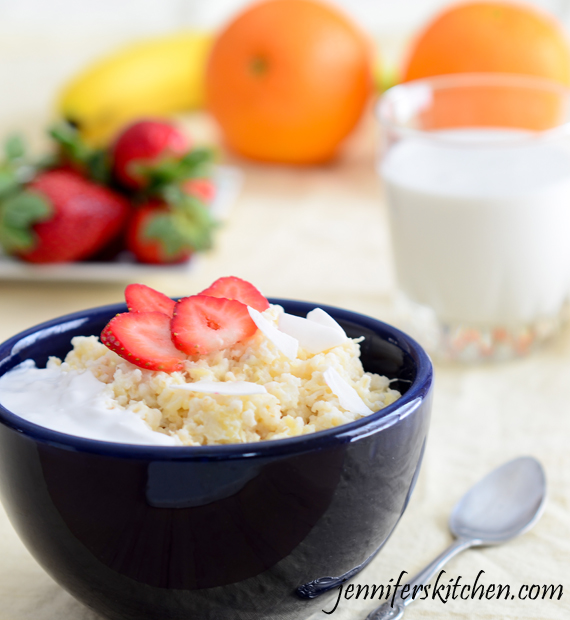 For many people around the world, rice is a common breakfast food, but in the U.S. we seldom see its appearance at any time except dinner … unless, of course, it goes snap, crackle, pop.
But this versatile, gluten-free grain deserves a little more recognition.
Slimming Rice
Rice is an easily digested, very nourishing grain and research shows that eating whole grains, such as brown rice, may actually help reduce belly fat.
Not sure how to cook it?  Click here for a post I wrote on how to cook brown rice.
You say you don't like brown rice?  My darling brown rice skeptic, your time has come.
Print
Pineapple Coconut Rice with Strawberries
This naturally sweet, gluten-free breakfast is both high in fiber and flavor!
Ingredients
1 14-ounce can full-fat coconut milk (unsweetened)
4 cups cooked brown rice
1 20-ounce can crushed pineapple (do NOT drain)
1/8 teaspoon salt
1 teaspoon vanilla, scant
your choice of sweetener
1 cup sliced fresh or frozen strawberries
Instructions
Place all ingredients, except vanilla, sweetener, and strawberries, in a medium saucepan. Mix well.
Bring to boil, then reduce heat to a low boil and cook, uncovered, for 10 minutes, stirring occasionally. Cereal will thicken as it cooks.
When cereal is done, remove lid and stir in vanilla and sweetener.
Serve topped with strawberries.
Notes on this recipe:
I like to cook a batch of brown rice at the beginning of the week and keep it on hand in the refrigerator so we can use it for a quick breakfast or other rice dishes, like Tex-Mex Beans and Rice.
Coconut  and Weight Loss
Coconut (the whole food – not the oil) is a healthy food that is great for weight loss.
I put shredded coconut in my Coconut Oatmeal Cookies, Coconut Chewy Crispies, and Baked Apple Blueberry Oatmeal, and coconut milk makes Healthy Caramel Apple Dip, Coconut Brazil Nut Milk, and Tropical Smoothie taste so deliciously rich.  I even like to add a dollop of coconut cream to my Wonderful Waffles for some extra flavor.
Popular Posts