All About Polenta – And an Easy, No-Stir Polenta Recipe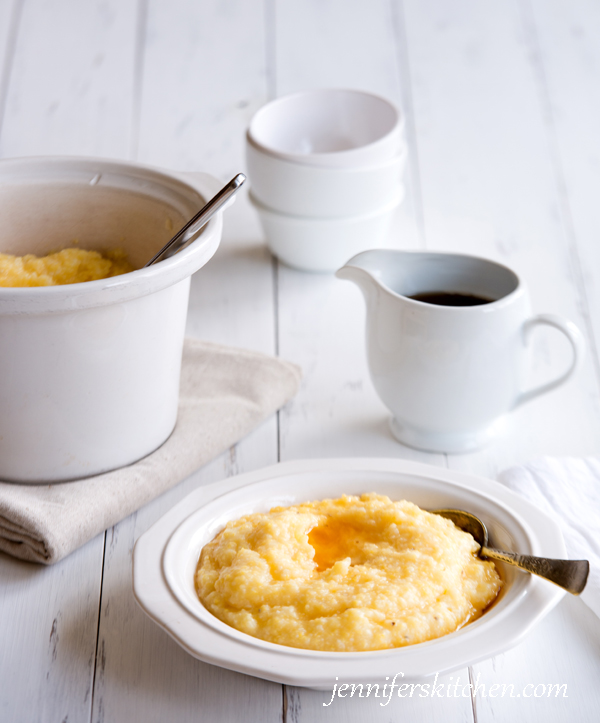 Polenta is a delicious, easy-to-make, gluten-free dish that can be stand on its own or serve as the start of some amazingly delicious meals.
Some people are intimidated by cooking polenta, but here is a fool-proof method that is so easy even a 4-year-old could do it.
But First … What is Polenta?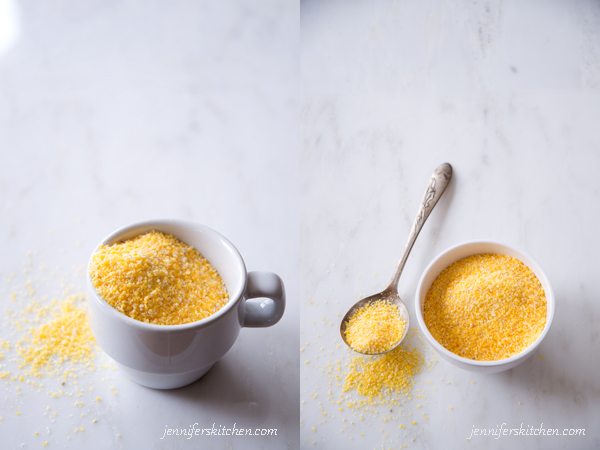 Polenta is a dish common in Northern Italy that's made from a special kind of ground yellow corn. It's usually eaten with a topping, such as a ragù or cheese.
It can be served freshly cooked and soft, or it can be poured into a dish, cooled, and then sliced and fried or baked.
Is Polenta Different than Grits?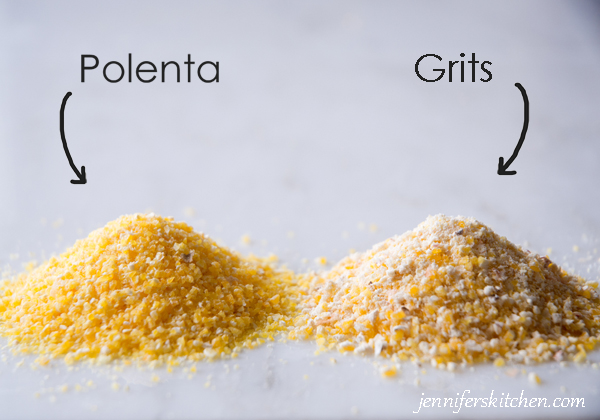 While it looks similar to grits (and sometimes has the word grits added to the label), polenta is made from flint corn, which is a completely different kind of corn than the corn used to make grits (dent corn).
Flint corn has a different flavor and mouthfeel than dent corn. And flint corn holds its texture better than dent corn and so the end result is less mushy.
Can I Use Cornmeal Instead of Polenta?
The name "polenta" actually refers to the final dish, not the yellow grain in the package that the dish is made from. When you buy a package labeled "polenta", you are actually buying cornmeal made from flint corn with just the right grind for making polenta. (That is, if it is labeled correctly … ahem, get with it food companies.)
That said, medium- or coarsely-ground cornmeal can serve as a stand-in for polenta.
Don't use finely ground cornmeal to make polenta. The cooked product will be pasty.
Polenta comes in medium-ground and coarsely-ground. If the package doesn't say what the grind is, it's probably medium.
The Secret to Creamy Polenta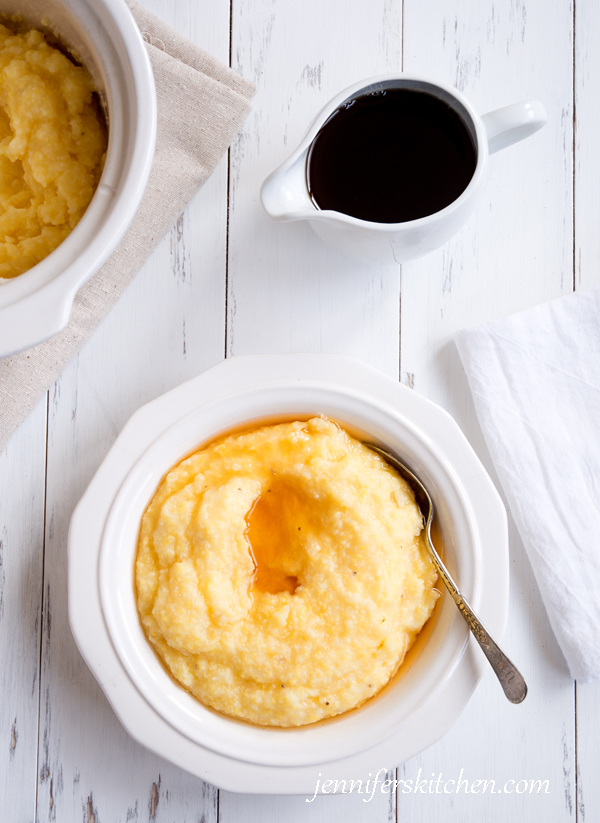 The secret to creamy polenta is to use at least 4 cups of liquid for every 1 cup of polenta.
Many polenta recipes call for 3 cups of liquid to 1 cup of polenta. This ratio allows the polenta to cook in about 30 minutes or less, but the end product will lack that rich, creamy texture that you'll get if you use more liquid. In addition, cooking grains thoroughly makes them healthier and easier to digest.
Should I Use Water or Milk or Broth When Making Polenta?
If you plan to serve the polenta by itself or as a breakfast cereal, I suggest using milk as the liquid.
What kind of milk? I've tested this with several varieties of non-dairy milk (like almond milk) and, while they each have a different flavor (depending on the milk used), they've all been tasty. I've never tried this with dairy milk, but I think it would be fine.
If you are making a savory polenta dish with a topping like beans, meat, or cheese, then water or vegetable broth (or stock) will work well. Obviously, the vegetable broth (or stock) will add more flavor – which is sometimes desirable (if your toppings are simply flavored) and sometimes not (if you need a more neutral base because your toppings have a dominant flavor).
When in doubt, just use water.
What about Quick-Cooking Polenta?
Instant polenta or quick-cooking polenta is pre-cooked and dried so it can be prepared in just a few minutes. However, the flavor and consistency is lacking. And to add to the confusion, some polenta that is labeled quick-cooking isn't really. Regardless of the variety you choose, I recommend long-cooking (see methods below) for the best flavor and consistency.
How to Cook Polenta
Most recipes tell you to bring the water to a boil, and then add polenta in a thin stream, whisking constantly. In my opinion, this is just a lot of extra trouble. Below are the two methods I use that are a whole lot easier.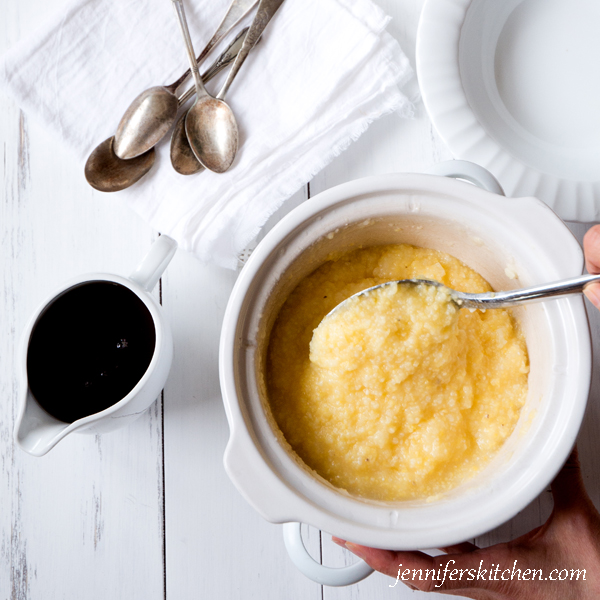 Method #1: No-Stir, Slow Cooker Polenta
Cooking polenta does not need to be a long and laborious task. This is my favorite way to cook polenta. No stirring. No worrying. Put in ingredients. Come back in a few hours and it's ready!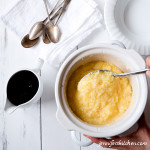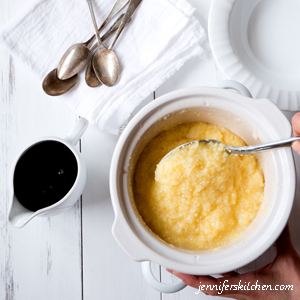 Easy, No-Stir, Crock Pot Polenta Recipe
Make polenta in your slow cooker – an easy, fool-proof method for cooking polenta.
Ingredients
1

cup

uncooked polenta

4

cups

water or milk

1

teaspoon

salt, scant
Instructions
Cover and cook on high for 3 1/2 hours or on low for 7 hours. I use an appliance timer to start the polenta at the right time if I'm not going to be home.

After the allotted time, remove lid and stir polenta vigorously. Polenta should be soft and creamy, not runny and not too thick. If serving time will be delayed, keep covered with crock pot on "warm" setting.
Notes
1. All slow cookers cook differently. If you find that your slow cooker cooks too hot, reduce cooking time.
2. If your polenta sticks to the side of your slow cooker, turn it off 30 minutes before serving time keeping the lid on. Immediately before serving, remove lid and stir vigorously to incorporate polenta that was stuck on the sides with the rest of the polenta. This will only work if the polenta on the sides has not browned. If this is the case see note #1.
>> One quick request: if you like this recipe, please leave a rating and a comment. Ratings help more people find these healthy recipes!
Print Recipe
Method #2: Stove-Top Polenta
Cooking polenta on the stove-top takes a little more actual hands-on time than does crock pot polenta, but it's still fairly easy.
As I mentioned above, most polenta recipes tell you to bring the water to a boil, then slowly pour polenta in a thin stream while whisking constantly. But I simply dump my water and polenta into the pan together and turn the heat on high. When it comes to a boil, I reduce the heat and stir occasionally.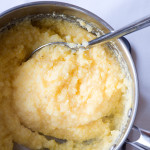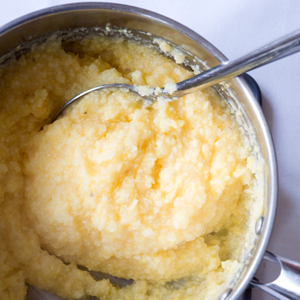 How to Make Polenta – Stovetop Recipe
Ingredients
1

cup

uncooked polenta

1

teaspoon

salt

4 1/2

cups

water or milk
Instructions
Place water (or milk), polenta, and salt in large (at least 3-quart) heavy-duty saucepan or small pot. Bring to boil over high heat stirring often.

Reduce heat to very low, cover and cook for 30 to 40 minutes, stirring 2 or 3 times to prevent polenta from sticking to the bottom of the pan. (When polenta becomes very thick and starts pulling away from the side of the pan it is about 2 to 3 minutes from done.) Polenta should be soft and creamy, not runny and not too thick.
>> One quick request: if you like this recipe, please leave a rating and a comment. Ratings help more people find these healthy recipes!
Print Recipe
How to Reheat Polenta
Usually, polenta is made fresh and served right away, but if you have leftover polenta it is helpful to know how to warm it up again without having issues with it sticking to the bottom of the pan.
To reheat polenta, place approximately 1/4 cup of water in the bottom of a large saucepan with a lid. Bring water to boil. Add polenta, cover, and reduce heat to simmer. Heat for 2 to 3 minutes or until water cooks away. Remove lid and stir vigorously. Cook until heated through.
How to Serve Polenta
Polenta can be eaten in a number of ways, such as a breakfast cereal with fruit or pure maple syrup and coconut cream or …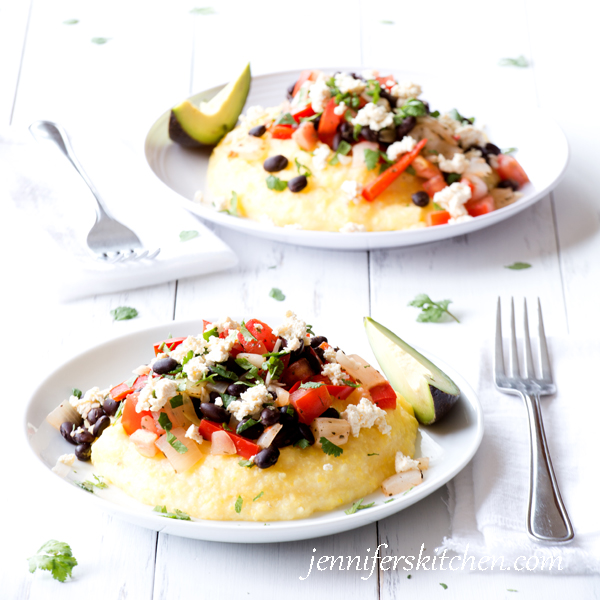 … as a savory dish topped with garden tomatoes and onions, or sauteed greens, or Mexican Black Beans.
You my also like:
Before you go . . .
Did you know that you can eat all this delicious food AND lose weight? You can!
No calorie counting. No portion sizes.
Join my online weight loss program today!