Mornings are busy in most households and sometimes the biggest casualty in the war against the clock can be the morning meal.
Slow Cooker to the Rescue!
The crock pot is your secret weapon for making sure you and your family get a healthy, warm breakfast.
Cranberry Orange Oatmeal
Hearty, chewy, nutty steel-cut oats with the the sweetness of orange and the tang of chopped cranberries … mmmmm …. soooo full of flavor … what better way to start your day?
What are Steel Cut Oats?
Steel-cut oats are oat grains that have been cut into pieces (to resemble small, coarse grains of rice) rather than rolled like old-fashioned oats or quick oats. This method leaves steel-cut oats with a texture that's chewier and heartier than rolled oats.
Steel cut oats also have a richer flavor than do regular rolled oats. In fact, most people, once they've tried steel-cut oats (also known as Scottish oats, or Irish oats), say they'll never go back to regular rolled oats again.
Steel-cut oats offer all the nutritional value of rolled oats. And they have a lower glycemic index than do rolled oats.
Slow Cooker Recipes
Steel-cut oats are the best option when cooking oatmeal in a crock pot (slow cooker). Regular old-fashioned rolled oats cook down too much in a slow cooker and end up quite mushy. And quick oats become nearly unrecognizable.
A Jewel of a Fruit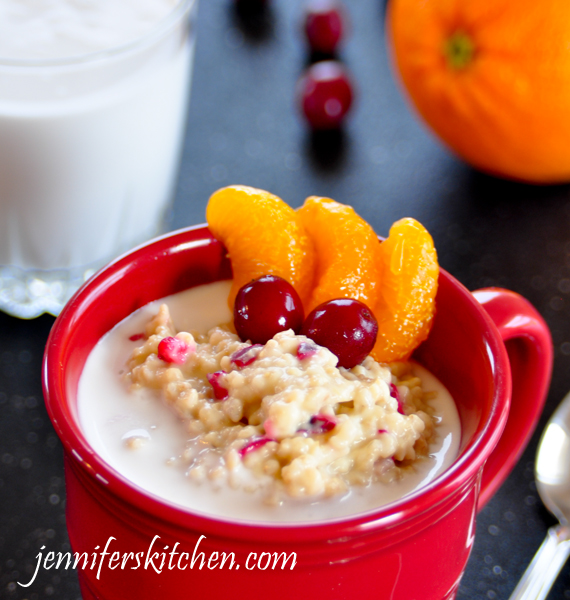 This recipe could easily be adapted to use other fruits, but given all the health benefits of cranberries – and the fact that they are only available from around November to January, I've been experimenting with recipes that include these delicious and health-promoting gems.
I hope you enjoy!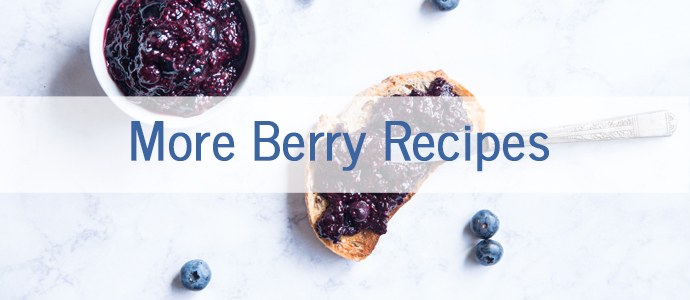 Crock-Pot Cooking
Like cooking with a crock-pot? Check out my posts about overnight, crock-pot, hot cereal recipes, how to cook beans in a crock pot, and how to buy a crock-pot.
Cranberry Orange Oatmeal
The tangy taste of cranberries adds a delicious twist to regular oatmeal.
Ingredients
1

cup

water

2

cups

non-dairy milk

1/3

cup

orange juice concentrate

1/3

cup

coarsely chopped cranberries

1

cup

steel-cut oats - (gluten-free if desired)

1/4

teaspoon

salt

1

teaspoon

vanilla

2

tablespoons

honey

- or pure maple syrup – optional

chopped nuts for topping

-

optional
Instructions
Spray inside of a small slow cooker (crock-pot) with non-stick cooking spray (such as PAM).

Pour water, milk, and orange juice concentrate in slow cooker.

Coarsely chop cranberries. (A nut chopper works well for this.)

Gently stir cranberries, oats, and salt into milk and water.

Cook on low for 6 to 10 hours.

When cereal is done, stir in vanilla. Stir cereal well to thicken.

Serve hot topped with chopped nuts and a drizzle of pure maple syrup.
Notes
Cranberry Orange Oatmeal is great served with fresh oranges segments and toast.
1.This recipe is for a small (1 1/2- to 2-quart) crock pot. Recipe may be adjusted for different size slow cookers.
2. All slow cookers cook differently. If your hot cereal turns out too thin or too thick, adjust liquid amount accordingly the next time you prepare overnight hot cereal.
3. If you would like your slow cooker to turn on and off automatically, you can plug it into an appliance timer.
Yield: 3 1/2 cups
>> One quick request: if you like this recipe, please leave a rating and a comment. Ratings help more people find these healthy recipes!
Print Recipe
You my also like:
Before you go . . .
Did you know that you can eat all this delicious food AND lose weight? You can!
No calorie counting. No portion sizes.
Join my online weight loss program today!