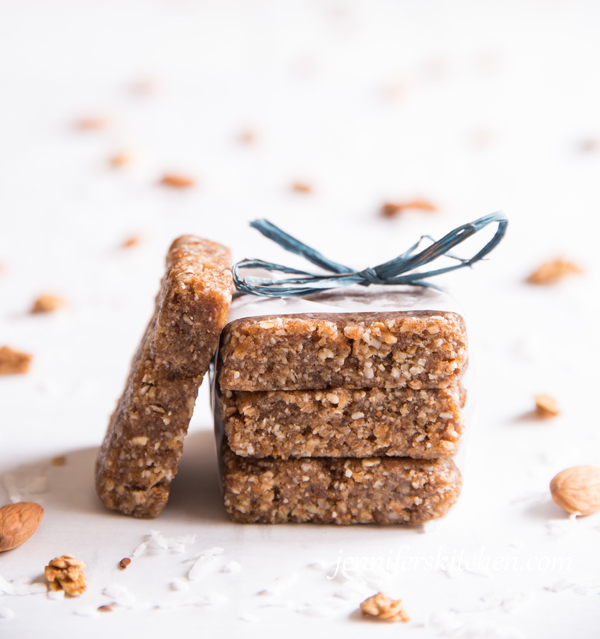 Studies show that a diet high in omega-3 fats improves mood and can help you remember things better. It also helps keep your joints healthy, decreases inflammation, lowers cholesterol, and helps fight depression.
And where do we get omega 3 fats?
We get them through food.
You've probably heard that some of the best sources of omega 3's are walnuts and flax seed, but did you know you can also get this valuable nutrient in spinach, Chinese broccoli, lettuce, turnip greens, zucchini, Brussels sprouts, broccoli, Chinese cabbage, and winter squash?
Omega-3's and Fish
Omega-3's can also be found in fish and other seafood. However, many researchers believe obtaining omega-3's from plant sources to be a better strategy since plants are also a good source of fiber and don't contain the risk of mercury that fish do. In addition, a recent study linked the fat found in fish to a higher risk of prostate cancer.
And the omega-3 found in plants provides for other essential functions in the human body that the omega-3's from seafood does not.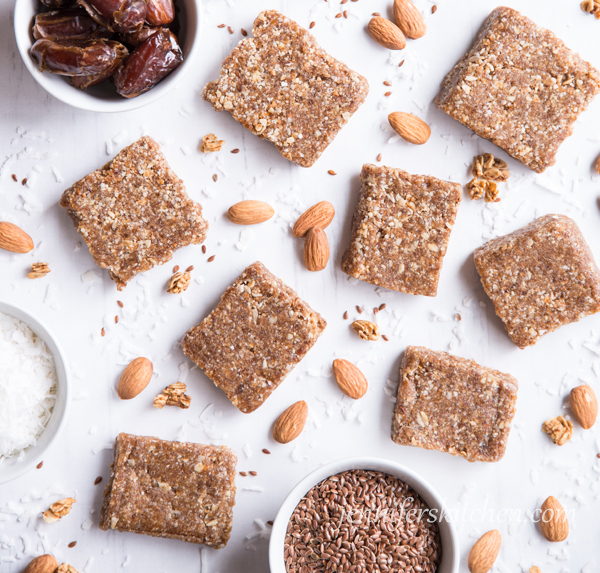 This website is brought to you without annoying ads because we can live healthier lives without the influence of marketing. But running a high-traffic site is expensive. How can you help? If you purchase anything through the affiliate links on my site, your cost is the same, but I receive a small commission. Thank you!
The most delicious way to eat omega-3's
One of my very favorite way to get omega-3 fats is in these luscious Flax Date Bars.
These bars are what most people would call energy bars, but I really dislike the term "energy bars". Since when did real food like beans, blueberries, and broccoli not supply energy? Since when did we need little bars and cookies for energy?
(Ever since the packaged food companies discovered that calling an unhealthy, packaged food an "energy bar" would make them a lot of money.)
So, I don't really like calling these energy bars. They are simply a healthy addition to breakfast or a super healthy replacement for unhealthy dessert. But if you want to call these energy bars, go ahead; you have my permission 🙂
Healthy Weight Loss
There are many energy bars that are marketed as helpful for weight loss, but because they contain sugar and other unhealthy ingredients, they actually contribute to weight gain. This healthy Flax Date Bar recipe contains no sugar, plus it's loaded with fiber – the key nutrient for healthy and lasting weight loss.
How to grind flax seed
I avoid buying pre-ground flax seed since the healthy fats start to break down very soon after they are exposed to air. It's better to buy your flax seed whole and grind it as needed.
Grinding your own seed is so very easy. Simply place the whole seeds in a coffee grinder and push the button. Voila! You have ground flax seed.
How to Eat Flax Seed
Ground flax is lovely mixed into hot cereal, added to applesauce or a smoothie, or even sprinkled on a salad. And, of course, in these yummy Flax Date Bars.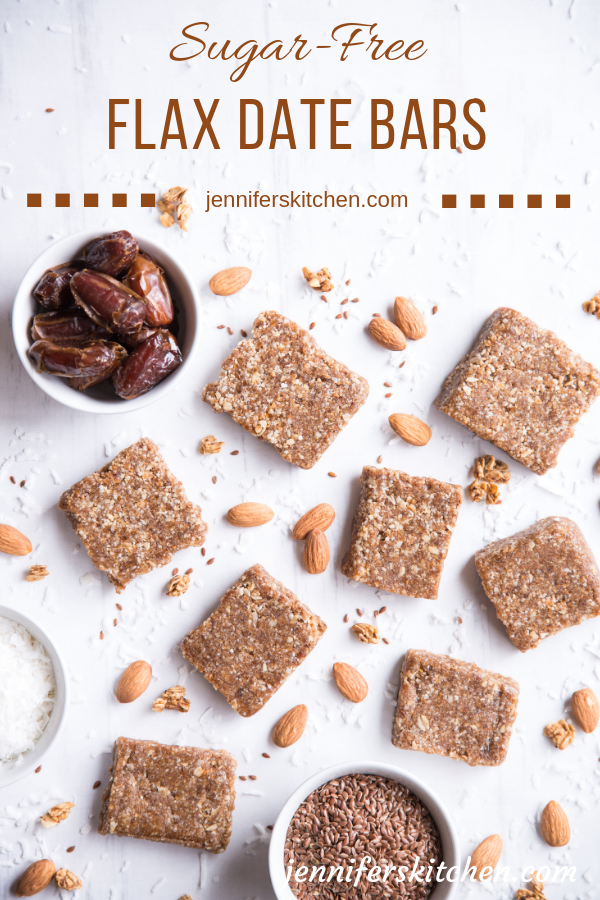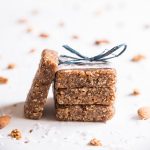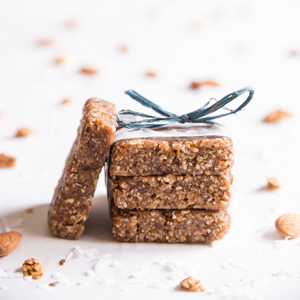 Flax Date Bars
This yummy "energy" bar is loaded with omega-3's for a healthy body and a healthy mind.
Instructions
Place coconut, flax, almonds, and salt in food processor and process until finely chopped. Be sure they are finely chopped or the bars will not stick together.

Add dates, and almond and vanilla flavor, and process until dates are finely chopped. Mixture should begin to stick together. See note 2! 

Add granola, and process until all ingredients well mixed and granola is chopped.

Press mixture into an 8-inch x 8-inch pan. Cut into squares. (See note on yield.)
Notes
1. I grind my flax seeds in a coffee grinder to make flax meal.
2. The exact amount of dates needed depends on the type of dates you use. Some are moister and some are drier. The only way to know how many you will need is to test your mixture (after step 2). It should stick together when squeezed in between fingers. (If it doesn't, you need more dates.)
3. This recipe requires a large (12- to 14-cup) food processor. If your food processor is smaller, divide recipe in half and press into a loaf pan instead of an 8-inch pan.
Yield:
Makes sixteen 1 3/4-inch squares or twenty 1 1/2- x 1 3/4-inch. Best stored in freezer.
Make Ahead Tip:
These bars freeze well. They can be made ahead and kept in an airtight container in the freezer for up to 6 months.
>> One quick request: if you like this recipe, please leave a rating and a comment. Ratings help more people find these healthy recipes!
Print Recipe
Want More?
For more healthy and delicious recipes like this one that will simplify your journey to a healthier and thinner you, check out my
Healthy Weight Loss Program!
You my also like:
Before you go . . .
Did you know that you can eat all this delicious food AND lose weight? You can!
No calorie counting. No portion sizes.
Join my online weight loss program today!