Banana Carob Smoothie (Ice Cream)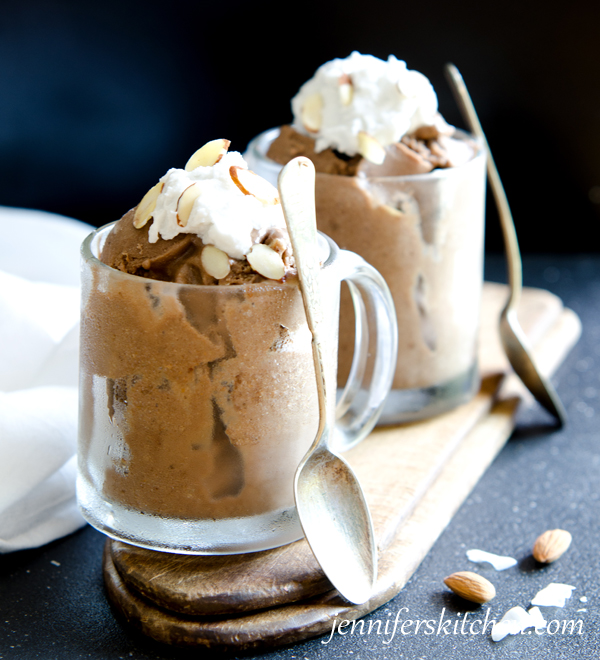 This website is brought to you without annoying ads because we can better live healthier lives without the influence of marketing. But running a high-traffic site is expensive. How can you help? If you purchase anything through the affiliate links on my site, your cost is the same, but I receive a small commission. Thank you!
In the process of developing this recipe, I had the arduous task of taste-testing this smoothie no less than seven times. It was rough.
Aaand then I had to type nearly the entire post with one finger. (Although that may have had something to do with the fact that I couldn't bring myself to put my spoon down.)
Seriously, this Sugar-Free Banana-Carob Smoothie (which is really more like ice cream) is soooo rich, creamy, sweet, and luscious!! Maybe the best thing I've eaten all year.
What is carob?
Carob is the sweet, edible pulp that comes from the pods of a tropical tree. The pulp is dried and roasted and ground into a powder to produce carob powder (also known as carob flour), which can be used in lots of delicious recipes, like this Banana Carob Smoothie, as well as in cookies, cake, milk, and anywhere you'd use cocoa.
Carob is caffeine-free and theobromine-free, and is a great source of antioxidants, fiber, B vitamins, and calcium.
Because chocolate is linked to migraines and other health risks, carob makes a great, healthy alternative. (Check out my post on chocolate if you'd like to know more.)
What does carob taste like?
First, even though it looks like cocoa, carob does NOT taste like chocolate. It has its own unique flavor.
Carob is slightly sweet compared to cocoa and has a slightly nutty, caramel-ish taste with a hint of date flavor. That's the best I can describe it, but really carob tastes like, well, carob.
Where can I buy carob?
Here's where I buy my carob. I recommend buying roasted carob instead of raw since it's easier to digest and most people feel it tastes better.
About this Scrumptious Carob Smoothie (Ice Cream)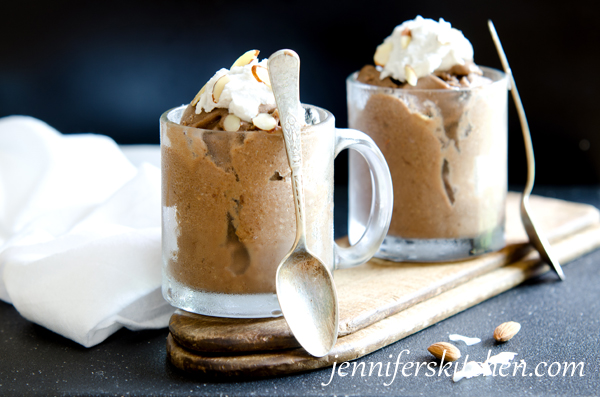 This smoothie is sugar free, but still lusciously sweet. And it only takes 5 minutes to whip up (if you have a heavy-duty blender). The Teeccino is optional, but it really adds to the rich flavor.
More Carob Deliciousness
I have more carob recipes : ) Check them out here.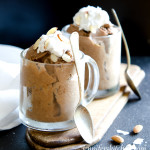 Banana Carob Smoothie (Ice Cream)
Most smoothies are best eaten fresh, but this one (which is really more like ice cream) can be frozen and eaten another day.
Instructions
Place almonds, milk, carob powder, Teeccino (optional), salt, vanilla, and approximately 1 1/2 frozen bananas in blender. (A heavy-duty blender works best for this recipe; other blenders may not get the mixture smooth enough.) Blend until bananas are mostly blended.

Add remaining banana and blend until fairly smooth. Mixture will be thick; I find it blends best by alternating between cycle 1 and cycle 9 on my blender. Do not overblend or mixture will lose its frostiness. Serve immediately.
Notes
1. Don't skip the step of freezing bananas – this step is essential for a rich, creamy, sweet smoothie. And definitely don't add ice cubes – it doesn't work.
2. For a sweeter smoothie, add 1 tablespoon pure maple syrup.
Yield: 1 to 2 servings
>> One quick request: if you like this recipe, please leave a rating and a comment. Ratings help more people find these healthy recipes!
Print Recipe
Want More?
For more healthy and delicious recipes like this one that will simplify your journey to a healthier and thinner you, check out my
Healthy Weight Loss Program!
You my also like:
Before you go . . .
Did you know that you can eat all this delicious food AND lose weight? You can!
No calorie counting. No portion sizes.
Join my online weight loss program today!