This website is brought to you without annoying ads because we can better live healthier lives without the influence of marketing. But running a high-traffic site is expensive. How can you help? If you purchase anything through the affiliate links on my site, your cost is the same, but I receive a small commission. Thank you!
Oh, brown rice, how do I love thee?  Let me count the ways.
1. You are the answer to procrastination and last minute meals.
A big pot of you in the refrigerator and I have a great start for a fast and healthy dish.
2. You make fabulous Cauliflower Rice Patties.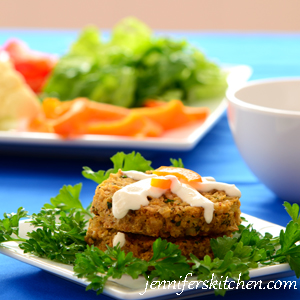 3. You're multicultural.
Mexican? No problem.  Asian? Like a pro.  Indian? With ease.  Middle Eastern? Yep.  Caribbean?  A natural.  Italian?  Buon appetito!  Peruvian? Absolutely.  Spanish? Claro que si!
4. You stuff winter squash like a boss.
5. Your nutritional profile is impressive.
High in fiber, manganese, selenium, and niacin, you do a body good.
6. You add the perfect texture.
You add a lovely texture to many dishes, including these Vegetarian Gluten-Free Stuffed Peppers.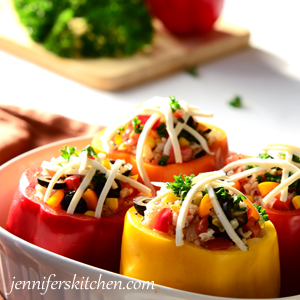 7. You make a dish into a real dish.
Without you, Tex Mex Beans and Rice would be Tex Mex Beans and Beans.  mmmkay.
8. You're a morning person … er … a morning food. 
Pineapple Coconut Rice is amazing!
9. You're a cheap and healthy answer to overpriced and not-so-healthy box cereal.
Just heat leftover rice, add milk, a few frozen blueberries, and a sprinkle of chopped nuts – super healthy and super delicious!
10. You are gluten-free!
And vegan. So you can please a variety of dietary needs.
Bonus:
I quite like you in this Rice, Veggie, and Tofu Skillet.
Rice Makes Meals Easy
I really like to cook a big pot of brown rice at the beginning of the week and have it on hand in the frig since there are almost a zillion ways to use it.
How to Cook Brown Rice
For instructions on how to cook perfect brown rice, click here.
P.S.
I'll be teaching a weight loss class in Cadillac, MI next week and you can attend for free! If you live in the area and would like to come, let me know, and I'll send you information on how to register.
If you don't live in the area, but would still like to enjoy the benefits of my weight loss program, you can join here.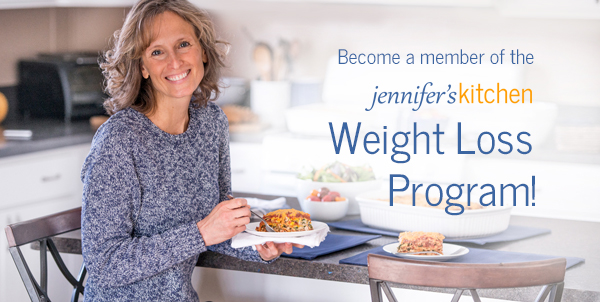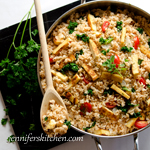 Print
Rice, Veggie, and Tofu Skillet
A simple, super healthy rice dish that's easy to adapt to individual tastes.
Ingredients
1 pound frozen, extra-firm, water-packed (not silken) tofu, thawed
2 medium onions, diced
1 - 2 tablespoons olive oil
2 cup chopped kale or 3 cups baby spinach leaves
3 cloves garlic, minced
1 tablespoon + 1 teaspoon granulated onion
2 teaspoons dried basil
1 teaspoon dried oregano
1/4 teaspoon paprika
1 teaspoon salt
4 cups cooked brown rice
2 Roma tomatoes, diced
1 teaspoon lemon juice
Instructions
Place tofu on a paper towel to drain. (Cut into strips if not already cut.)
In a large pot or skillet, sauté onions in oil over low heat for 2 minutes.
Turn heat to medium, add tofu, and sauté for 5 minutes or until tofu begins to lightly brown.
Add greens and cook until greens are tender. (If greens stick to the pan, place a lid on pan to retain some moisture. Stir often.)
Add minced garlic and cook for one minute.
Add seasonings and brown rice and cook, stirring often, for 3 to 4 minutes or until heated through. (If your rice isn't freshly cooked, add 1/4 cup of water and cook until water is absorbed – about 5 to 7 minutes.)
Stir in tomatoes and lemon juice. Remove from heat.Serve hot.
Notes
To freeze tofu, drain in colander. Cut into cubes or strips. Place in plastic bag or sealable container. Freeze for at least 24 hours.
Freezing tofu gives it a meatier texture and helps it to hold together when sautéed.
Popular Posts