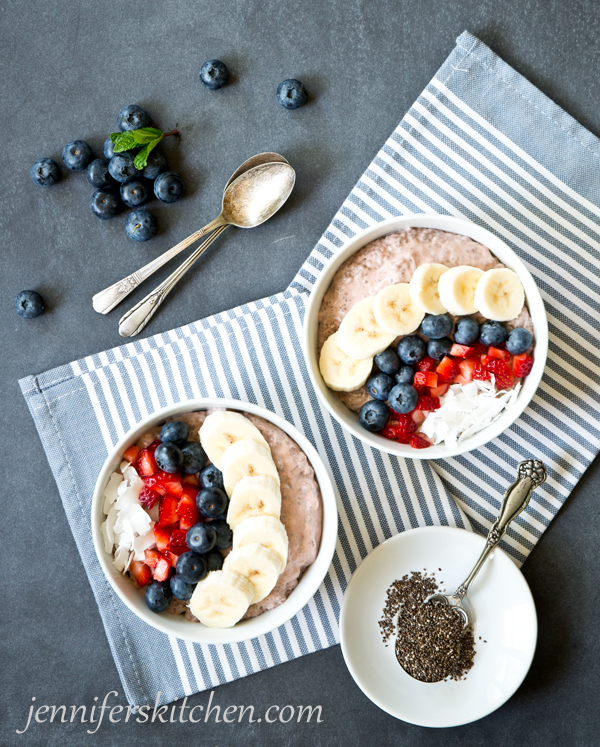 My mouth is in love.
Dear friends, may I introduce you to this luscious Berry Chia Breakfast Bowl?  I want to eat this for breakfast every day.
And with all its summertime berry-ness and delicious creaminess – not to mention the load of health benefits berries and chia offer – I suspect you will agree with me.
Chia!?
So, if you are like me and tend to quickly skip over recipes that have ingredients in them that aren't currently in your pantry or frig, I get it.
But here's the deal: In the name of this creamy, luscious Chia Breakfast Bowl, you need to get yourself some chia!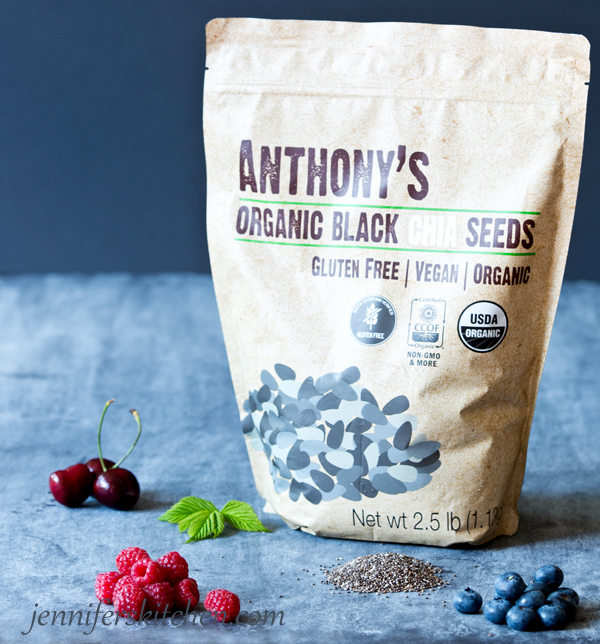 How do I run a high traffic site without ads? Some of my posts contain affiliate links. If you purchase anything through those links, your cost is the same, but I receive a small commission. Thank you for your help!
The good news is getting yourself some chia is so easy.
Why Chia?
Chia seed is a great source of omega-3's – which is good for your mood.  It also offers you loads of fiber – which is an excellent help for weight loss.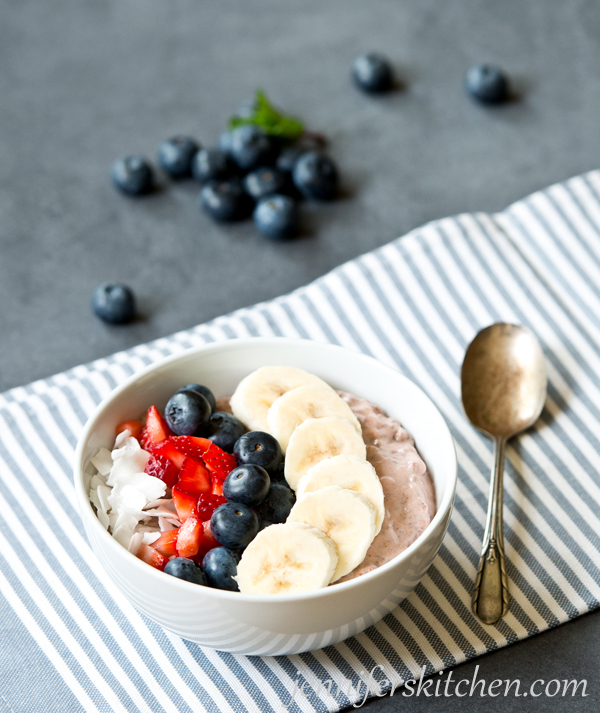 5 Health Benefits of Berries
Berries offer an incredible number of health benefits – more than just about any other group of foods. Here are just a few: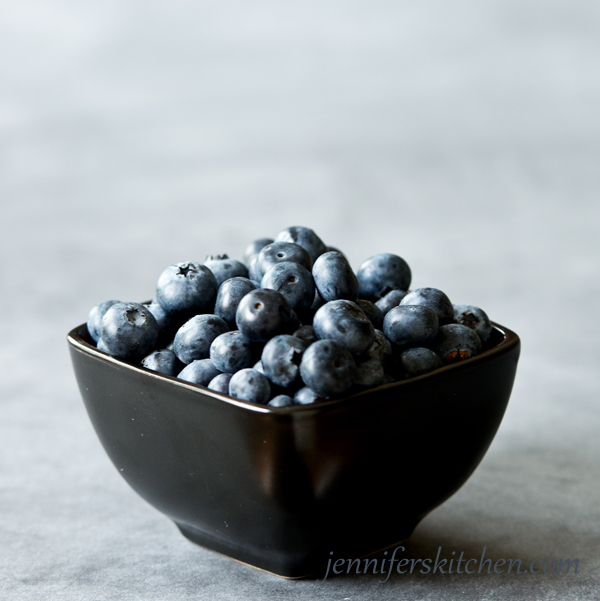 1.      Berries are loaded with antioxidants.
2.      Berries are super high in fiber . Research shows the fiber in berries not only helps to burn fat, but it also suppresses the appetite.
3.      Berries contain a phytonutrient called ellagic acid. This nutrient has been shown to inhibit cancer cell growth and deactivate cancer-causing compounds.
4.      Berries are a great source of vitamin C – which helps strengthen your immune system, keep your eyes healthy, and even keep your skin looking younger.
5.      Blueberries are especially healthful. Studies have shown blueberries to help prevent macular degeneration, varicose veins, hemorrhoids, Alzheimer's, and peptic ulcers.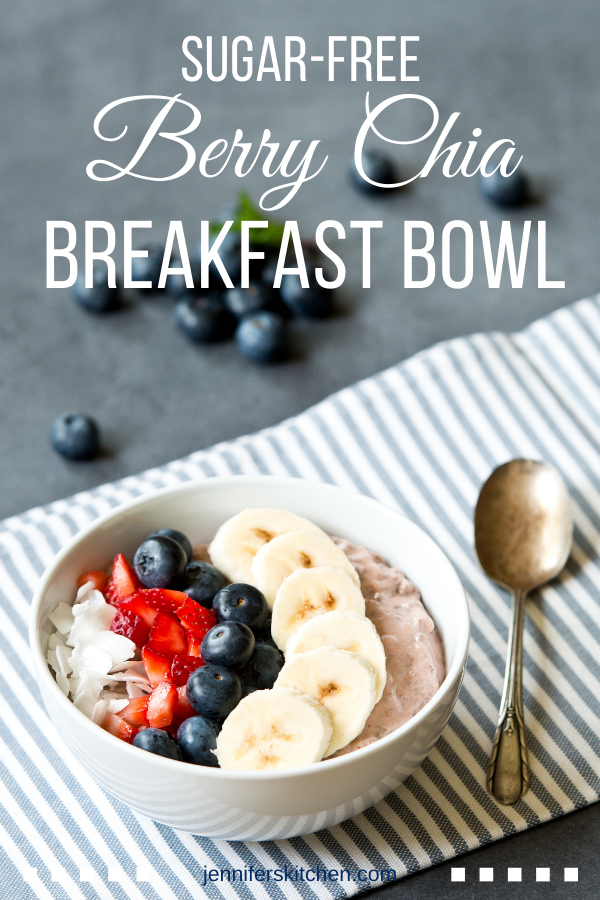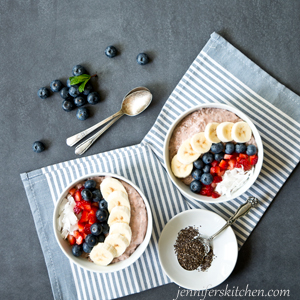 Print
Berry Chia Breakfast Bowl
Yield 2 servings
This grain-free, gluten-free, sugar-free, naturally sweet, vegan breakfast is a luscious way to start your day.
Ingredients
1/2 cup canned coconut milk
1/3 cup almond milk
2 tablespoons blanched almonds or raw cashews
2 teaspoons frozen orange juice concentrate
1/2 teaspoon vanilla
1 pinch salt
2 cups sliced or diced, strawberries – divided
1/4 cup chia seed
3/4 cup fresh blueberries
1 small banana, sliced – optional
Instructions
Place dates, coconut milk, almond milk, nuts, orange juice concentrate, vanilla, salt, and 1 cup strawberries in blender and blend until smooth.
Transfer blender mixture to medium bowl and stir in chia seed.
Place in refrigerator for at least 2 hours, or overnight.
Stir in blueberries, remaining strawberries (sliced), and sliced bananas just before serving.
Notes
Frozen berries can be used in a pinch, but fresh berries work better.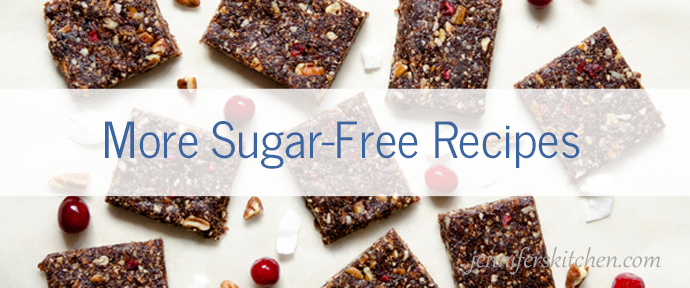 Anthony's Goods provided the delicious chia seeds to make this luscious Berry Chia Breakfast Bowl. And we enjoyed every last one of them!
Did you make this recipe?
Share it on Instagram! Tag @jenniferskitchn and hashtag it #jenniferskitchn
Leave a comment
Your comments make my day! 🙂