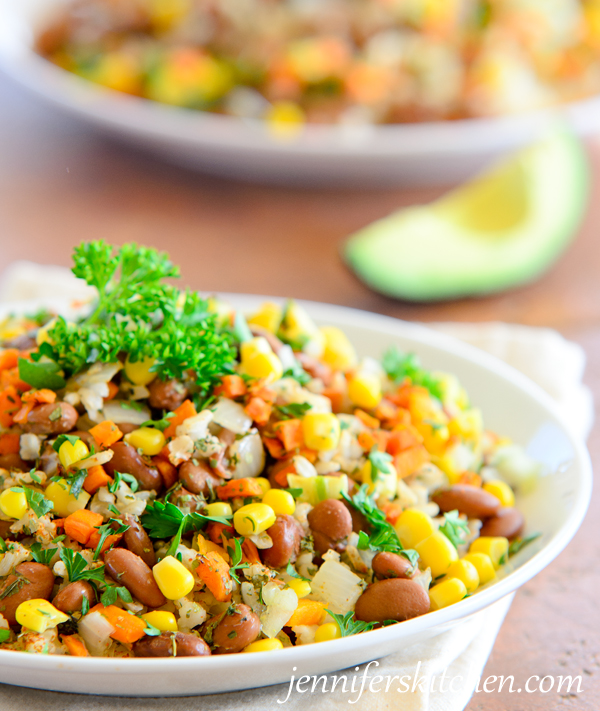 "Meatless Monday" is a fast growing trend.  And for good reason.  Vegetarian meals can be flavorful, inexpensive, simple to prepare, and super good for you.  And this recipe is no exception.
At around 25 cents per cup, cooked beans are just about the most inexpensive, healthful source of quality protein you can buy.  And they are the ultimate in convenience – just open a can!  Or you can cook your own – a crock pot or an Instant Pot makes cooking beans so easy.
Add some brown rice, vegetables, and seasonings and you have a dish that's overflowing with flavor and nutrition.
Start Your Week Off Skinny
Tex Mex Beans and Rice is a fabulous source of fiber so you'll feel fuller longer and with less food, helping you to reach your weight loss goals easier.
Very Versatile
Tex Mex Beans and Rice is also a flexible dish.   Add different toppings like sour cream, diced avocado, salsa or fresh diced tomatoes, cilantro and lime juice, chopped olives, or guacamole.  Change up your seasonings.  Or use leftovers as a taco or burrito filling.
Happy Meatless Monday to you!  I hope you have a great week!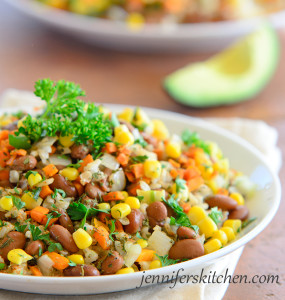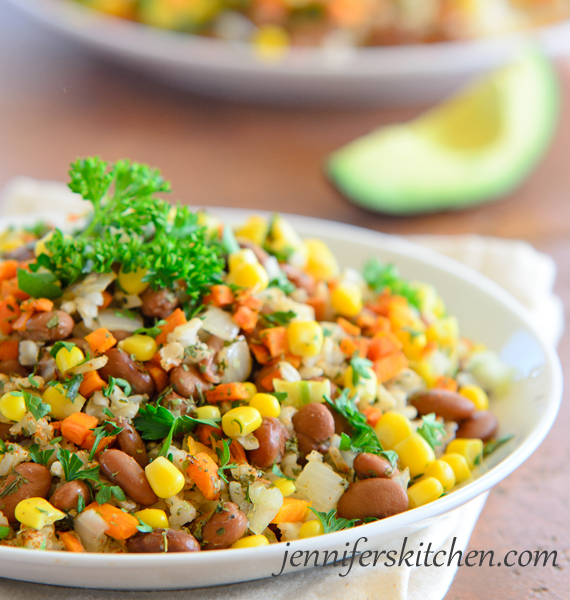 Print
Tex Mex Beans and Rice
Yield 4 to 6 servings
This mild version of Tex Mex Beans and Rice is so flavorful and filling, you won't miss the meat!
Ingredients
2 medium onions, diced small (I use my food chopper to cut the onions and carrots because it's super fast, and it keeps the onions from making me cry.)
3 medium carrots, finely diced
2 tablespoons olive oil
4 cloves garlic, minced or diced small
1 tablespoon lemon juice
3/4 cup corn kernels, drained
3 cups cooked brown rice
1/2 cup vegetable broth or water
1 1/2 tablespoons granulated onion
1 tablespoon dried basil
1 tablespoon dried oregano
1 tablespoon dried parsley
1 tablespoon paprika
1 tablespoon dried cumin
1/2 teaspoon granulated garlic
2 teaspoons salt
3 cups (two 15-ounce cans) black beans or pinto beans, drained
Instructions
In a large pan, sauté onion and carrots in oil over medium heat until onions begin to look translucent and carrots are tender-crisp.
Add garlic and lemon juice sauté for 1 additional minute.
Stir in corn, rice, water, and seasonings and continue cooking for another 5 minutes.
Gently stir in beans. Cook until heated thoroughly.
Serve hot.
Popular Posts