Vegan Parmesan Cheese (Nutritional Yeast-Free)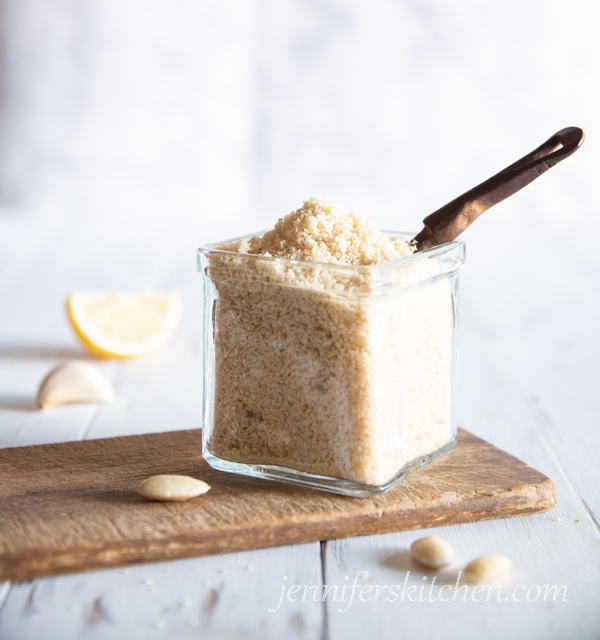 You'll only need six ingredients for this delicious, plant-based, gluten-free, dairy-free cheese, and it's soooo quick and easy to make. 5 minutes and you're done!
In fact, this delicious, vegan Parmesan is so easy that you may want it to become a staple in your refrigerator or freezer so you can sprinkle it over your spaghetti, salads, and steamed vegetables any time you want.
Oh, and your fresh, garden tomatoes! This stuff is scrumptious on fresh, garden tomatoes.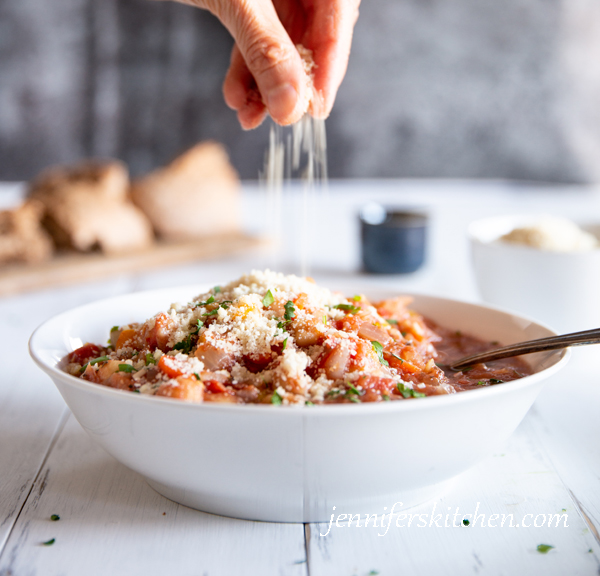 I've been experimenting with creating a vegan Parmesan recipe on and off for several years now. I've tried using different a number of different ingredients and while some of the results were good, none of them were amazing.
And then, I found the secret ingredient!
Lemon juice powder, which is simply dried lemon juice (and can be easily purchased) was just the ingredient needed to pull all the other ingredients together into the salty tangy deliciousness that this Parmesan lover needed.
Vegan Parmesan Ingredients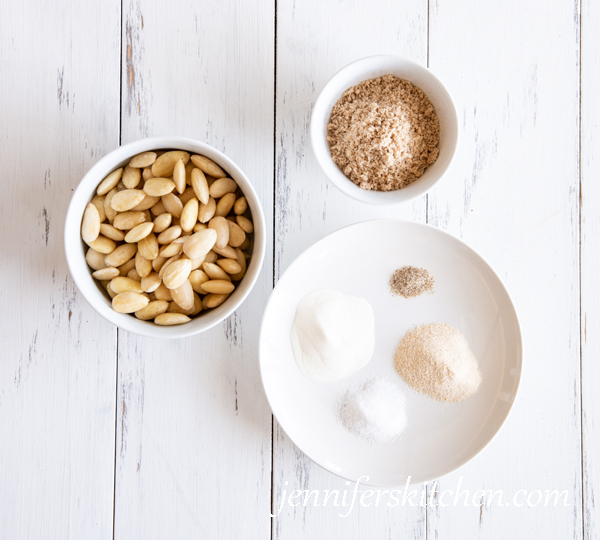 This website is brought to you without annoying ads because we can better live healthier lives without the influence of marketing. But running a high-traffic site is expensive. How can you help? If you purchase anything through the affiliate links on my site, your cost is the same, but I receive a small commission. Thank you!
You'll need only 6 ingredients to make this luscious, vegan cheese.
1. Sesame seeds
Sesame seeds give a bit of a cheesy, umami flavor to this vegan Parmesan.
2. Blanched raw almonds or raw cashews
Blanched raw almonds give the cheese its characteristic nutty flavor and tender texture.
Bonus: almonds are full of beneficial nutrients, such as magnesium, vitamin E, and fiber. And cashews are a good source of magnesium, zinc, and fiber.
3. Granulated onion and celery salt
Granulated onion and celery salt gives this a nice flavor boost.
4. Salt
Since regular Parmesan is quite salty, salt is an essential ingredient to make Parmesan taste . . . well, like Parmesan.
5. Lemon powder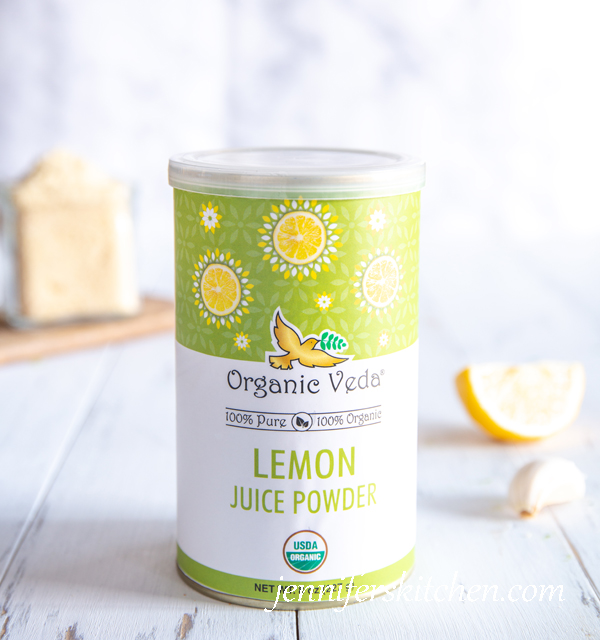 The secret ingredient for the best vegan Parmesan cheese is lemon powder. Lemon powder is made from dehydrated lemon juice and adds just the right flavor to this plant-based cheese. Here's where I get my lemon powder.

How to Make Vegan Parmesan Cheese
I make my dairy-free Parmesan cheese in my food processor. I haven't tested it in a blender, but it may work if you use the pulse function of your blender and scrape the sides and bottom of the blender jar often.
Vegan Parmesan Cheese Nutrition
Not only is this plant-based cheese absolutely delicious, but it's also super good for you! Made with whole-food ingredients (no oil, no sugar, no refined ingredients) and loaded with fiber, protein, magnesium, and other nutrients, you can enjoy this luscious topping guilt-free.
Plus, this vegan Parmesan contains no nutritional yeast. While there is limited research on the health effects of consuming nutritional yeast and more studies certainly need to be done, many people try to avoid nutritional yeast because it may possibly affect neurotransmitter function in the brain, cause chronic pain, and cause cravings.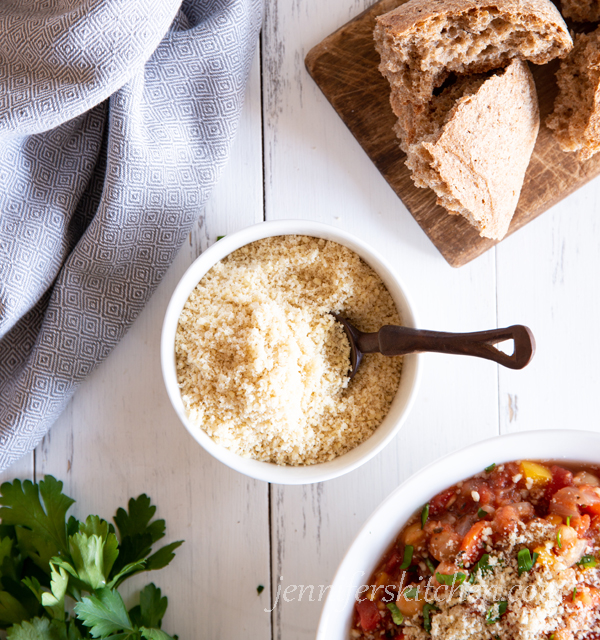 Vegan Parmesan Cheese Questions
How long will this vegan Parmesan cheese keep?
This vegan Parmesan keeps for about a month in the refrigerator or longer in the freezer.
Does this vegan Parmesan tastes just like dairy Parmesan?
If you ate this vegan version alongside the dairy Parmesan, you certainly would be able to tell the difference. I mean it's made with nuts instead of milk, so I wouldn't expect it to taste the same. That said, it definitely has that tangy, cheesy flavor that I love(d) about regular Parmesan cheese and it will definitely fill that void if you prefer to not eat dairy.
How do you eat this vegan Parmesan?
Here are some of my favorite foods to sprinkle this Parmesan over:
Creamy Cannellini Spinach Pasta
Steamed broccoli
Fettuccine with Parsley Almond Pesto
Do you have more vegan cheese recipes?
Yes! You can find all of my vegan cheese recipes here.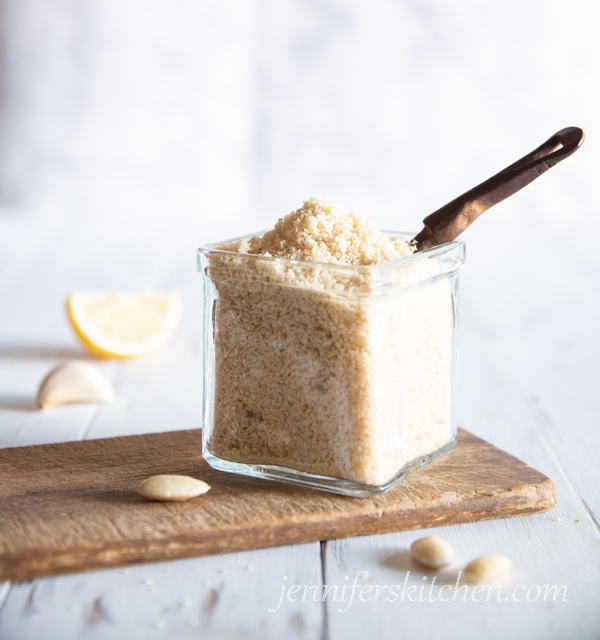 Vegan Parmesan Cheese (Nutritional Yeast-Free)
A healthful alternative to Parmesan cheese that's vegan, gluten-free, nutritional yeast-free.
Instructions
If not already ground, grind sesame seeds in a coffee grinder until very fine.

Place all ingredients in a dry food processor and process until very fine. Do not over-blend the mixture.

Store in an airtight container in the refrigerator or freezer.
Notes
Do not soak nuts before using them. Make sure they are completely dry before placing them in the food processor.
* * * This Recipe for Vegan Parmesan Cheese is … gluten-free, plant based, oil-free, sugar-free, high in fiber, dairy free, egg-free, vegetarian, vegan, and made from real, whole foods.
>> One quick request: if you like this recipe, please leave a rating and a comment. Ratings help more people find these healthy recipes!
Print Recipe
You my also like:
Before you go . . .
Did you know that you can eat all this delicious food AND lose weight? You can!
No calorie counting. No portion sizes.
Join my online weight loss program today!