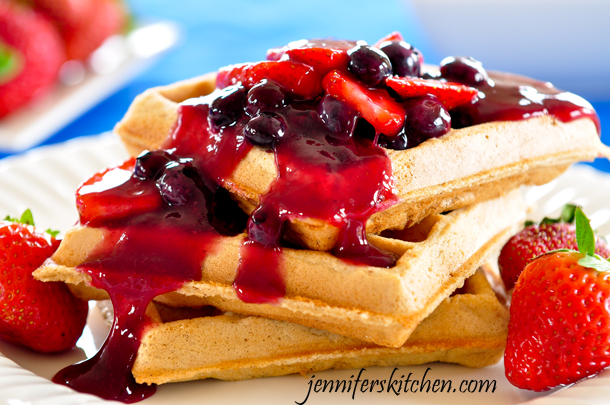 Waffles (especially these whole-grain Wonderful Waffles) can be a great part of a healthy breakfast – until we put the typical fatty/sugary toppings on them, like butter and syrup. Then their benefits for health and weight loss go downhill pretty fast.
Most pancake syrups are made from corn syrup, caramel color, and artificial flavors.  Lots of refined sugars, no vitamins, no minerals, no fiber.
And the sugar-free varieties are even worse.
Even the so-called "natural" syrups, such as Wholesome and Log Cabin All Natural Table Syrup  are basically flavored sugar and will add inches to your waistline. And don't be fooled by blueberry or blackberry pancake syrup. They're mostly sugar with very little fruit.
While 100 percent pure maple syrup is most definitely a better choice than maple-flavored pancake syrup, it is still a very concentrated sweetener and has no fiber. There are better options if you're wanting to lose weight or just eat healthier.
Here are 14 super healthy waffle toppings to start your day off right:
Berry Berry Sauce
Berry Berry Sauce is one of my favorite waffle toppings. Deliciously sweet and yet full of fiber – perfect for a weight loss plan.
Sugar-Free Pear Sauce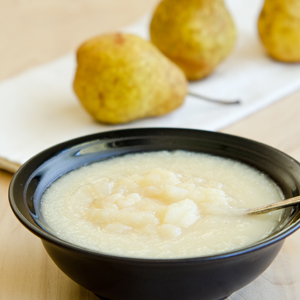 We like applesauce, but we looooove pear sauce! If you make pear sauce according to my recipe, you have a high-fiber, super nutritious waffle topping.
Blueberry Smoothie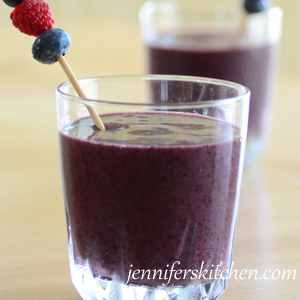 Smoothies are a yummy and healthy alternative to ice cream, but have you ever tried smoothie on waffles? Sweet and fruity, they're a great topping for waffles.
I have a lot more smoothie recipes. Check them out here.
Creamy Orange Cashew Butter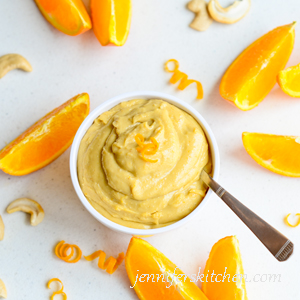 Creamy Orange Cashew Butter spread on waffles and topped with applesauce makes a delicious and hearty breakfast that will stick with you all through the morning.
Fabulous Fruit Salad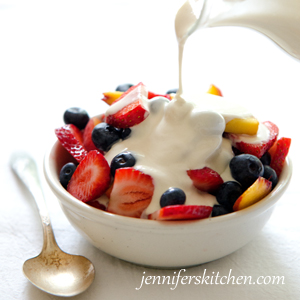 You wouldn't typically think of putting fruit salad on your waffles, but when this rich and creamy sauce gets mixed in with the sweet, diced fruit, it makes a fabulous topping for waffles.
Banana Carob Smoothie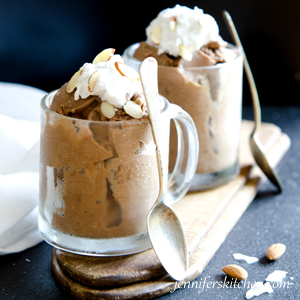 Turn your waffle into a healthy dessert by topping it with this luscious Banana Carob Smoothie.
Mango Banana Smoothie
This is one of my favorite waffle toppings. A bite of hot waffle, a spoonful of this cold smoothie, into the mouth it goes! Oh yum! Check out more of my smoothie recipes here.
Mango Sorbet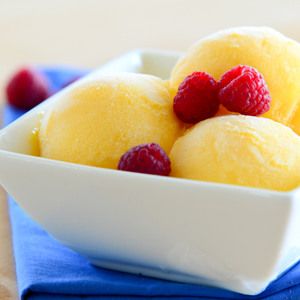 Sugar-free sorbet on fresh waffles – the perfect summertime breakfast.
Peach Soup
Pour some creamy, slightly tangy, slightly sweet peach soup over your morning waffles – oh yum!
Sugar-Free Strawberry Jam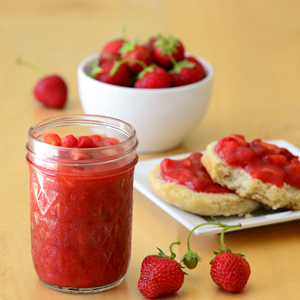 PB&J for breakfast!  And it's sugar-free.  Waffles with some of this Sugar-Free Strawberry Jam on them make a good breakfast-on-the-go.
Walnut Banana Blueberry Smoothie
Bananas add sweetness, coconut milk and walnuts give richness, and the blueberries offer a wonderful flavor in this thick and luscious smoothie/waffle topper.  Check out more of my smoothie recipes here.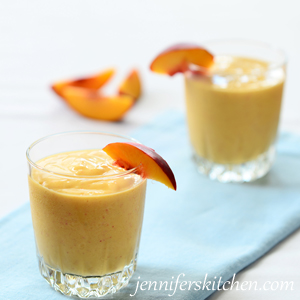 In the summer months when fresh peaches are in abundance and at their peak of flavor, whip up this very healthy, sugar-free smoothie for a light and refreshing waffles sauce.
Strawberry Lime Smoothie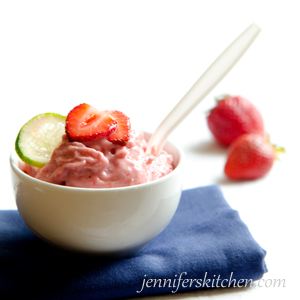 More smoothie!  Smoothies make such a delicious topping for waffles. Check out more of my smoothie recipes here.
Strawberry Applesauce
Applesauce and strawberry applesauce are the waffle toppings we use the most often at our house. Simple, quick, healthy. And with my recipe you get an added fiber boost, which is super helpful for weight loss.
So there you have it. Healthy, whole-grain, high-fiber waffles  +  healthy, sugar-free waffle toppings  =  a great way to start your day!
Popular Posts