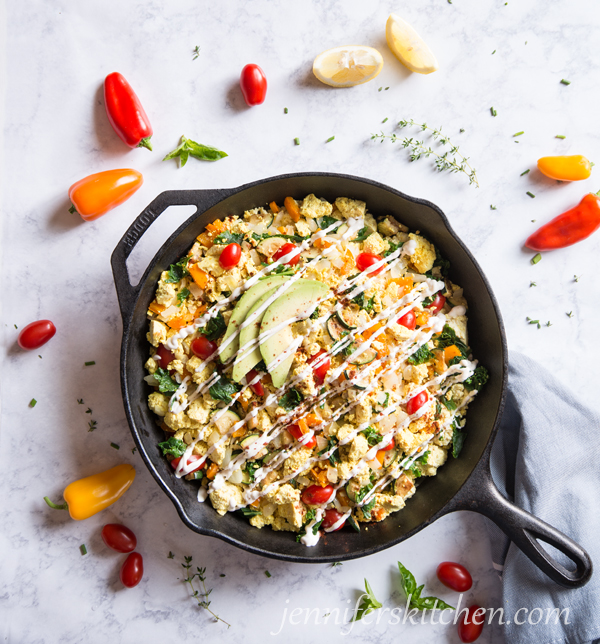 Scrambled tofu – the vegan scrambled eggs. Or at least that's what some people call it. Some people even say you can't tell the difference between scrambled tofu and scrambled eggs.
I wouldn't exactly say that. Actually, I wouldn't say that at all, because scramble tofu doesn't taste like scrambled eggs. At all.
Actually, it tastes way better than scrambled eggs. I would choose this Veggie Scrambled Tofu over scrambled eggs any day!
What is tofu?
Tofu is made by blending soybeans and water to make a "milk". This milk is heated and curdled (similar to how cheese is made) and then pressed into a block.
Where do you buy tofu?
Tofu can be found in the refrigerated produce section of most major grocery stores. It comes in different textures – silken, soft, medium-firm, firm, extra-firm, and super firm.
Extra-firm works best for making Scrambled Tofu.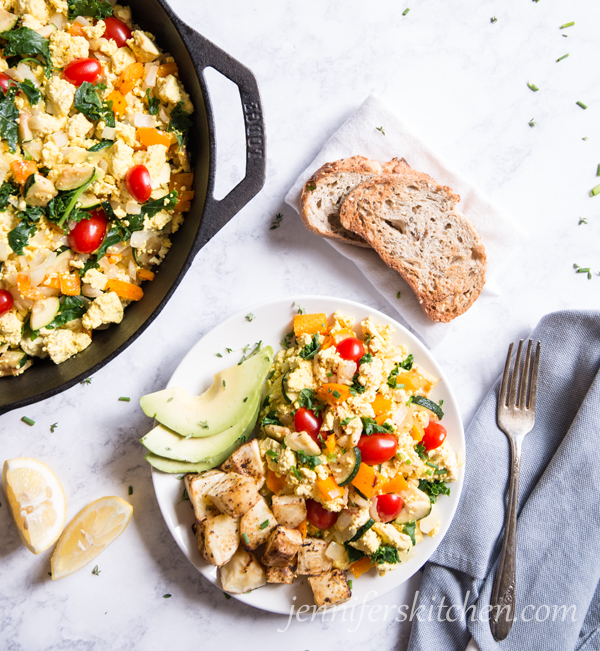 This website is brought to you without annoying ads because we can live healthier lives without the influence of marketing. But running a high-traffic site is expensive. How can you help? If you purchase anything through the affiliate links on my site, your cost is the same, but I receive a small commission. Thank you!
What makes this Veggie Scrambled Tofu recipe so great?
1. It's easy
Like really, really easy.
2. It's wonderfully healthy.
This Veggie Scrambled Tofu is a scrumptious way to get more vegetables in your diet.
3. It has no nutritional yeast.
This Scrambled Tofu is nutritional-yeast-free and soy-sauce-free for those who want to avoid these ingredients because of their effect on the appetite.
4. It makes a great alternative to scrambled eggs.
Even though it doesn't taste like scrambled eggs, it does make an excellent, plant-based substitute for scrambled eggs.
5. It's loaded with protein
If you are concerned about getting enough protein (you shouldn't be), one cup of tofu gives you 20 grams of protein.
6. It's infinitely customizable.
– If you like your scrambled tofu soft and creamy, stir in some of this 5-Minute Vegan Cheese Sauce.
– If you want to make this a hearty meal, add some cooked black beans.
– If you want more veggies/less veggies, you can do that!
How do you make really good scrambled tofu?
1. Use the right kind of tofu.
Some like to use silken tofu to make scrambled tofu, but most people prefer the refrigerated, water-packed variety. Extra-firm tofu has the best texture for making scrambled tofu. Super firm is too dense and works better in recipes that use cubed or sliced tofu. If you can't find extra-firm tofu, firm will work okay too.
2. Crumble the tofu into smallish bite-size pieces.
You don't want the pieces to be too big or there won't be enough surface area to get exposed to enough seasonings, and you don't want them to be tiny crumbs or your Tofu Scramble will end up dry and crumbly.
I simply use my hands to crumble the tofu into the pan.
3. Use black salt (a.k.a. kala namak)
Black salt gives the Scrambled Tofu a bit of an eggy taste, and, trust me, it really is worth the two clicks it takes to get it.
(Note: black salt isn't black; it's sort of a pale pink. Why do they call it black salt? Beats me.)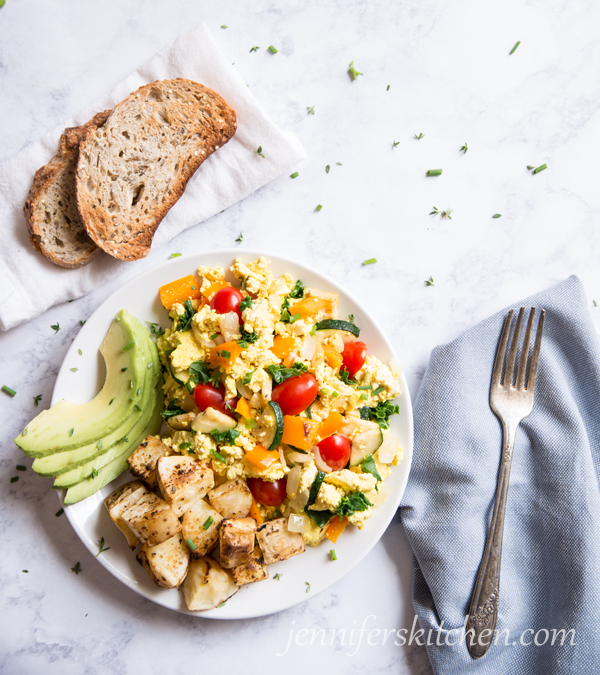 How to eat scrambled tofu?
This recipe makes a scrumptious breakfast of Scramble Tofu over toast. It is amazing served with home fries. Stuff it in a pita and you have a healthy and quick lunch. Scrambled Veggie Tofu also tastes great in a wrap with avocado or guacamole and this 5-Minute Vegan Cheese Sauce.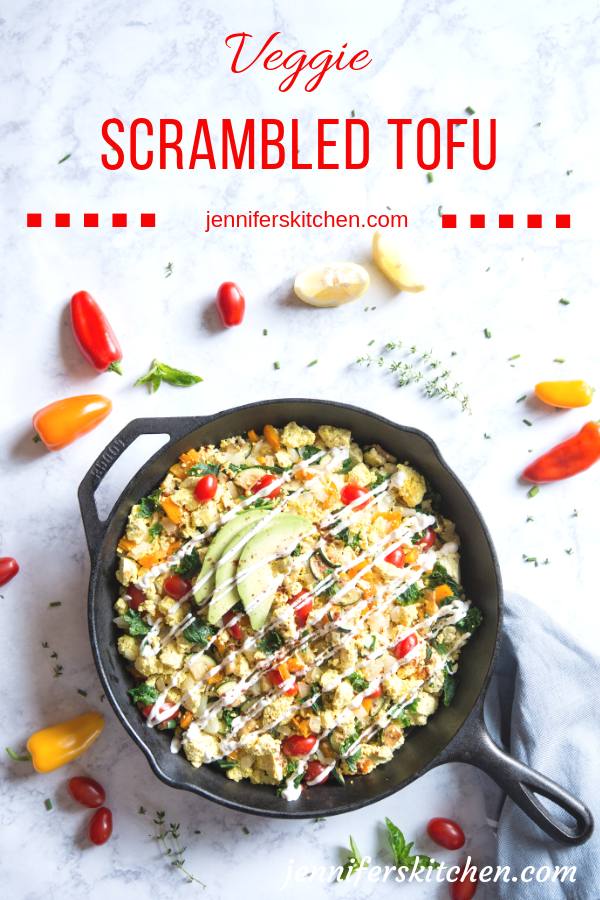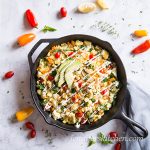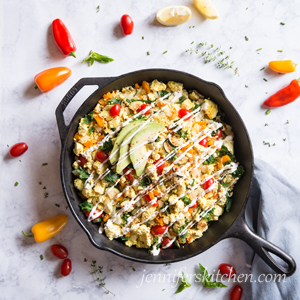 Veggie Tofu Scramble
A delicious vegan breakfast, lunch, or supper, this Veggie Tofu Scramble is an excellent source of plant-based protein and a yummy way to eat vegetables.
Ingredients
1

(14-ounce) block

extra-firm, water-packed tofu

1

tablespoon

olive oil

1

large

or 2 medium yellow onions, diced small

1/3

medium

orange bell pepper, diced

1

small to medium

zucchini, diced small

-

(about 2 to 3 cups diced)

1

cup (packed)

chopped kale

-

(about 6 small kale leaves or 3 large)

2 1/2

teaspoons (generous)

dried basil

2 1/2

teaspoons (generous)

granulated onion

2

teaspoons

dried oregano

1 1/8

teaspoons

Kala namak (black salt) -

(more or less depending on amount of vegetables used)

1

teaspoon

dried parsley

3

cloves

garlic, minced

1

medium

fresh tomato, diced

-

or 1/2 cup cherry tomato halves
OPTIONAL ADDITIONS
1/4

cup

Jennifer's Kitchen 5-Minute Vegan Cheese Sauce -

thinned with 3 tablespoons milk or water (my favorite addition!!)

1/2

cup

sliced black olives

-

well drained, (one 2.25-ounce can)

1/2

avocado, diced

2

tablespoons

minced, fresh cilantro

1/4

teaspoon

turmeric

-

see note below
Instructions
Drain tofu. Wrap in a clean, dry towel and set aside. (Or use

a tofu press

.)

Meanwhile, dice onion, pepper, and zucchini. Chop kale into small pieces.

In a large skillet, heat oil over high heat. When oil is warm, add onions and peppers. Sauté for 2 minutes.

Stir in zucchini, kale, and seasonings. Cover, and cook for 2 minutes. Meanwhile, mince garlic.

After vegetables have cooked for 2 minutes, add garlic. Crumble tofu over vegetables. Stir to combine.

Cook uncovered over high heat (without stirring) until vegetables and tofu begin to lightly brown on the bottom (about 5 minutes on my stove).

Turn mixture with a spatula and cook for 2 to 3 more minutes.

Remove from heat and gently stir in fresh tomatoes.

Serve hot.
Notes
1. The amount of salt you use will depend on how many vegetables you add to this dish and on your personal taste. I usually use a scant teaspoon when cooking and then sprinkle additional salt on at the table if desired.
2. I almost never use tumeric in my scrambled tofu, but if you want yours to have a yellow color like scrambled eggs (like in the photo), then add about 1/4 teaspoon along with the tofu.
3. This dish serves 2 as a main dish or 4 inside of a wrap with other fillings.  But I have been known to eat the entire pan by myself at one meal.
>> One quick request: if you like this recipe, please leave a rating and a comment. Ratings help more people find these healthy recipes!
Print Recipe
You my also like:
Before you go . . .
Did you know that you can eat all this delicious food AND lose weight? You can!
No calorie counting. No portion sizes.
Join my online weight loss program today!