Butternut Squash and Greens Salad with Maple Sunflower Dressing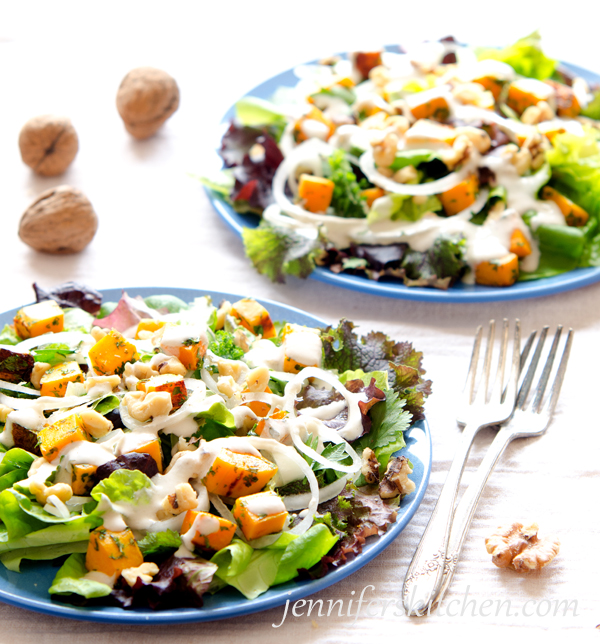 This beautiful dish is the perfect picture of autumn – the first pickings of baby lettuce leaves from our winter garden bed mixed with long-awaited butternut squash tanned from the summer sun, sprinkled with freshly harvested, spicy sweet garden onions, and topped with hearty walnuts from … umm … from Amazon.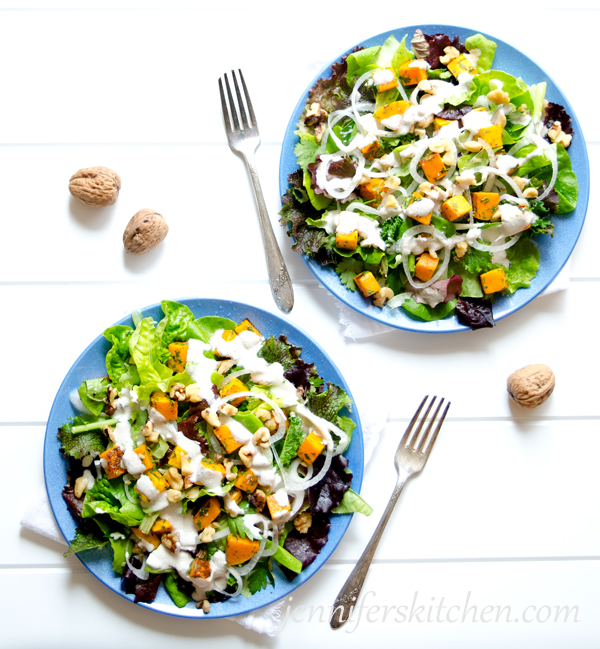 I love the flavor of this salad. Light, yet filling. Simple, yet complex.
And I love the versatility of butternut squash. From soups, to stir-fries, to scrambles, to a simple roasted side, this naturally-sweet vegetable puts its best foot forward every time.
How to Peel and Cut a Butternut Squash
Some people shy away from preparing hard-shelled squash, because it can seem like a lot of work to get it peeled and cut. But it's really quite easy. Check out my step-by-step tutorial here.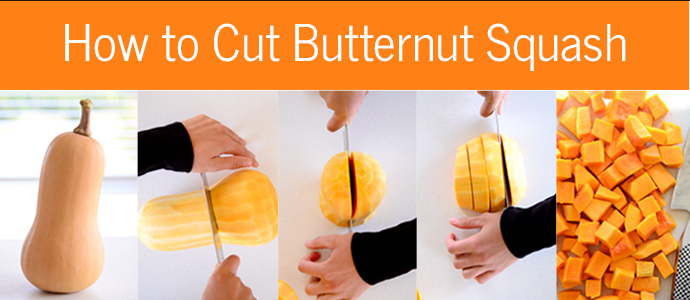 How Many Cups Does an Average Butternut Squash Yield?
Many recipes call for butternut squash by the pound, so it can be helpful to know how many cups of cubed squash one butternut will yield.
The average butternut squash weighs in at about 2 to 3 lbs. After peeling, removing the seeds, and dicing your squash, you should have about 4 cups of cubed squash. Of course, if your squash is smaller, you will get less cubed squash, and if your squash is bigger, you'll get more.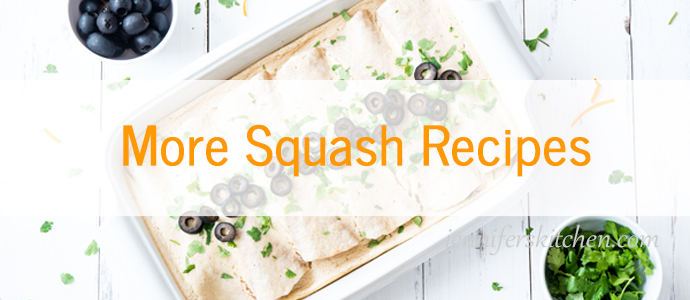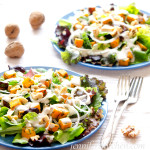 Butternut Squash and Greens Salad with Maple Sunflower Dressing
Ingredients
Salad
1

medium

medium butternut squash, cut into small (1/2- to 3/4-inch) cubes

- (about 4 cups) How to cut a butternut squash

1

tablespoon

olive oil

2

teaspoons

granulated onion

1/2

teaspoon

dried basil

1/2

teaspoon

salt

1

pinch

dried rubbed sage

7

cups (about 6 ounces)

salad greens

1

small

sweet onion, sliced thin

1

cup

toasted walnuts

-

chopped
Instructions
Roast or sauté squash. (See instructions below.)

Meanwhile make dressing. Place seeds, lemon juice, maple syrup, water, granulated onion, and salt in blender. (A heavy-duty blender works best for this recipe; other blenders may not get the mixture smooth enough.) Blend until very smooth and creamy.

Distribute greens onto four plates or in a large serving bowl.

When squash is done, allow to cool slightly.

Distribute squash over greens, top with onions and walnuts, and drizzle with Maple Sunflower Dressing.

Serve.
Sautéing Instructions:
Heat 1 tablespoon oil in a large pan over medium-high heat. Add cubed butternut squash and stir well to coat with oil. Place lid on pan, reduce heat to medium-low, and cook for 10 minutes, removing lid occasionally to stir. I use a rigid flat spatula (pancake turner) to make sure squash doesn't stick to pan.

Add seasonings and 1/4 cup water and cook for an additional 5 to 7 minutes.
Roasting Instructions:
Drizzle olive oil over squash and mix until all pieces are coated evenly. Stir in seasonings.

Distribute single layer onto baking sheets. Bake at 400° for 35 minutes or until pieces are tender and lightly browned on edges. Baking time will vary depending on age of squash and size of squash pieces.
>> One quick request: if you like this recipe, please leave a rating and a comment. Ratings help more people find these healthy recipes!
Print Recipe
Want More?
For more healthy and delicious recipes like this one that will simplify your journey to a healthier and thinner you, check out my
Healthy Weight Loss Program!
You my also like:
Before you go . . .
Did you know that you can eat all this delicious food AND lose weight? You can!
No calorie counting. No portion sizes.
Join my online weight loss program today!