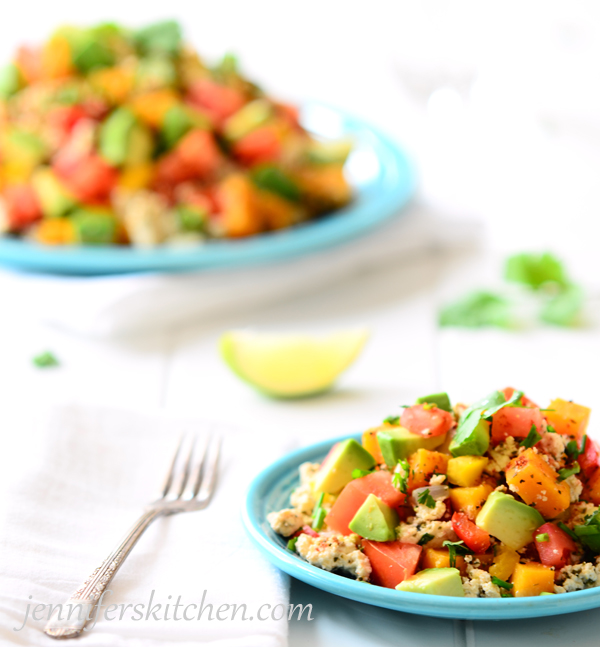 Harvesting the butternut squash from our garden was so much fun this year. Every step I took, every one of those gigantic leaves I peeked under, there was another squash! Loads and loads of them.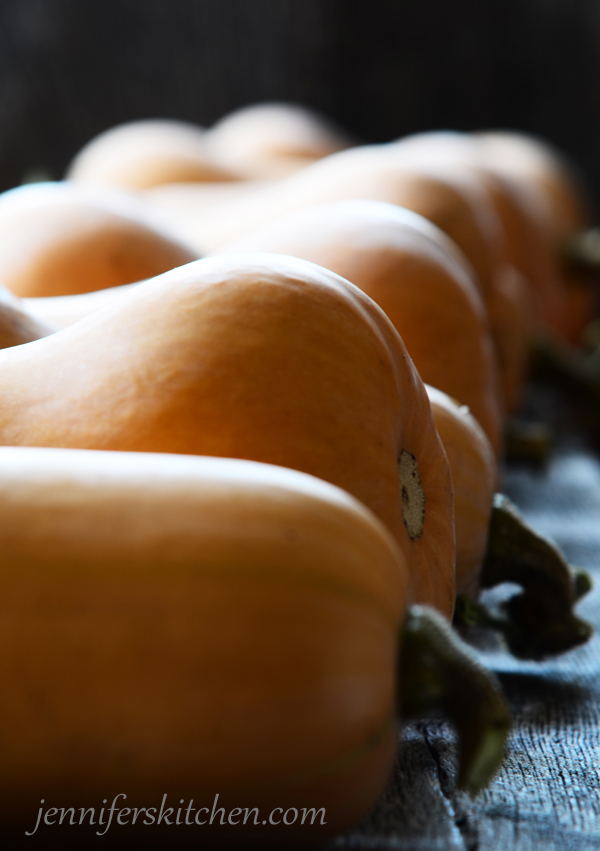 So after hauling bushels of them to their cozy winter-storage spot and waiting 10 very looooong days for them to cure their little hearts out (they get sweeter during curing), I couldn't take it any longer and scooped up several to enjoy roasted butternut squash, butternut squash soup, baked butternut, and this lovely Butternut Tofu Scramble with Avocado.
Now, you know how I feel about avocados. They just make anything taste luscious. But, let me tell you, match them up with some cilantro, tomatoes, onions, garlic, a few herbs, and some sweet and tender butternut, and I just may be eating this every day for lunch for the next month.
Which I may be able to pull off (if you could please send me some avocados) because, with these secrets for how to easily peel and cut a butternut squash, this delish dish is sooo easy.  And with pre-cut squash from the produce section? Almost easier than take-out.
It's also flexible.  On a garlic kick? Throw more in. Want more onions? Yes, please.  Fresh out of cherry tomatoes? You can use plum tomatoes instead and even regular slicing tomato in a pinch. It'll still taste marvelous.
Butternut Tofu Scramble is great on a plate or you can put it in a tortilla or wrap.  Add some healthy guacamole or sour cream … I'm getting hungry again.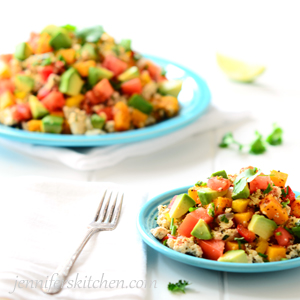 Print
Butternut Tofu Scramble with Avocado
Ingredients
1 pound extra-firm tofu
2 tablespoons olive oil
1 1/2 cups peeled and diced butternut squash (cut into small pieces)
1 medium onion, diced
1/4 red or yellow bell pepper, diced
1 1/2 teaspoon dried basil
1 1/2 teaspoon dried oregano
1 1/2 teaspoon dried parsley
1 1/2 teaspoon granulated onion
1/2 teaspoon cumin
1/2 teaspoon paprika
1/2 teaspoon dried cilantro or 2 teaspoons fresh minced
1/4 teaspoon garlic powder or granulated garlic
1 teaspoon salt
2 cloves garlic, minced
1 large plum tomato or about 7 cherry tomatoes, halved
2 green onions, sliced
1 small avocado, diced small
Instructions
Place tofu in colander to drain and set aside. OR gently press out water using a tofu press.
In a large, wide-bottom pot, heat oil over medium-high heat. When oil is warm, add diced squash and briefly stir to coat squash with oil. Saute for 3 minutes, stirring occasionally.
Dice onion and pepper and add to squash. Stir.
Squeeze excess liquid from tofu and crumble over vegetables.
Add seasonings and mix well.
Cook over medium high to high heat, stirring occasionally, for 8 to 10 minutes or until vegetables are tender and some of the tofu is very lightly browned. See note.
Stir in minced garlic and cook for one minute.
Stir in cherry tomatoes. Cook until tomatoes are warm (about one minute) and then remove from heat.
Serve topped with green onions and avocado.
Notes
Be sure to squeeze as much liquid as possible out of the tofu.
Popular Posts