I-Hate-Vegetables-Recipe: Roasted Butternut Squash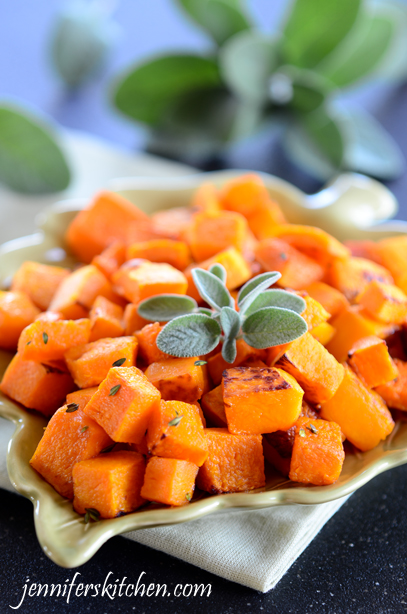 Hate vegetables?  Roasting can change your relationship with them forever.  No more mushy, grey, tasteless pile of have-to-eat-it-because-it's-good-for-you.
There aren't many vegetables that don't taste fabulous roasted in some olive oil, garlic, and salt. Roasting vegetables brings out the sweetness and flavor of an otherwise blah vegetable.
Roasted Butternut Squash
Don't like squash? This recipe is for you! You've never had squash like this before!
Instructions
Drizzle olive oil over squash and mix until all pieces are coated evenly.

Stir in seasonings, taking care to mix well.

Distribute single layer onto baking sheets. Bake at 400° for 35 minutes or until pieces are tender and lightly browned on edges. Baking time will vary depending on age of squash and size of squash pieces.
>> One quick request: if you like this recipe, please leave a rating and a comment. Ratings help more people find these healthy recipes!
Print Recipe
Winter squash can be a little intimidating when it comes to cutting it, but if done right, it's really quite easy.  Click here for my step-by-step instructions for cutting a butternut squash.
Popular Posts
You my also like:
Before you go . . .
Did you know that you can eat all this delicious food AND lose weight? You can!
No calorie counting. No portion sizes.
Join my online weight loss program today!