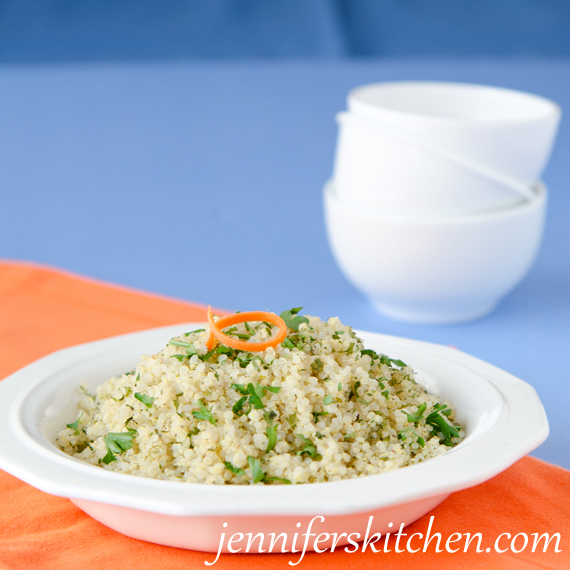 Quinoa is quite a versatile food.  It can be used in burgers and patties, pilafs, salads, soups, and even breakfast foods.  I really like quinoa prepared all these ways.
But sometimes I just want something simple. Like this Simple Savory Quinoa.  It's fast.  It's easy.  It's in my tummy.  Yum.
Have questions about quinoa?  I have answers.
All About Quinoa

How do you pronounce quinoa?
"KEEN-wah".
Don't feel bad; I called it "kwin-ow-uh" at least 8 times before someone kindly corrected me.
Why should I eat quinoa?
Quinoa contains all 9 amino acids (making it a complete protein).
Quinoa is gluten-free.
It's a good source of fiber (which is great for weight loss!)
You can make a large pan of it at the beginning of the week, keep it in the frig, and use it for quick meals all week long.
Where can I buy quinoa?
You can buy quinoa from most grocery stores, but (because I enjoy shopping about as much as I enjoy  pulling my toenails off one-by-one) I like to get mine from Amazon. One click and it's at my door in two days.
How do I cook quinoa?
1. Place 2 cups of water (scant) in a wide-bottom pan.
2. Bring to a boil.
3. Stir in 1 cup quinoa, cover, and return to a boil.
4. Reduce heat and simmer for about 15 to 20 minutes or until all water is absorbed.
I use my pan with glass lid so I can see when the water is absorbed without lifting the lid (which can affect the cooking time and results).
How do I know if my quinoa is done/cooked all the way?
If you use the right water-to-quinoa ratio, the quinoa is done when the water is absorbed.
When quinoa is properly cooked, you can see little curled "tails" emerged from the grains/seeds.
How much raw quinoa equals how much cooked quinoa?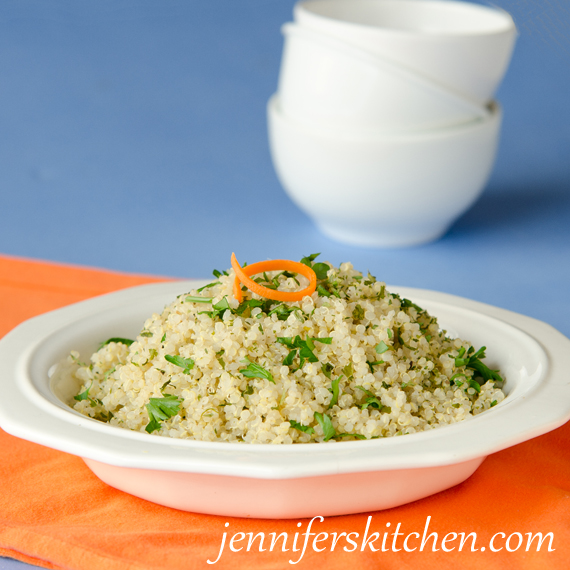 Quinoa almost quadruples in volume when cooked.
1 cup of uncooked quinoa will make approximately 3 1/2 to 4 cups cooked, depending on the type of quinoa.
Can quinoa be eaten raw?
Quinoa should be cooked (or sprouted) before consuming.  The body cannot digest raw quinoa properly, and the improperly digested starch molecules can end up in the blood stream.  Large amounts of improperly digested starch in the blood can cause health problems.
Does quinoa need to be rinsed before cooking?
Quinoa has a natural coating on the outside of it that gives it a bitter taste if not rinsed well before cooking.  Fortunately, most Amazon comes pre-rinsed.
Does quinoa come in different varieties?
Quinoa comes in a wide variety of colors including:
Black
Red
Gray
Pink
Yellow
Purple
Green
Beige
Orange
White
(and Tri-Colored)
So where's the recipe for the Simple Savory Quinoa?
You're almost there. It's at the bottom of this post.
Do you have any other quinoa recipes for me?
Sure do.  These quinoa patties are a favorite.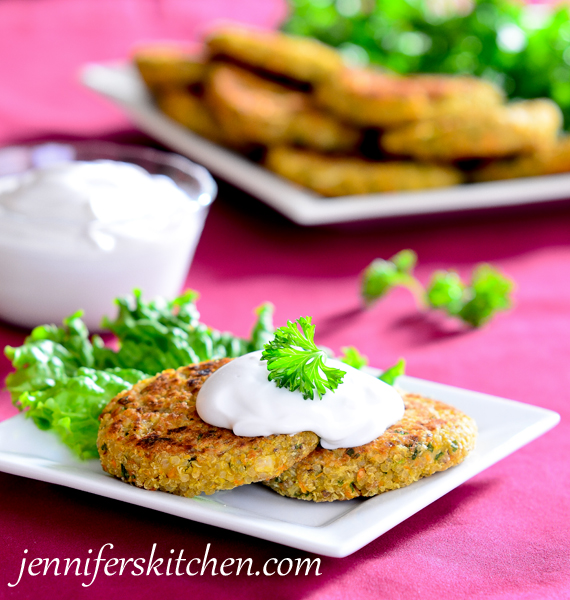 Mexican Quinoa Salad is perfect for a packed lunch or picnic.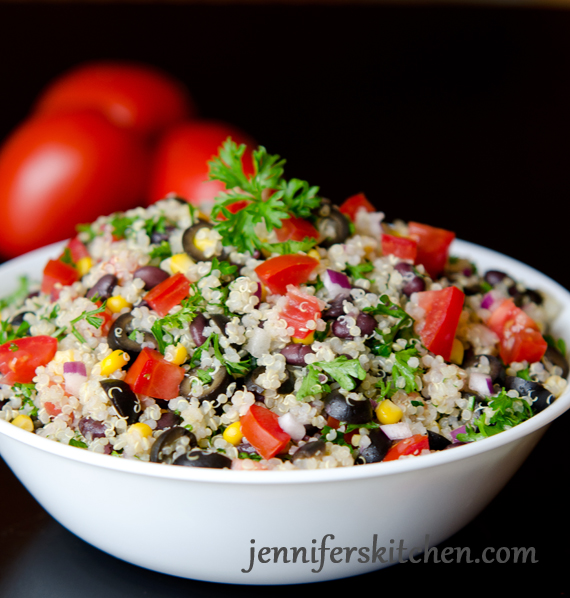 Or enjoy this Simple Savory Quinoa.
Print
Simple Savory Quinoa
Ingredients
1 medium to large onion, diced
2 tablespoons oil
2 cloves garlic
2 cups water (or broth)
1 cup uncooked quinoa
1 tablespoon dried parsley
2 teaspoons granulated onion
1 teaspoon dried basil
1/2 teaspoon granulated garlic
1/2 teaspoon dried dill weed
1/4 teaspoon dried sage
1/4 teaspoon celery salt
1 teaspoon salt – or to taste
Instructions
Sauté diced onion in oil in a large saucepan over medium heat until just translucent.
Add garlic and sauté for one minute.
Transfer onion and garlic to a bowl.
Add water to pan. Turn heat to high, cover pan, and bring to boil.
When water comes to boil, add quinoa and seasonings.
Cover. Reduce heat and simmer for 15 to 20 minutes or until all the water is absorbed. (The amount of time depends on how hot your stove is.)
Stir in sauteed onion and garlic.
Season with salt to taste.
Popular Posts