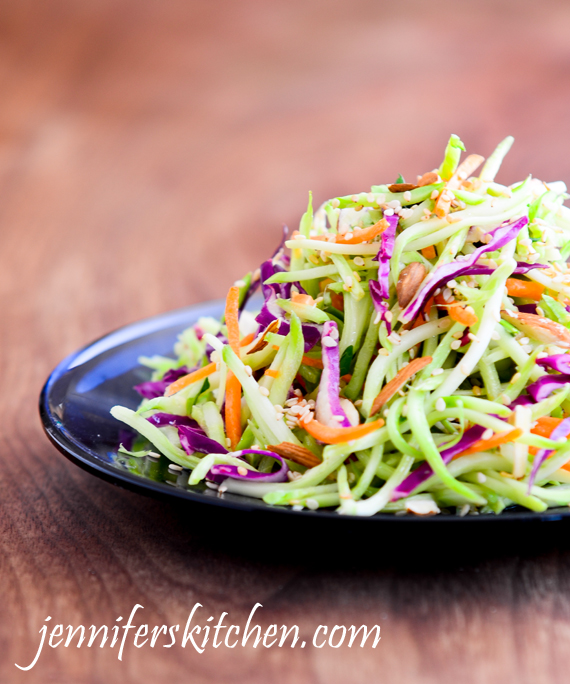 Once upon a time, there was a girl who hated raw broccoli and then I made this and she liked it so much we had to divide the salad into equal servings for the family or she would eat her share and everyone else's too.  But she still hates raw broccoli.  The end.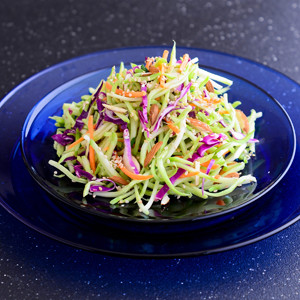 Print
Crunchy Asian Broccoli Salad
This tangy salad is not only quick to make, but is an amazingly delicious way to get more raw veggies into your diet.
Ingredients
5 - 6 cups (one 16-ounce package) broccoli slaw (see note below)
5 green onions, sliced thin
1/4 cup olive oil, scant
1/4 cup lemon juice (see weight loss tip at the bottom of this post)
2 tablespoons apple juice concentrate, scant
1 tablespoon orange juice concentrate
2 teaspoons granulated onion
1 teaspoon salt, or to taste
3/4 teaspoon granulated garlic
1 tablespoon dehydrated red bell peppers – optional (see note below)
1/4 cup sliced raw almonds
1/4 cup sesame seeds or sunflower seeds
Instructions
Place broccoli slaw and onions in a large mixing bowl.
Whisk together oil, lemon juice, apple juice concentrate, and seasonings. (This can be done in the glass measuring cup that you measure the oil in to reduce the amount of dishes dirtied.)
Pour this mixture over broccoli slaw and toss together well until slaw is completely coated with the dressing mixture.
Add almonds and seeds and mix.
Can be served immediately or chilled before serving.
Recipe Notes:
1. Broccoli slaw can be found in the refrigerated fresh produce section of most grocery stores.
2. Dehydrated red bell peppers can be found in the herb and spice section of most grocery stores. If you don't have any on hand, you can leave them out.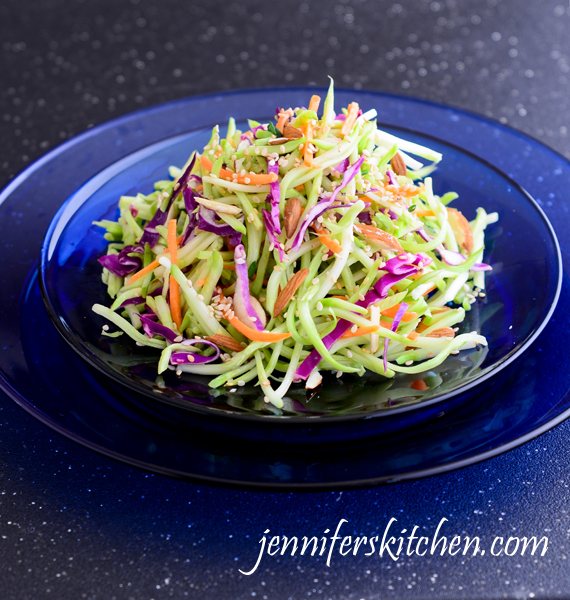 Weight Loss Tip
There are literally hundreds, maybe thousands, of get-thin-quick plans on the market at any given time, and apple cider vinegar for weight loss seems to be one of the most popular.
However, despite the claims, the fact is that the acid in vinegar is a waste product in the human body and an irritant to the stomach. This acid has been shown to cause a loss of the protective mucus in the intestinal tract, setting the stage for ulcers, gastritis, vitamin deficiencies (especially vitamin B12), and/or infection with Heliobacter pylori. In fact, vinegar is one of the 3 most common dietary causes of gastritis in the U.S. today, along with aspirin and alcohol.
Vinegar is also harmful to the liver and to the kidneys because these organs have to rid the body of what it views as a poison.
Lemon juice is an excellent substitute for vinegar, and I recommend this healthy switch for all my clients.  I use lemon juice as a substitute for vinegar many recipes, including this broccoli salad, my Greek Garbanzo Salad, Fusilli Pasta with Avocado, Tomatoes, and Olives, and in my Low Fat Creamy Italian Salad Dressing.
While vinegar is a good household cleaner, it is definitely not a health food. Nor is it a medicine or a weight-loss drug.
Popular Posts