Banana Date Breakfast Bars – Sugar-Free, Oil-Free, Gluten-Free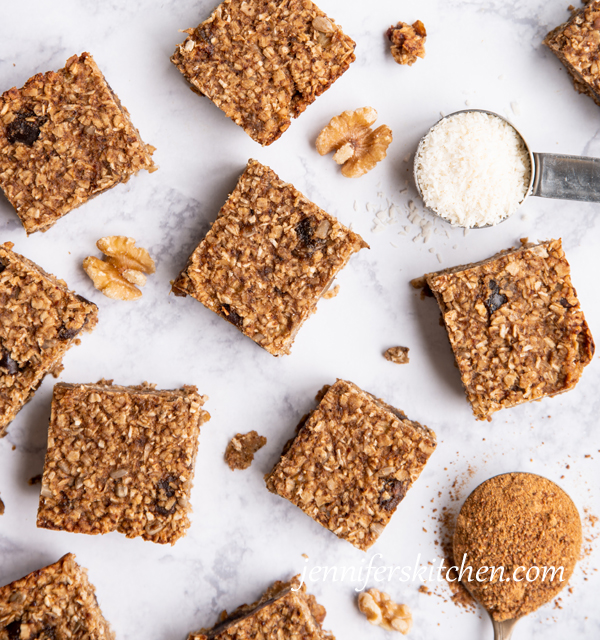 You know those days when you get up at 4 a.m., prepare a healthy gourmet breakfast, and get all your work done before noon?
Me either.
But eating a healthy breakfast is a priority for me, so even though you won't find whipping up a vegan hazelnut carob gateau de crepes every morning (or ever in my life), I always make sure there is something nutritious tucked away in my freezer for a quick, easy, and warm breakfast on busy mornings (isn't that every morning?).
If you know me, you know that my freezer is always stocked with waffles because I can just pop them in the toaster while I get the nut butter, applesauce, and fresh fruit, and in 5 minutes I have a delicious and nourishing homemade breakfast.
But sometimes it's nice to have something different for a change. These Banana Date Bars hit the spot.
Naturally sweet, nutritious, and very satisfying, these breakfast bars also freeze well, so they're perfect for meal prepping. Make them ahead of time for a quick, easy, grab and go breakfast for the family to enjoy all throughout the week.
Why not just buy a packaged breakfast bar?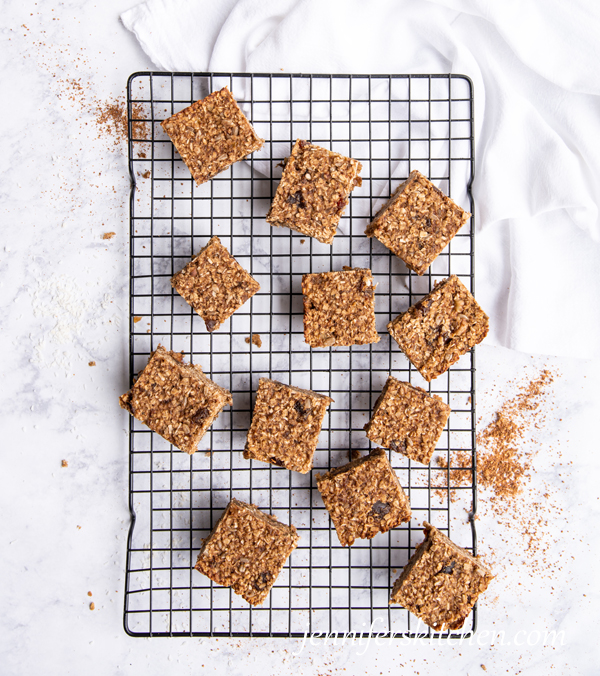 Those boxes of breakfast bars at the grocery store look so innocent and healthy in their beautifully persuasive packaging that boasts "whole-grain goodness", "good source of fiber", or "high protein"; but nearly every one is loaded with sugar, refined flour, refined oil, and a host of other weird ingredients that have no place in a supposedly nutritious food.
How healthy are bananas?
Very. Not only do bananas add natural sweetness to these healthy breakfast bars, but they also add fiber, potassium, and vitamin C. When included as part of a healthy diet, bananas have been shown to help with weight loss, protect against type 2 diabetes, strengthen the nervous system, and help with the production of white blood cells.
What I like about these Banana Date Bars: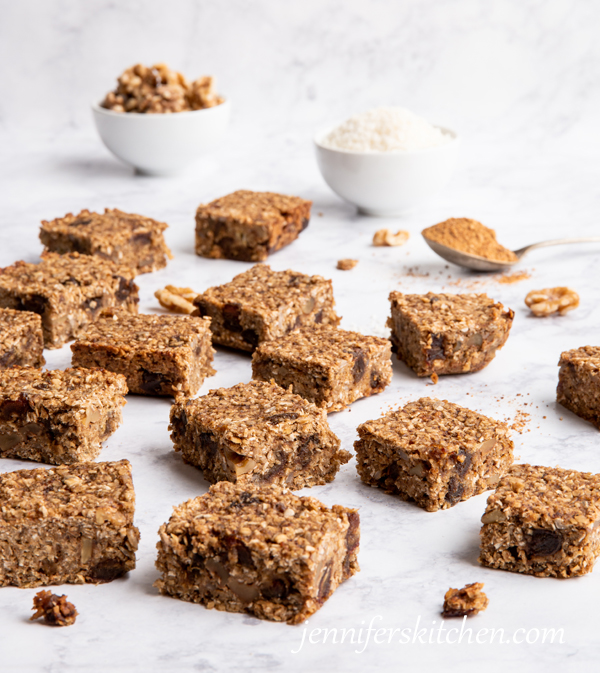 They're made with clean-eating, healthy, whole-food ingredients.
They contain no weird ingredients.
They're loaded with fiber – so they're really helpful for weight loss.
They're made with heart-healthy oats.
They give you a good dose of omega-3s.
Even though they are slimming, they're also filling – so you won't be hungry two hours later.
If you use gluten-free oats, they're gluten-free.
The nutrients in these Banana Date Bars provide you with energy to keep you going all morning long!
They are sugar-free.
They are dairy-free.
They're vegan.
They're oil-free.
They're a fun recipe to make with your kids.
Grab a couple (or 3 or 4) of these bars along with some fresh fruit in the morning and you have a healthy, sugar-free breakfast
Sugar-Free Banana Breakfast Bars FAQ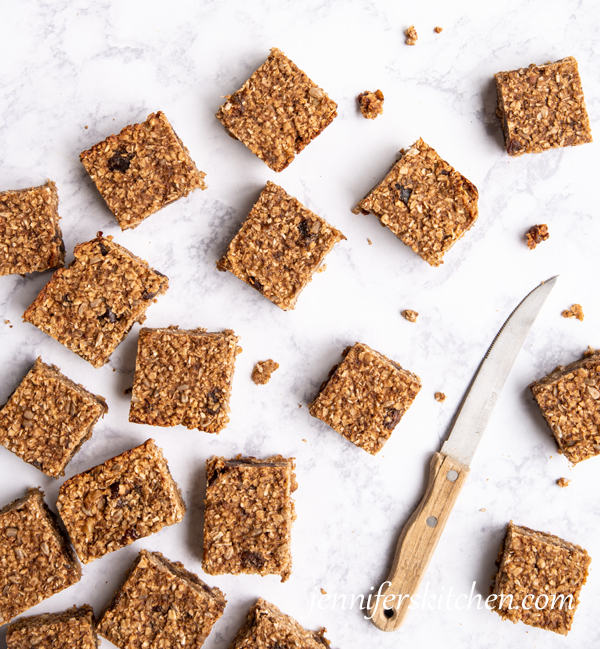 Can I double the recipe?
If you double this recipe, bake it in two 8-inch x 8-inch dishes instead of one large dish to ensure it bakes thoroughly in the middle.
How long can I store the oatmeal bars?
Since the refrigerator tends to dry out these bars, if I want to make them ahead of time, I store them in a freezer-safe bags in the freezer. Packaged well, they'll keep for about 3 to 4 months.
OR, if we're going to eat them the very next morning, I'll keep them on the countertop overnight and reheat them for 5 minutes or so in the morning.
Do I have to reheat the Banana Date Bars?
These bars definitely taste best warm. And the texture is best when they are warm. But they are easy to reheat.
How do I reheat the bars?
There are several ways you can reheat them.
Place in a covered dish and reheat in oven at 350 for approximately 10 minutes.
Heat in a toaster oven.
Thaw slightly. Toast in toaster.
Place in a cast iron pan. Cover. Heat over very low heat until they begin to brown on the bottom. Flip over and heat on the other side.
I try to remember to take these out of the freezer the night before we need them because they will then reheat more quickly.
Can I freeze these bars?
Yep.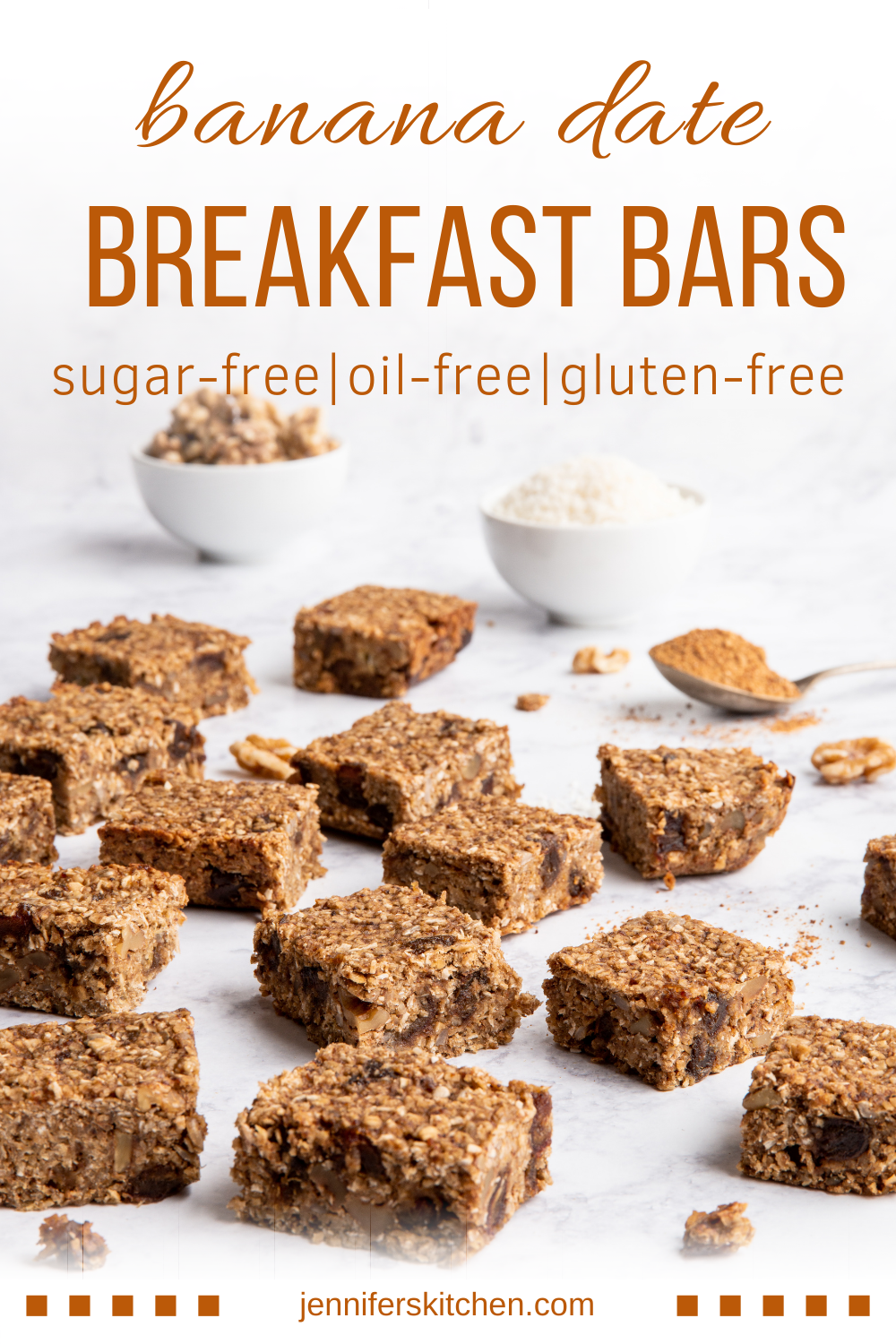 This website is brought to you without annoying ads because we can live healthier lives without the influence of marketing. But running a high-traffic site is expensive. How can you help? If you purchase anything through the affiliate links on my site, your cost is the same, but I receive a small commission. Thank you!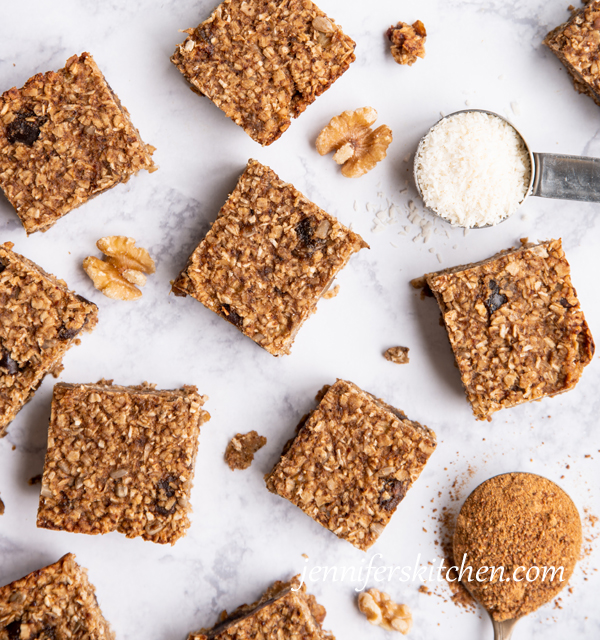 Sugar-Free Banana Date Breakfast Bars
Naturally sweet with no sugar added! These delicious breakfast bars are made with healthy, whole-food ingredients, like heart-healthy oats, nutrient-rich bananas, and brain-beneficial walnuts.
Instructions
In a large mixing bowl, combine dry ingredients (first 7 ingredients).

In another bowl, mash bananas with almond butter, and vanilla. Add this mixture to dry ingredients and mix well.

Press mixture into an oiled 8-inch x 8-inch baking dish. (I used a glass baking dish.) Bake at 350°F for 30 to 35 minutes or until browned on the edges.

Remove from oven.

When cool, cut into 12 or 16 bars. If you plan to freeze these bars and you don't have a wide-slot toaster, you may want to cut the bars crosswise also so they are thin enough to put in your toaster.
Notes
Be sure to use quick oats not rolled oats in this recipe.
When I make these bars, I line the baking dish with parchment paper to keep the bars from sticking. I cut the paper a little larger than necessary so it hangs over on two sides so I can easily lift the bars out of the pan.
To Reheat:
These bars taste best when warm. If you have leftovers, here are several ways you can reheat them.
Place in a covered dish and reheat in oven at 350 for approximately 10 minutes.
Heat in a toaster oven.
Thaw slightly. Toast in toaster.
Place single layer in a cast iron pan. Cover. Heat over very low heat until they begin to brown on the bottom. Flip over and heat on the other side.
Timing: These bars take about 20 minutes of hands-on time to prepare, but if you chop your dates and walnuts ahead of time (or buy pre-chopped ingredients), you can reduce that time to about 15 minutes.
* * * This recipe for Banana Date Bars is … gluten-free, plant based, oil-free, sugar-free, high in fiber, dairy free, egg-free, vegetarian, vegan, and made from real, whole foods.
>> One quick request: if you like this recipe, please leave a rating and a comment. Ratings help more people find these healthy recipes!
Print Recipe
Want More?
For more healthy and delicious recipes like this one that will simplify your journey to a healthier and thinner you, check out my
Healthy Weight Loss Program!
You my also like:
Before you go . . .
Did you know that you can eat all this delicious food AND lose weight? You can!
No calorie counting. No portion sizes.
Join my online weight loss program today!