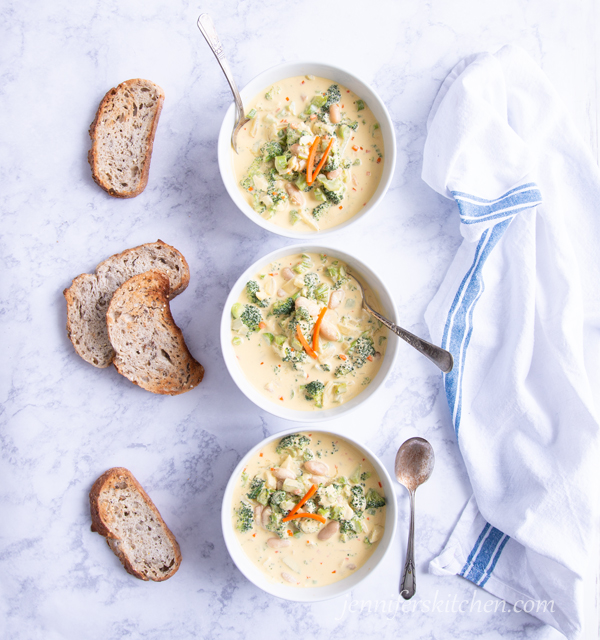 Cheesy Broccoli Cannellini Bean Soup – Creamy comfort food in a bowl.
This soup has such a lovely, rich flavor, you'd think that it was made with lots of fattening cheese and heavy cream. Instead, delicious Cheesy Broccoli Cannellini Bean Soup is made with a velvety, plant-powered cheese sauce; tender, anti-oxidant-rich broccoli; slimming cannellini beans; and a ton of flavor!
And it's ready in less than 30 minutes!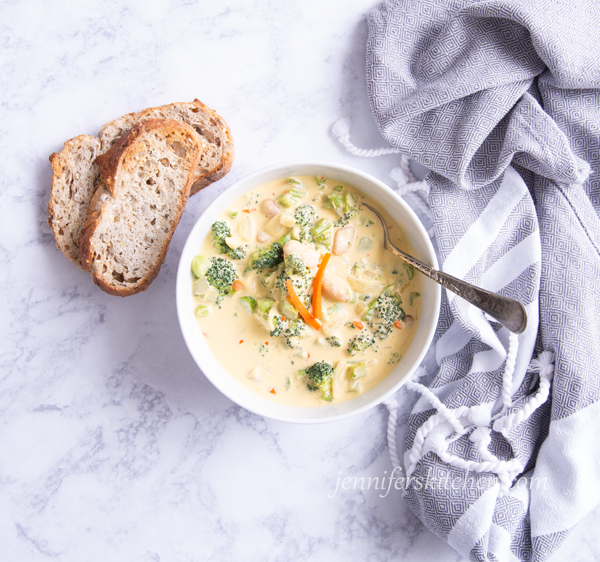 This website is brought to you without annoying ads because we can better live healthier lives without the influence of marketing. But running a high-traffic site is expensive. How can you help? If you purchase anything through the affiliate links on my site, your cost is the same, but I receive a small commission. Thank you!
Cheesy Broccoli Cannellini Bean Soup FAQS
1. I don't like broccoli. Will I like this soup?
You might. Most broccoli-haters tend to have a change of mind when the broccoli is smothered in the delicious cheese sauce in this soup. The addition of beans also helps broccoli-haters like this soup a little better.
My recommendation: Use a little less broccoli than the recipe calls for and cut it into very small pieces. You could also double the bean amount. Give it a try!
2. How can I keep this soup warm so I can take it for lunch?
This cute little lunch warmer is a great way to take this delicious soup to work with you and have it nice and warm for lunch.
3. Can I use frozen broccoli to make this soup?
You could, but I don't recommend it. The flavor will be lacking, and the texture is not so great. I definitely recommend fresh broccoli.
4. How long does this Cheesy Broccoli Cannellini Bean Soup last in the refrigerator?
If chilled immediately after cooking, it will keep in the refrigerator for up to 5 days.
5. Can I freeze this broccoli soup?
I've never had enough leftovers to find out. Let me know if you try.
6. Is this Cheesy Broccoli Cannellini Bean Soup vegan?
Yes, it is. So now you can invite your weird, carrot-munching, vegan friends over for lunch.
7. I'm not vegan. Will I like this soup?
I think you will. Even the most dedicated carnivores gobble up this soup.
8. Is this soup gluten-free?
Yep.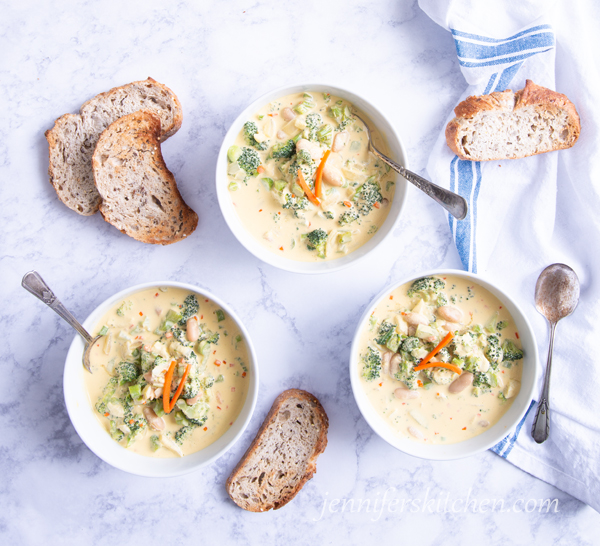 Health Benefits of Broccoli
You probably know that broccoli is good for you, but did you know …
Broccoli helps you lose weight
Broccoli is loaded with healthy fiber and other natural, plant chemicals that pull fat out of your body, help regulate appetite, and help maintain healthy blood sugar levels. Great for weight loss!
Broccoli kills cancer
Broccoli contains sulforaphane, a natural, plant chemical that has been shown to actually halt human breast cancer cells, prevent the reproduction of prostate cancer cells, and reduce the risk of other types of cancer as well.
Broccoli reduces inflammation
Broccoli contains several bioactive compounds that work synergistically to reduce inflammation in the body's tissues.
Broccoli reduces your risk of a heart attack
Broccoli is packed with soluble fiber that draws cholesterol out of your body. Plus, it contains other nutrients that help regulate blood pressure.
Broccoli fights diabetes
The fiber, antioxidants, and other natural chemicals in broccoli help control blood sugar and can even reduce insulin resistance.
Broccoli keeps you young-looking
Broccoli is packed with lutein, zeaxanthin, beta-carotene, and other antioxidants that fight the free radicals responsible for ageing.
Broccoli makes strong bones
Broccoli is a good source of calcium and vitamin K, both of which are important for bone health and prevention of osteoporosis.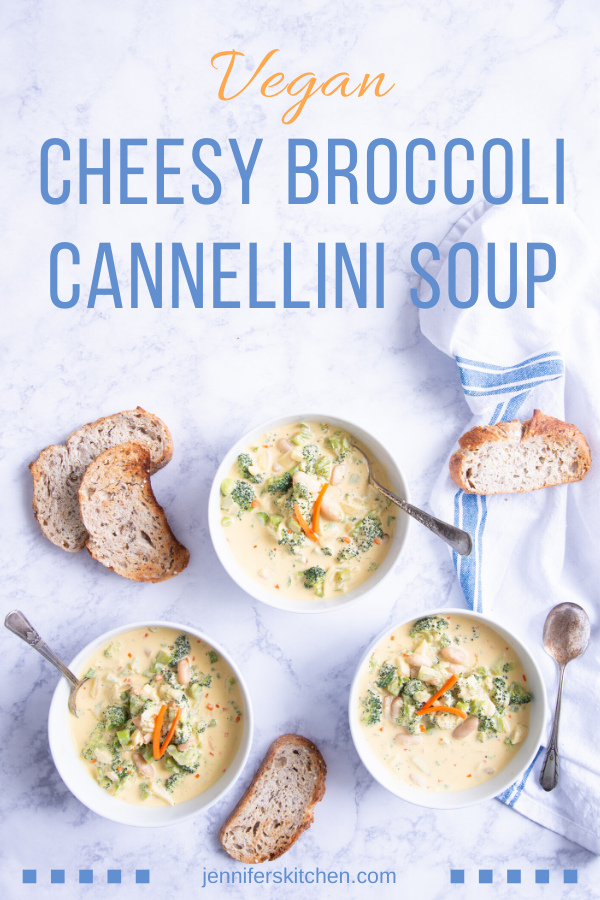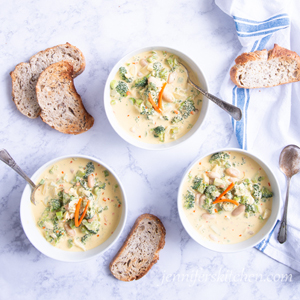 Print
Cheesy Broccoli and Cannellini Bean Soup
You'll be amazed at how delicious and creamy this healthy and slimming soup is.
Ingredients
1/2  medium onion, diced small
1  teaspoon olive oil
2 cloves garlic, minced
1 1/4  cups water (or half water and half broth)
5 - 6 cups chopped broccoli florets (about 12 to 14 ounces or 1 small head broccoli)
1  cup Healthy 5-Minute Cheese Sauce (or more if desired; see note)
1 teaspoon granulated onion
1  pinch dried rosemary
1  pinch dried sage
3/4  cup (half of a 14-ounce can) cannellini beans, lightly drained (not rinsed)
1/2  cup (approximately) water or broth
carrot shreds for garnish – optional
Instructions
Lightly sauté onion in oil over medium heat (about 4 minutes).
Add garlic and sauté for one more minute.
Add 1 1/4 cup water and turn heat to high. Add broccoli, cover, and bring to a boil. When water comes to a boil, stir, reduce heat, cover, and simmer until broccoli is tender but not mushy (about 7 to 8 minutes).
Meanwhile, prepare sauce if not already made.
When broccoli is tender, stir in cheese sauce, seasonings, and beans.
Add enough water or broth to reach desired consistency. Heat until hot.
Serve hot.
Notes
The 5-Minute Cheese Sauce recipe makes about two cups of cheese sauce. You can use the extra as a delicious topping for baked potatoes, or, if desired, you can add more to the soup.
Yield:
Makes 4 to 5 cups of soup. The exact yield will depend on how much broccoli you use, how much cheese sauce you use (step 5), and how much water or broth you add (step 6).
Popular Posts