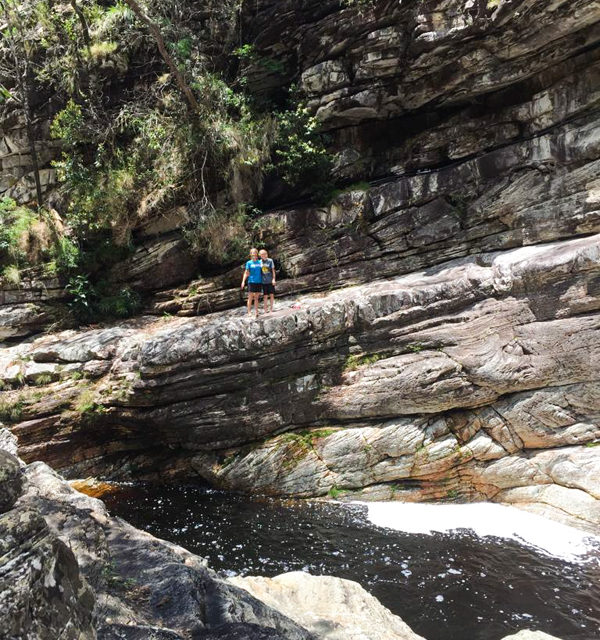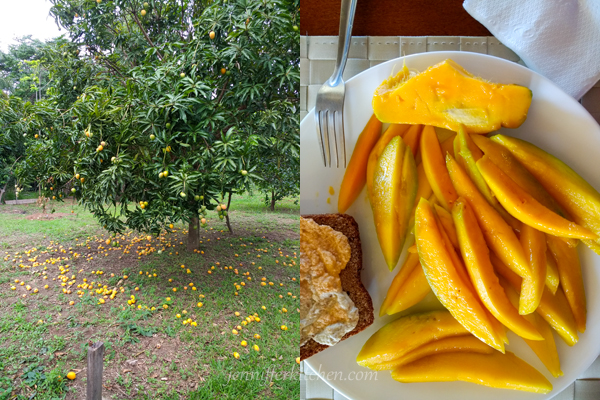 I spent a couple months in Brazil last year and, of all the delicious food that I ate while I was there (including no less than 176 mangoes), …


… one of my favorites was the Brazilian beans.
Let me tell you, those Brazilians know how to make beans!
Many Brazilians eat beans every day. Beans and rice. Beans and potatoes. And beans on top of their spaghetti. (I couldn't quite get used to that one.)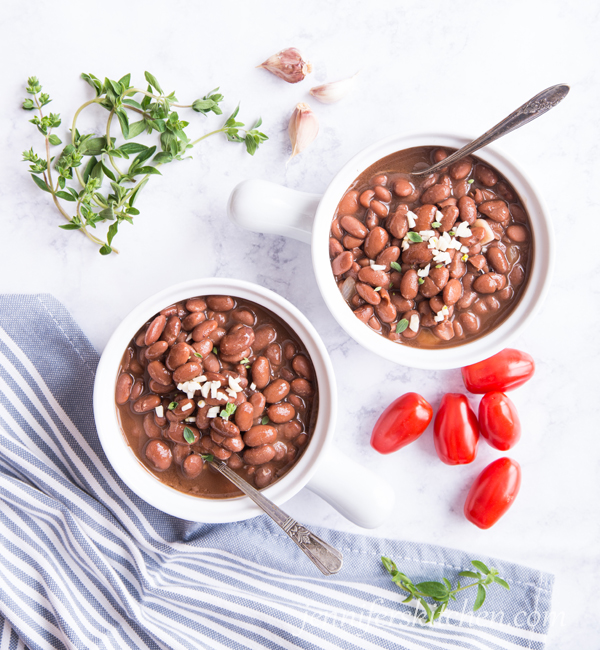 This website is brought to you without annoying ads because we can live healthier lives without the influence of marketing. But running a high-traffic site is expensive. How can you help? If you purchase anything through the affiliate links on my site, your cost is the same, but I receive a small commission. Thank you!
After one particularly delicious bowl of beans, I asked my sweet friend Juliana if she would be willing to give me her recipe so I could share it with you all, and she happily said yes. The remainder of the conversation went something like this:
Juliana: (looking at me strangely)
"Você não sabe fazer feijão?"
("You don't know how to make beans?")
Me: (Straining to understand because I don't speak or understand Portuguese very well)
"Devagar, por favor?"
("Could you say that more slowly, please?")
Juliana: (Smiling)
"Você … não … sabe … fazer … feijão?"
("You … don't … know … how … to … make … beans?")
Me:
"Sim, eu faço feijão muitas vezes em casa, mas seus fe…"
("Yes, I make beans often at home, but your be…")
Juliana: (still with a puzzled look)
"Então, por que você quer uma receita para feijão?"
("Then, why do you want a recipe for beans?")
Me: (laughing)
"Devagar, por favor."
("Slowly, please.")
Juliana: (laughing)
"Então … por que … você … quer … uma … receita para feijão?"
("Then, … why … do … you … want … a … recipe for beans?")
Me:
"Porque seus feijões são muito muito bom."
("Because your beans taste really, really good!")
Juliana: (still bewildered)
"Os feijões da América não são bons?"
("Don't the beans in America taste good?")
Me:
"Deeeevaaaagar"
("Slooooowly")
Juliana: (laughing)
"Os … feijões … da … América … não … são … bons??"
("Don't … the … beans … in … America … taste … good?")
Me:
"Não é tão bom quanto o feijão no Brasil."
("Not as good as the beans in Brazil.")
Juliana:
"Por que?"
("Why?")
Me:
"Eu não sei."
("I don't know.") That's what I was trying to find out! : )

Juliana:
"Como você faz o seu feijão?"
("How do you make your beans?")
I started to explain how I make beans, but in the midst of the explanation, I said:
"Os americanos não comem feijão tão frequentemente quanto os brasileiros."
("Americans don't eat beans as often as Brazilians.")
Juliana: (astonished)
"O que os americanos comem?"
("What do Americans eat?")
Me: (wracking my brain, trying to remember what Americans eat. We eat a lot of things!)
"Comemos como você, mas não comemos feijão todos os dias e eles não são tão bons como feijão de Brasil"
("We eat similar to you, but we just don't eat beans every day, and our beans don't taste as good as Brazilian beans.")
Anyway, I eventually got Juliana to actually write out the recipe. In her recipe, she used a seasoning that they have in Brazil which is a mixture of certain herbs, so I replaced that seasoning with the actual herbs. I also translated it to English. (You're welcome 🙂 )
Note: To all my Portuguese-speaking friends, sorry for slaughtering your beautiful language. I am still learning.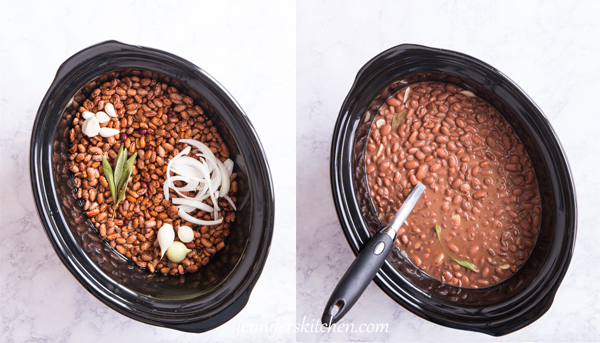 My friend Juliana cooked her beans in a stove-top pressure cooker, but since the Instant Pot has become so common here in the U.S., that's what I used. If you want to use a stove-top pressure cooker to cook these Brazilian beans, you absolutely can do that. (You may reduce cooking time by a few minutes, but it isn't necessary.)
Bean Nutrition
Beans are a good source of iron, calcium, folate and other B vitamins, protein, and fiber. Their remarkable nutrition profile also makes them one of the most powerful disease-fighting foods and one of the best foods for weight loss.
Delicious Recipes that Use Beans
Here are my favorite recipes that include beans.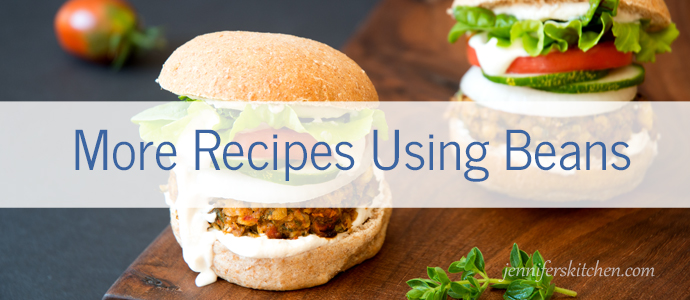 Bean FAQ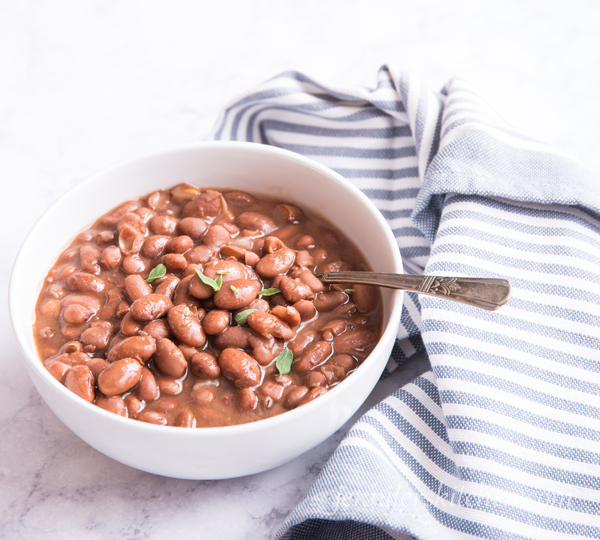 1. Don't I have to soak the beans before cooking them?
Totally unnecessary. Soaking causes them to lose flavor.
Soaking can help beans to digest better for some, but so can very long cooking times – which is what this particular recipe calls for. If you still have digestion problems after cooking your beans for the time given in the recipe, feel free to soak your beans first.
2. What if my beans are not tender at the end of the cooking time?
If you followed the directions, and your beans didn't soften, then it is possible you have old beans. Or maybe you are cooking them in hard water.
Solution: Buy another bag of beans and/or use distilled water if you have hard water.
3. What if my beans are overdone?
Are they burned? No? Then they aren't overdone. I know some people like to keep their beans all nice and pretty-shaped, but these delicious Brazilian beans are not the beans for that. These beans are wonderfully tender and creamy.
(The beans in the photo were not cooked as long as the recipe calls for because they were getting anxious for their photo shoot. Cooked for the full amount of time, they look creamier.)
4. Can I make these beans in a crock pot (slow cooker)?
I almost always cook my beans in a slow cooker, but these Brazilian beans are definitely better in a pressure cooker or Instant Pot. But you can cook them in a slow cooker.
Follow the instructions in my post about cooking beans in a crock pot and only add the bay leaves to the crock. After the beans are done, saute the onions and the garlic, add them to the beans along with the remaining ingredients, and cook for an additional hour in the crock pot.
5. Can I cook beans in a stove-top pressure cooker?
Yep. Use the same directions as above, but be sure to read your pressure cooker manual to know how to use your pressure cooker correctly. (The Instant Pot takes just a couple minutes longer than a stove-top pressure cooker, so you could reduce cooking time by a few minutes, but it isn't necessary since these beans are supposed to be tender and creamy.)
6. How do I store leftover cooked beans?
Whenever I cook beans, I always cook extra to have on hand for future needs. I store my leftover cooked beans (with their liquid) in a glass container in the refrigerator for up to 4 to 5 days or in the freezer for up to 4 months.
BE SURE TO REMOVE THE BAY LEAF BEFORE STORING! Otherwise, your beans will tastes minty. Not sure why this happens, but Peppermint Patty beans are just weird.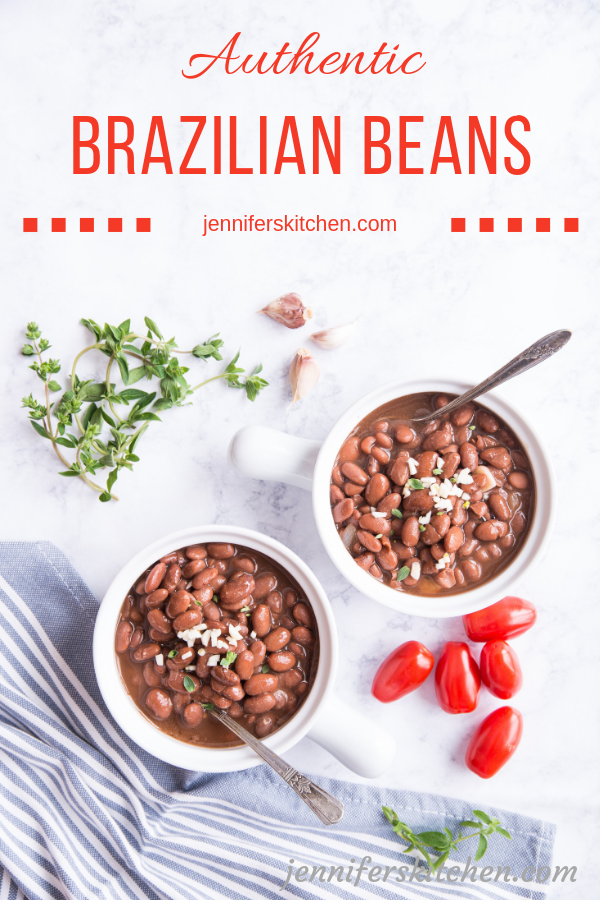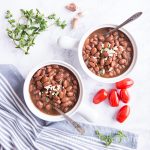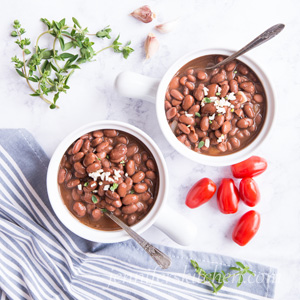 Brazilian Beans (Feijão)
Brazilians make the best beans ever!  Here's how you can make them.
Ingredients
2 1/2

cups

dry, uncooked pinto beans

8

cups

water

1

large

yellow onion, chopped small

-

divided

4

cloves

garlic, crushed

-

divided

3

bay leaves -

(Don't skip this ingredient! It is the secret to delicious beans.)

1 1/2

teaspoons

salt

-

or to taste

1

teaspoon

granulated onion

1/4

teaspoon

dried basil

1/4

teaspoon

sweet paprika

1/4

teaspoon

dried parsley

1

pinch

dried oregano

1

pinch

dried savory
Instructions
Spread beans out on clean counter top (or a clean dish towel) and sort through beans, removing small rocks or debris.

Place beans in a large colander and rinse well.

Transfer beans to Instant Pot. You can also use a stove-top pressure cooker. Be sure to read your pressure cooker manual before using.)

Add water, half of the onion, half of the garlic, bay leaves, and salt.

Lock the lid on and set the Instant Pot to "Manual"and "High Pressure" for 45 minutes. Be sure the valve on top is set to "Sealed". 

When cooking time is done, turn off the heat, and allow pressure to release on its own (natural/slow release method) before opening lid.

Remove lid and turn Instant Pot back on. Add remaining onion and garlic and stir into beans along with the remaining seasonings. (If desired, onions and garlic can be sauteed before adding to beans.)

Boil beans uncovered for an additional 45 minutes, stirring occasionally. Beans will become super soft and creamy.

Remove bay leaves before serving.
Notes
For the photos in this post, although the beans are well cooked, I didn't cook them as long as I would if I weren't taking a photo of them (because they are quite un-photogenic when I cook them longer).  For the best beans, you'll want to cook them until they are more creamy.
Extra beans can be frozen for a quick meal on another day.
>> One quick request: if you like this recipe, please leave a rating and a comment. Ratings help more people find these healthy recipes!
Print Recipe
You my also like:
Before you go . . .
Did you know that you can eat all this delicious food AND lose weight? You can!
No calorie counting. No portion sizes.
Join my online weight loss program today!