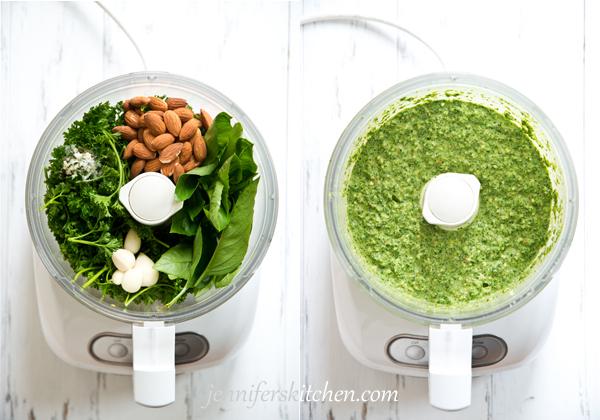 Traditional pesto is loaded with oil, which tends to contribute to obesity and other diseases.  This version is not quite traditional. (Did you expect anything different from me?)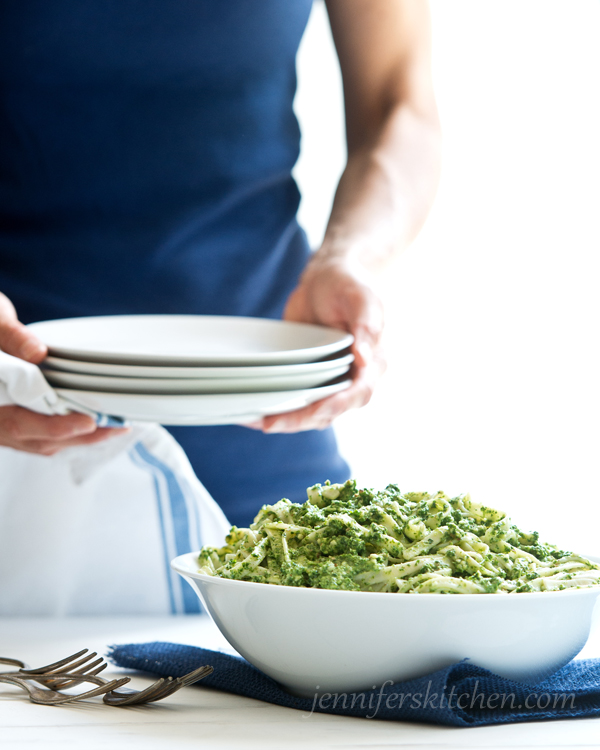 Besides leaving out the tanker of oil, I've included some parsley (for those who find it difficult to spend a half day's wages on fresh basil).  And I've excluded the cheese – and thus excluded 215 calories, 15 grams of fat, and 44 milligrams of cholesterol. (Yowza!)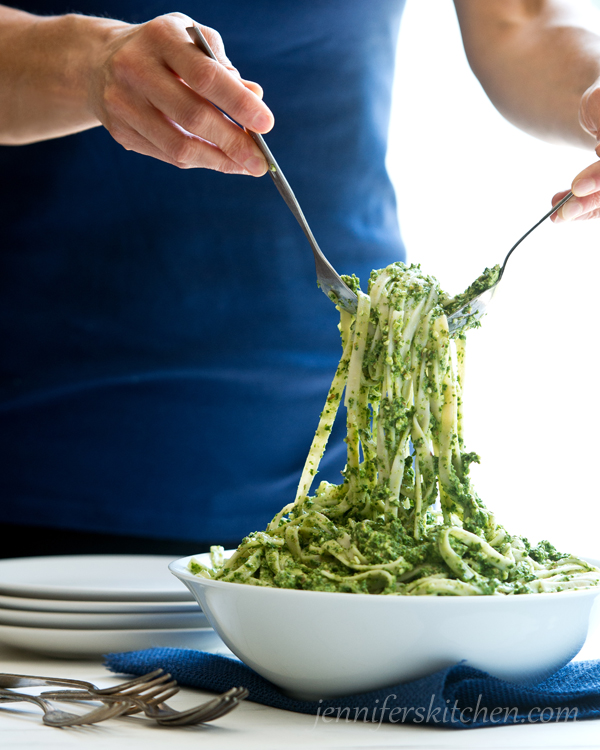 Fewer Calories
What does this mean?
This means you get a delicious, cholesterol-free, easy-to-prepare Pasta with Parsley Almond Pesto Sauce with 129 fewer grams of refined fat and 1117 fewer calories than pasta with traditional pesto. (per 4 small servings) (Double yowza!)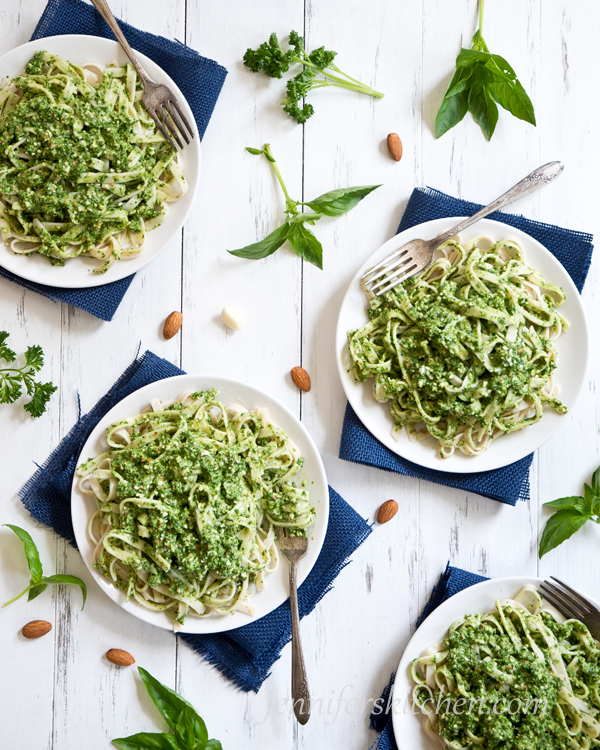 Mmmmm … pasta topped with a flavorful, nutty, fresh-tasting pesto sauce. So delicious and so good for you.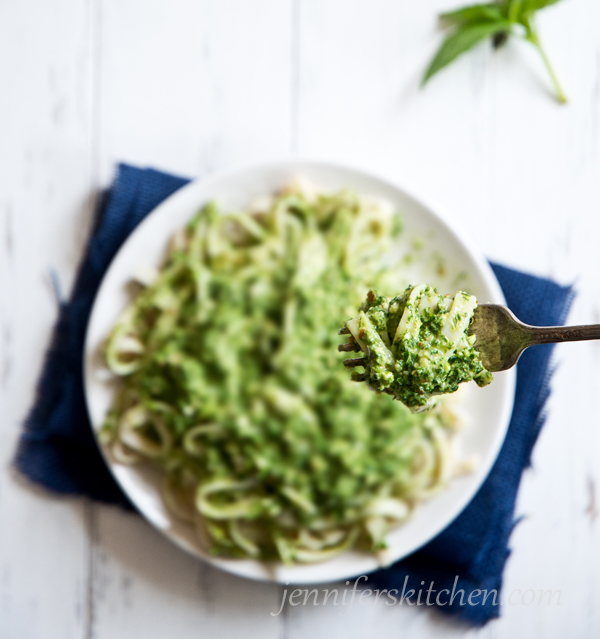 Low-Oil and Oil-Free Recipes
Looking for more low-oil and oil-free recipes?  Check out the luscious Coconut Cream Topping, the delicious Skinny Mayo, the amazing oil-free granola, and the many scrumptious dips in my 14-Day Weight Loss Program.
Gluten-Free Pasta
I also used gluten-free pasta, which is totally an optional part of this recipe, but we've found some gluten-free pasta that is absolutely delicious, and we like it even better than regular pasta.
Check out our gluten-free pasta taste test.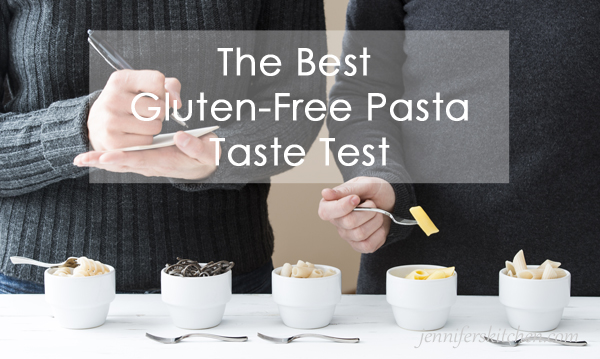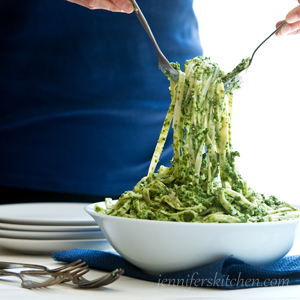 Print
Fettuccine with Parsley Almond Pesto (Vegan)
Yield 2 large or 4 small servings
Fresh. Quick. Easy. Flavorful. Vegan. Gluten-Free. The perfect pasta recipe.
Ingredients
8 ounces uncooked fettuccini
1/2 cup raw almonds
3 3/4 cups (packed) fresh parsley (large and tough stems removed)
4 - 5 cloves garlic
1 cup (packed) fresh basil leaves
1 1/2 teaspoons granulated onion
3/4 teaspoon salt
3 tablespoons olive oil
2 tablespoons lemon juice, scant
3/4 cup pasta water
Instructions
Cook pasta according to package directions. Reserve 3/4 cup of pasta water when draining pasta. (The pasta water will be added to the blender.)
While pasta is cooking, place almonds in food processor and coarsely grind.
Add parsley and garlic and process until parsley is almost pureed.
Add fresh basil, granulated onion, salt, olive oil, and lemon juice and process until basil is very, very finely chopped.
Remove 3/4 cup of pasta water from pasta and add to pesto. Process until mixed.
When pasta is done, drain pasta. Serve parsley pesto over hot pasta.
Notes
1. This recipe works great in a 12-cup food processor. If your food processor is smaller, you may want to prepare the pesto sauce in batches.
2. This recipe generously serves two. If you'd like to make a double recipe, be sure to make sauce in batches. A double recipe of the pesto sauce needs more space than it will get in a 12-cup food processor.
3. Actual hands-on time is less than 15 minutes. The total time you need to give yourself to make this recipe depends on how long it takes your stove to bring water to boil.
Did you make this recipe?
Share it on Instagram! Tag @jenniferskitchn and hashtag it #jenniferskitchn
Leave a comment
Your comments make my day! 🙂
Popular Posts