Healthy (American) French Salad Dressing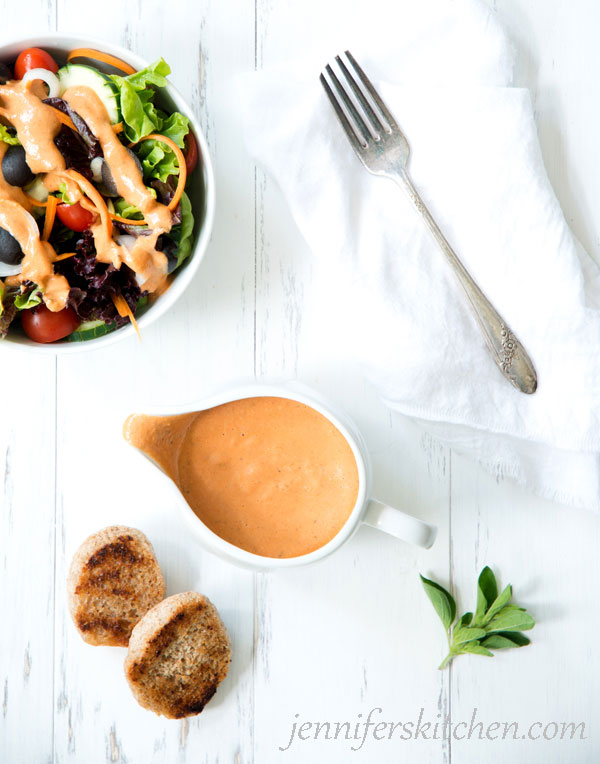 Don't look now, but that bottle of French dressing from the store comes with a complimentary serving of propylene glycol alginate, yellow # 6, and high-fructose corn syrup. Even Annie's is loaded with refined oils.
But no worries. Healthy homemade French Dressing is easy to make. Just place a few healthy ingredients in the blender, blend, and viola! You have a very healthy dressing for over your salad … or on top of other veggies or potatoes or even in a sandwich … whatever else you like French Dressing on.
Real French Salad Dressing vs American French Salad Dressing
Classic French Salad Dressing is actually a vinaigrette. The American version of French dressing – like you'd get from Kraft or Wishbone – is creamier and thicker and it's orange-red in color.
Why are there two types of dressing called "French" – an American French and a Classic French (like from France)? I don't know, but it certainly isn't because they are anything alike.
(And then there's Catalina dressing. It's sort of like the American French salad dressing, nothing like real French dressing, and somehow people get it confused with Russian dressing. But it isn't like Russian dressing at all.)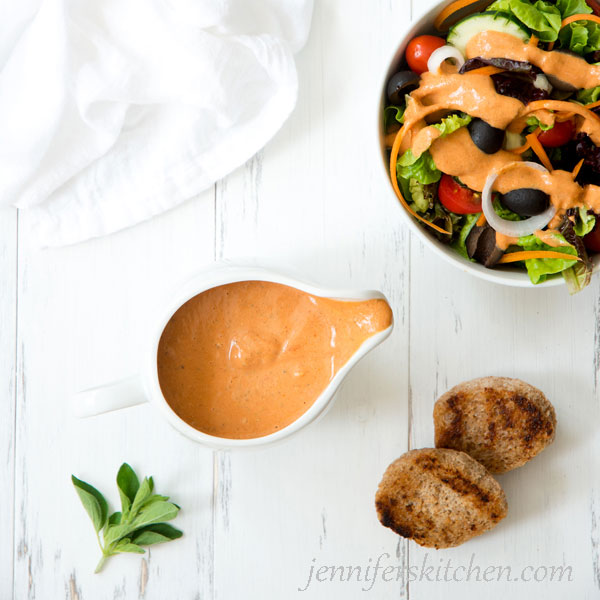 Anyway …
So what is this dressing recipe that I'm sharing with you?
Well, I'm calling it (American) French dressing, because it isn't true French dressing (vinegar, oil, etc.). But it isn't really even American French dressing either – I mean it's missing the propylene glycol alginate and all.
Perhaps this dressing would be more accurately named Tangy Tomato Salad Dressing. Whatever you call it, it's a healthy topping for you salads and I hope you enjoy!
Oil-Free Dressing?
Most of the recipes on my website are oil-free, and I really wanted to make this homemade French dressing oil-free as well. But after a few experiments, I realized it was too much of a stretch. It really needed the oil for the right flavor and consistency. So I reduced the amount as much as possible. Feel free to adjust to your liking.
The Dressing Room
Looking for some more healthy, whole-food, vegan salad dressings? Check these out: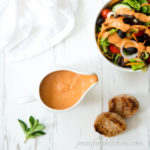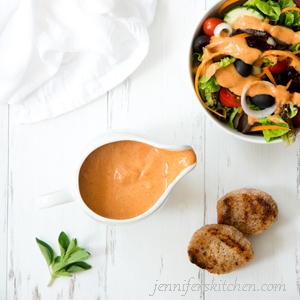 Healthy (American) French Salad Dressing
Ingredients
1/4

cup

tomato paste

2

tablespoons

raw cashews

1/4

cup

lemon juice

1/4

cup

olive oil

2

teaspoon

raw sugar

-

or evaporated cane juice sugar

1/2

teaspoon

granulated garlic

1/2

teaspoon

sweet paprika

1/2

teaspoon

granulated onion

1/2

teaspoon

dried basil

1/4

teaspoon

dried oregano

1/4

teaspoon

salt

1

teaspoon

molasses

1

teaspoon

apple juice concentrate

1/2

cup

water

2

tablespoons

finely diced onion

-

optional
Instructions
Place all ingredients in blender and blend until very smooth. (A heavy-duty blender works best for this recipe; other blenders may not get the mixture smooth enough.)

Stir in finely diced onion.
Notes
For best results, remove dressing from refrigerator 20 minutes before serving. When dressing is chilled it becomes thick; removing it from refrigerator allows it to return to normal consistency.
Yield: 1 1/3 cups
>> One quick request: if you like this recipe, please leave a rating and a comment. Ratings help more people find these healthy recipes!
Print Recipe
Want More?
For more healthy and delicious recipes like this one that will simplify your journey to a healthier and thinner you, check out my
Healthy Weight Loss Program!
You my also like:
Before you go . . .
Did you know that you can eat all this delicious food AND lose weight? You can!
No calorie counting. No portion sizes.
Join my online weight loss program today!