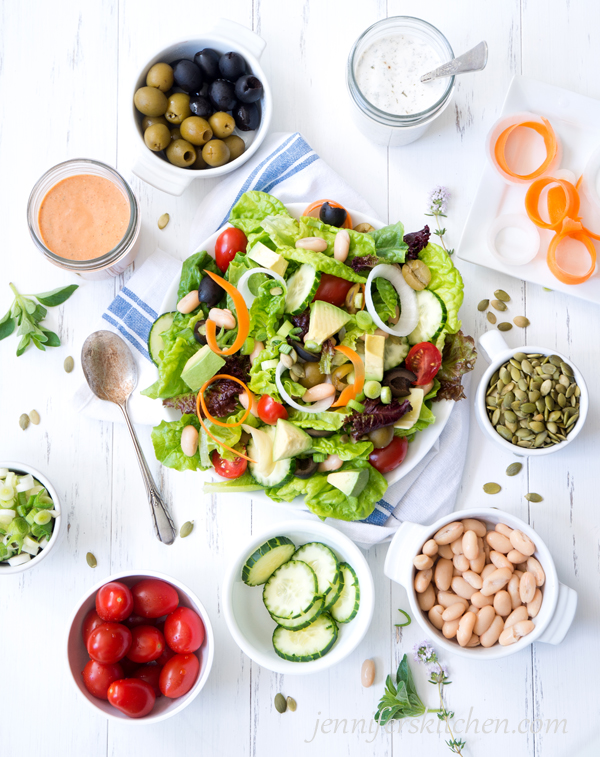 This website is brought to you without annoying ads because we can better live healthier lives without the influence of marketing. But running a high-traffic site is expensive. How can you help? If you purchase anything through the affiliate links on my site, your cost is the same, but I receive a small commission. Thank you!
Salads are often considered a good diet food because they're high in nutrition while low in calories, but a plate of lettuce and carrot shreds for lunch leaves me with a very serious craving for a big bag of cookies before 2:30 rolls around.
No More Post-Salad Cravings
Loaded with protein, healthy fats, vitamins, minerals, and everything else you need to get you through the afternoon, this power salad is anything but skimpy, makes a perfect packed lunch, and won't leave you feeling hungry later. It's a full, satisfying meal in itself.
Healthy Salad Dressing Options
The salad dressing I use over my Power Salad is this Healthy Creamy Italian because it is my absolute favorite. Hoooooweeeva … all of my dressing recipes are healthy options, and this salad tastes great with any of them.
The Flexible Meal
Speaking of flexibility, that's another great thing about this salad. Want more artichoke hearts? Pile 'em on! Don't have any tomatoes on hand? No prob. Like croutons with your salad? Go for it!
Oh, but you definitely need to try this salad with these luscious, buttery green ripe olives. I've never tasted an olive like this and they are, hands-down, my favorite! Anytime I eat this salad, it's got plenty of tree-ripened olives on it.
No-Cooking Required
This Power Salad recipe is also the perfect meal for hot summer days. No heating up the kitchen. No dirty pots and pans! No cooking!
In about 10 minutes you have an easy, filling, delicious, and satisfying meal.
Enjoy!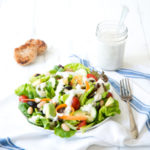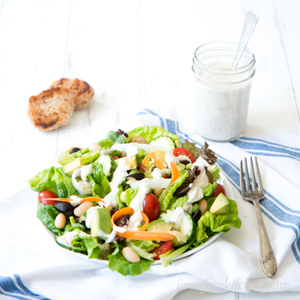 Power Salad
Packed with protein, healthy fat, fiber, and an abundance of other nutrients, this filling power salad is a satisfying meal in itself.
Ingredients
2 3/4

cups

chopped fresh salad greens

-

(about 4 to 8 ounces, depending on the type of greens)

1/2

cup

drained, cooked white beans

1/4

cup

shredded carrots

1/3

cup

chopped artichoke hearts

1/3

cup

sliced olives - (I like these tree-ripened olives.)

3

tablespoons

diced sweet onion

1/4

cup

diced cucumber

1

small

tomato, diced

-

or a small handful of cherry tomatoes

1

clove

garlic, crushed

-

optional

2

tablespoons

raw sunflower seeds - or pumpkin seeds (pepitas)

1/2

medium

ripe avocado, peeled and diced
Instructions
Place salad greens on a plate.

Top with remaining ingredients.
Notes
This is a super flexible meal – feel free to adjust toppings to your personal preferences!
>> One quick request: if you like this recipe, please leave a rating and a comment. Ratings help more people find these healthy recipes!
Print Recipe
Want More?
For more healthy and delicious recipes like this one that will simplify your journey to a healthier and thinner you, check out my
Healthy Weight Loss Program!
You my also like:
Before you go . . .
Did you know that you can eat all this delicious food AND lose weight? You can!
No calorie counting. No portion sizes.
Join my online weight loss program today!