Cream of Potato and Kale Soup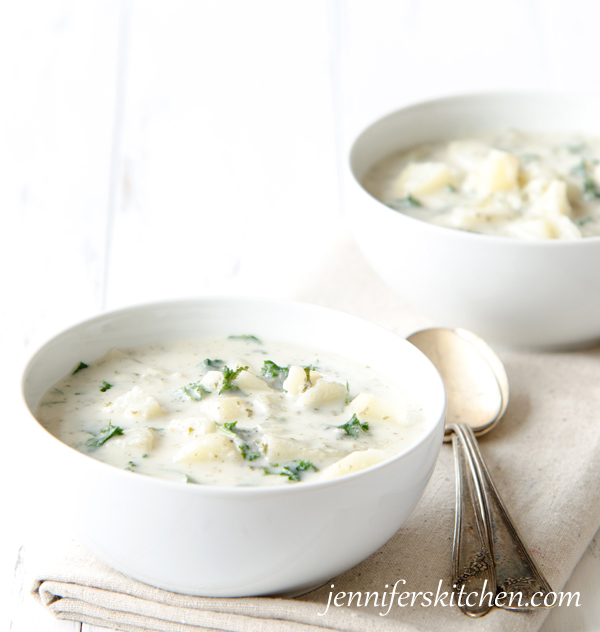 This is one of my very favorite recipes. Why?
1. It's easy to make.
2. It's so filling it can be a meal in itself.
3. It's super healthy. And because I've replaced fattening ingredients with good-for-you, high-fiber cashews, it's slimming and still delightfully creamy.
4.    You can put it in a mini crock pot or a good thermos and take it for lunch.
5. It's creamy and luscious!
Soup is the epitome of comfort food and this delicious Cream of Potato and Kale Soup shows that it can be very wholesome and nourishing as well. When the weather turns chilly there's nothing better than a piping-hot bowl of soup to warm you up.
Eat More Potatoes
Most people are surprised when they find out they can eat potatoes on my weight loss plan and that I have an abundance of yummy potato recipes in my 30-Day Weight Loss Program.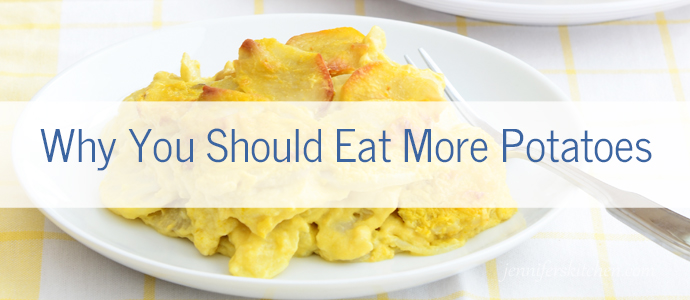 This website is brought to you without annoying ads because we can live healthier lives without the influence of marketing. But running a high-traffic site is expensive. How can you help? If you purchase anything through the affiliate links on my site, your cost is the same, but I receive a small commission. Thank you!
Hail to Kale
This queen of greens is packed with loads of health-benefiting nutrients, such as vitamin K, vitamin C, calcium, iron, and fiber. Kale has also been shown to have the ability to protect against cancer and lower cholesterol.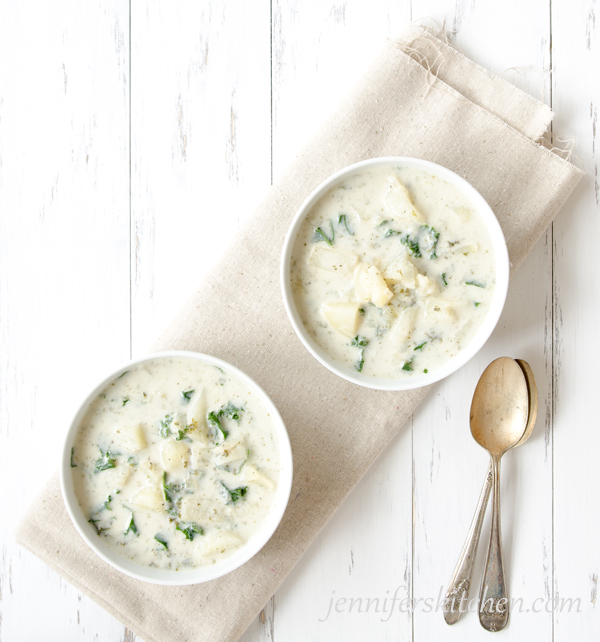 Cream of Potato and Kale Soup
This rich and satisfying soup is also very slimming … and it's vegan and gluten-free!
Ingredients
1

rib

celery, diced

1

medium

yellow onion, diced

2

tablespoons

olive oil

6

medium

potatoes

6

cups

water

4

cups packed,

chopped kale

2

tablespoons

dried parsley

4

teaspoons

granulated onion -

(1 tablespoon + 1 teaspoon)

1/2

teaspoon

dried basil

1/4

teaspoon

granulated garlic

2/3

cup

raw cashews

1

cup

water

-

scant

2

teaspoons

salt

-

scant
Instructions
In a large soup pot, sauté diced onions and celery in oil over medium-low heat until onions begin to look translucent. (If you would like to make this recipe oil-free, use this method to sauté without oil.)

Meanwhile, wash and peel potatoes. Dice into bite-size pieces and place in soup pan along with 6 cups of water and chopped kale. Turn heat to high.

Add seasonings, mix well, cover, and bring to boil.

When water comes to a boil, reduce heat and simmer until potatoes are tender, but not mushy (about 10 to 15 minutes, depending on the size of the potato dices).

Meanwhile, place cashews, 1 cup of water, and salt in blender and blend until very smooth. (A heavy-duty blender works best for this recipe; other blenders may not get the mixture smooth enough.)

When potatoes are tender, stir in blender mixture, and cook until hot. Serve hot.
Notes
* * * This recipe for Cream of Potato and Kale Soup is . . . gluten-free, plant based, oil-free, sugar-free, high in fiber, dairy free, egg-free, vegetarian, vegan, and made from real, whole foods.
>> One quick request: if you like this recipe, please leave a rating and a comment. Ratings help more people find these healthy recipes!
Print Recipe
More Potato Recipes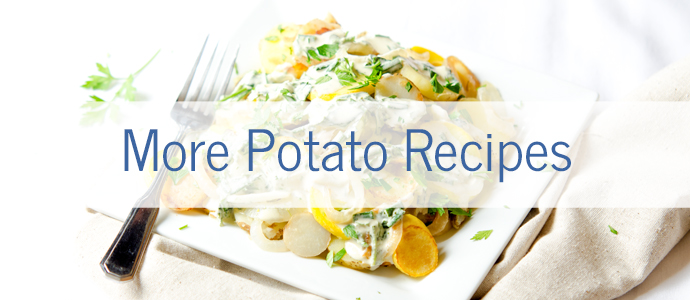 You my also like:
Before you go . . .
Did you know that you can eat all this delicious food AND lose weight? You can!
No calorie counting. No portion sizes.
Join my online weight loss program today!