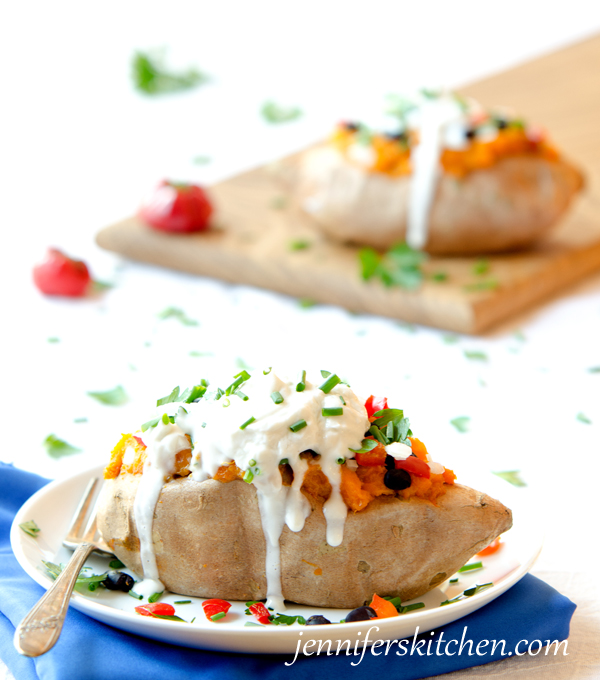 My favorite kind of dishes are those that everyone can tailor to their individual tastes.  Like Healthy Potato Nachos. Or these lovely Loaded Sweet Potatoes.
Different preferences? Picky eater? Gluten-free? No problem. Just set out all the fixin's and everyone gets to build their own delicious plate just the way they like it!  Which makes these make-it-how-you-like-it kind of meals perfect for when you have company coming for dinner.
I used my Homemade Vegan, Soy-Free Sour Cream recipe on these loaded sweet potatoes, but you could use this Healthy Cheese Sauce instead. Or you could use both!! Hey, now isn't that's a splendid idea?
Loaded Sweet Potatoes
Quick, easy, and very flexible, Loaded Sweet Potatoes can be made according to each individuals tastes.
:
All recipes on jenniferskitchen.com are property of jenniferskitchen and cannot be included in any other recipes collection, online or offline, without prior written permission.
Ingredients
4 medium to large sweet potatoes
1 medium yellow onion, diced small
1 tablespoon olive oil
1/2 red bell pepper, diced small
2 cloves garlic, minced
1 teaspoon granulated onion
1 teaspoon dried basil
1 teaspoon dried oregano
1 teaspoon paprika
1/2 teaspoon cumin
1/4 teaspoon granulated garlic
1 1/2 cups cooked black beans, drained
1/2 teaspoon salt, or to taste
1 medium fresh tomato, diced small
6 green onions, sliced
sour cream or vegan sour cream or homemade vegan sour cream
Instructions
Scrub sweet potatoes, place on middle rack of oven and bake at 400°F for 45 minutes or until completely soft.
Meanwhile, in a large saucepan, sauté diced onions and peppers in oil over medium-low heat until onions begin to look translucent. (If you're in a hurry, you can skip the sauteing and just load the sweet potato up with raw onions and garlic, but I prefer them sauteed.)
Add garlic and sauté for one additional minute.
Add beans and seasonings and cook until thoroughly heated.
Assemble sweet potatoes:
Slice baked sweet potatoes lengthwise down the middle.
Fill each sweet potato with 1/4 of the bean mixture.
Top with tomatoes, green onions, and sour cream.
.
Normally, I place one of these delicious sweet potatoes on my plate, add the toppings, load on the sour cream, take a bite, bask for a moment in the lusciousness, take another bite, … and so forth.
Howeeeeever …. I learned something different today.
If, after I dollop the sour cream on top, I add a sprig of cilantro, rearrange the fork five times, sprinkle some chives on top, add two more pieces of cilantro, then take those two additional cilantro pieces off, check to see what the noise was outside, turn the plate two and a half degrees counterclockwise, then put the same two pieces of cilantro back on, the warm sweet potato begins to melt the creamy sour cream … and I have the beginnings of a delicious looking mess.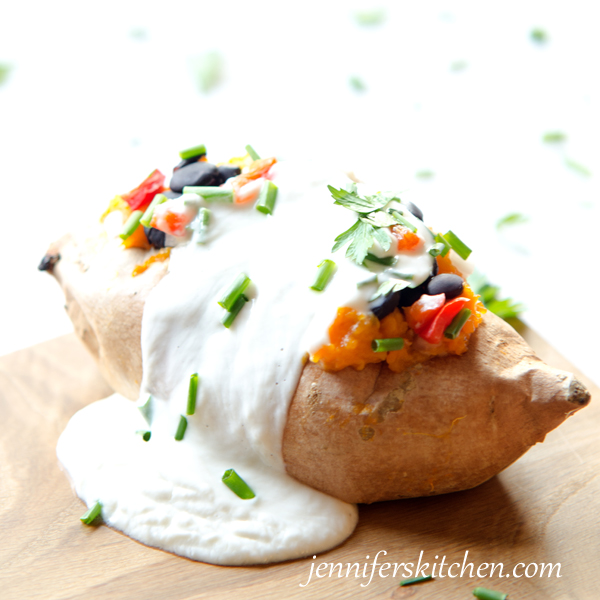 P.S. We had our first frost this past weekend. So sad to see the basil go, but thankfully we have a few little bowls of this Lower-in-Fat Basil Pesto packed away in the freezer for the long basil-less months ahead.
Time to get out the cozy socks.
Has Mr. Frost visited your garden yet?
Popular Posts