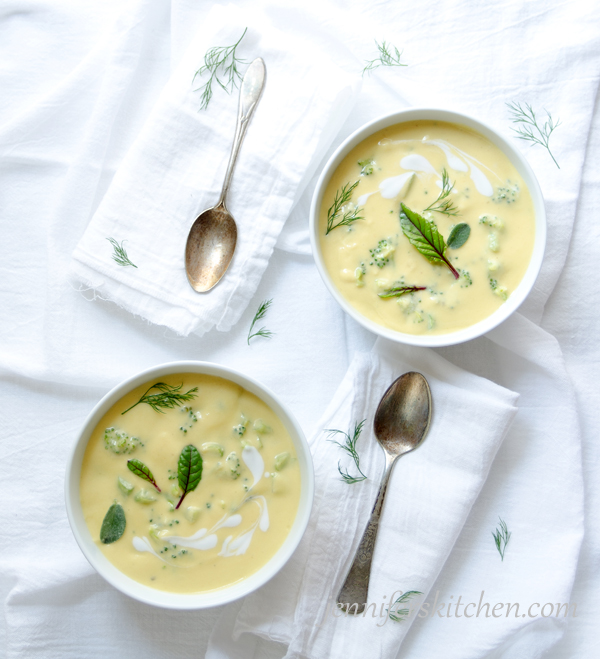 This delicious broccoli soup is rich and creamy  – without a drop of cream. A fascinating combination of potatoes, chick peas, milk, seasonings, and tahini give it luscious creaminess without the fatteningness.
For a girl who hates tahini, I sure do use it a lot in my recipes (like here, here, here, here, here, and here). It's interesting how an ingredient can totally change in taste when you combine it with other ingredients.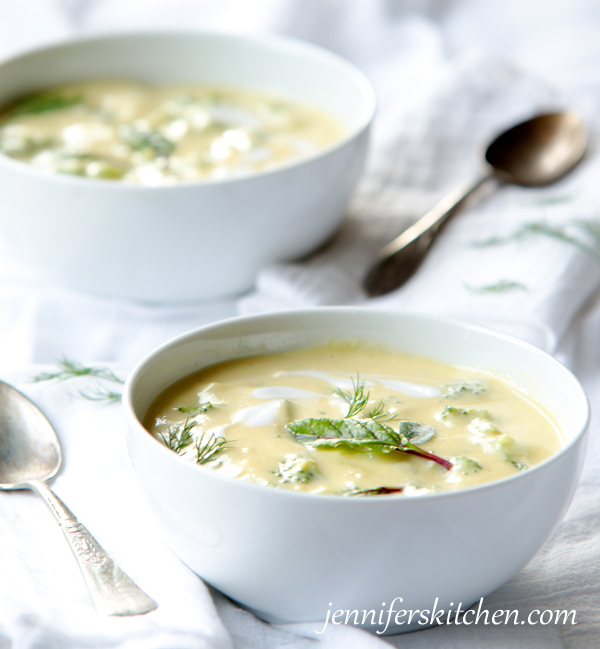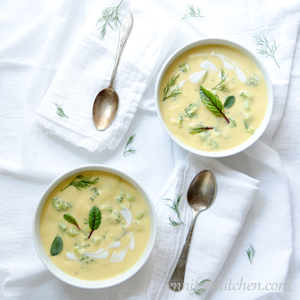 Print
Creamy Broccoli Soup
Yield 4 servings
Rich and creamy broccoli soup - without a drop of cream.
Ingredients
2 medium onions, diced
1 tablespoon olive oil
6 cloves garlic, minced
2 small to medium potatoes, peeled and diced
2 1/4 cups water or broth - divided
2 - 3 cups non-dairy milk (plain, unsweetened)
1/2 small carrot
1/4 cup cooked garbanzo beans – Use remaining garbanzos to make this delicious sandwich
2 tablespoons + 1 teaspoon granulated onion
2 tablespoons tahini
1 1/2 teaspoons salt - The amount of salt needed depends on how much salt is in your broth, beans, and milk. You may need to season to taste when soup is done.
4 cups chopped broccoli florets and tender stems
Instructions
In a large soup pot, sauté diced in oil over medium heat until onions are translucent and beginning to turn slightly golden – about 10 minutes.
Add garlic and sauté for 1 additional minute.
Add potatoes and 1 1/4 cup broth to pan, cover, and turn heat to high.
Reduce heat and cook until potatoes are tender – about 7 to 8 minutes.
Meanwhile, place milk, carrot, beans, granulated onion, tahini, and salt in blender jar. (A heavy-duty blender works best for this recipe; other blenders may not get the mixture smooth enough.)
When potatoes are tender, transfer ingredients in pan to blender jar. It's okay if a few of the vegetables get left in the pan.
Pour remaining broth into pan and begin heating over high heat.
Add broccoli, cover, and bring to boil. Reduce heat and simmer until broccoli is tender – about 4 to 5 minutes.
Meanwhile, blend mixture in blender until smooth and creamy.
When broccoli is tender, add blender mixture. Stir. Heat until hot. Serve hot.
Popular Posts