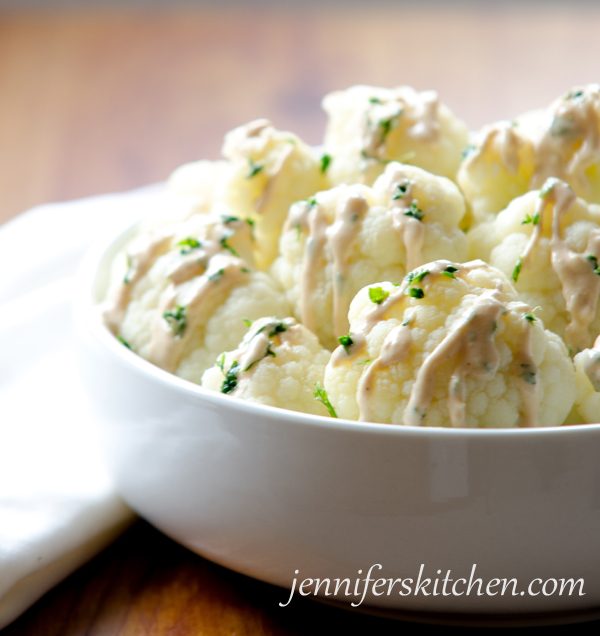 That picture of a bowl of cauliflower may not have you drooling and scrambling for the recipe quite the same as say, this Cherry Vanilla Ice Cream recipe. I mean, cauliflower and vanilla ice cream are both white, but that's about all they have in common, ya know? But stay with me, okay?
There are a lot of reasons to eat more vegetables. But there's one good reason not to.
Mushy blahness.
If you've been permanently scarred by childhood, mandatory "just three bites" of yucky, boiled broccoli or flavorless, gray peas, it's time to give veggies another go.
How to Make Vegetables Taste Good
1.  Don't Boil Them!
Boiled vegetables are mushy and bland. Yuck. Steaming them is better than boiling, but still a lot of the flavor escapes into the water below. Try low-water simmering instead. This method results in a better taste and texture.
Or roast them.  Roasting brings out a sweet, caramelized flavor and makes vegetables much tastier.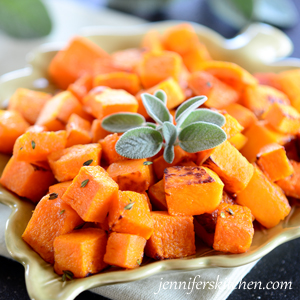 Or saute them. Quick. Easy. Delicious.
2. Dip 'Em.
Put out a plate of raw veggies, and they may sit there until veggie mortis sets in.  Pair them with a dip and they get gobbled right up.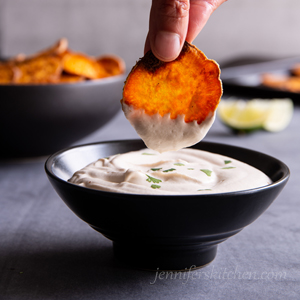 Dip your veggies in one of my healthy dip recipes.
3.  Mix It Up and Hide Them.
I hate sprouts, but I love them in this amazing sandwich.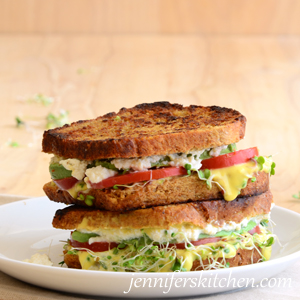 Sneak carrots into this rich and luscious Skinny Scalloped Potato recipe or this amazing Pasta with Vegan Cheese Sauce or these Quinoa Patties.
Hide cauliflower in these yummy Cauliflower Rice Patties.
Disguise broccoli in this creamy pasta sauce. or in these Broccoli Burgers.
Celery and cucumber are hardly noticed in this Chickpea Salad Sandwich, but they bring loads of nutrition to your lunch box.
Add extra carrots to noodle soup or cauliflower to tomato pasta sauce.
4.  Get Dressed.
Plain vegetables are plain boring.  And just about anyone would find it difficult to eat a plateful of plain, steamed cauliflower.
Dress up your veggies with healthy sauces and dressings.  I have several here on my blog that are not only delicious, but are healthy too, so you can pour them on and not worry about calories!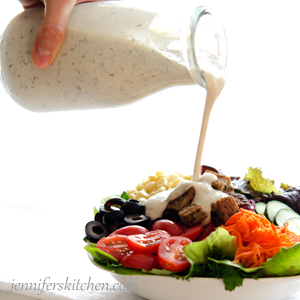 One of my favorite sauces for vegetables is this Tahini Lemon Sauce.  I especially like it on cauliflower and kale.
What is Tahini?
Tahini is a puree/butter made from sesame seeds. It's rich in calcium and B vitamins.  And tahini is a good source of plant estrogens called lignans, which have antioxidant properties.
About the Photo
My picky very talented photographer wouldn't let me smother the cauliflower with the sauce like I normally would when I'm eating this, because she said it didn't look good in the photo.  But go ahead and dump the sauce on your veggies. I won't tell her.
This website is brought to you without annoying ads because we can better live healthier lives without the influence of marketing. But running a high-traffic site is expensive. How can you help? If you purchase anything through the affiliate links on my site, your cost is the same, but I receive a small commission. Thank you!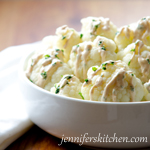 Print
Cauliflower with Lemon Tahini Sauce
Ingredients
1/4 cup water or broth
4 cups raw cauliflower florets
2 cloves garlic, crushed
1/4 cup tahini
1/4 cup lemon juice
1/2 teaspoon granulated onion
1/4 teaspoon salt
2 tablespoons fresh minced parsley
Instructions
Place water in a saucepan and begin heating over high heat.
Add cauliflower and cover pan. Bring to boil, then reduce heat and simmer cauliflower until tender, but not soft. Watch closely to prevent scorching. Add more water if necessary, but to retain flavor do not add any more than needed.
Meanwhile, crush garlic with a garlic press and place in a small mixing bowl.
Add tahini, lemon juice, granulated onion, and salt to crushed garlic. Whisk together until mixture is smooth and creamy.
Stir in parsley.
When cauliflower is done, dress with tahini sauce and serve.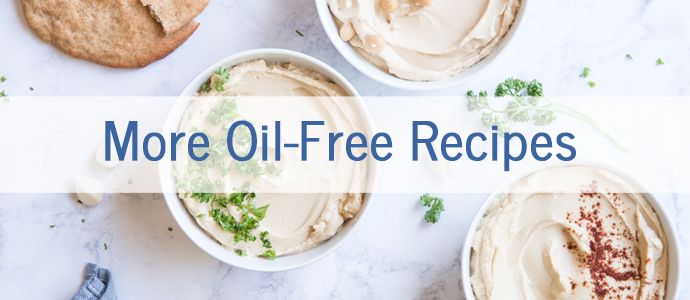 Popular Posts