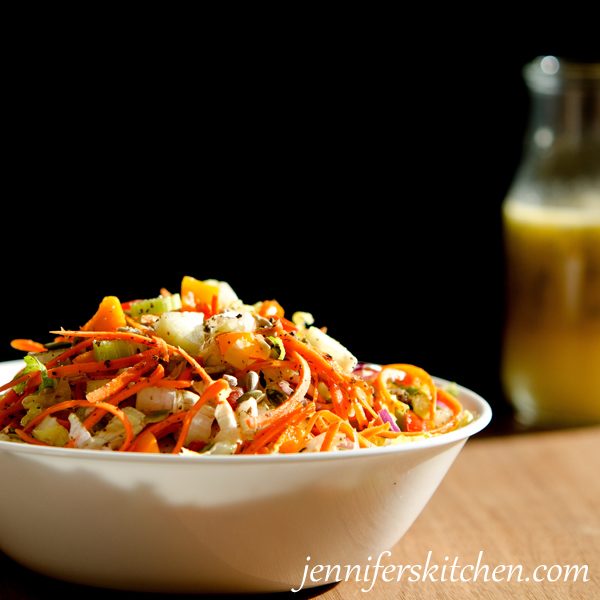 It's January. A new year. And time for all those healthy resolutions. So we have to eat at least one salad this month, right?
Except salads are not really my thing. I mean all that healthy lettuce and stuff. But chopped salads are different.
What's the difference between a chopped salad and a regular tossed salad?
In a chopped salad all the veggies — and whatever you include in your salad — are chopped very small and fairly uniform and mixed together with the dressing.
This means the flavors are distributed more evenly – so you don't get a big taste of blah lettuce in one bite and then the next bite it's plain ol' tomato.  Instead every forkful comes with full flavor and texture.
And no need to maneuver gigantic, ill-behaved lettuce leaves into your mouth. It all fits nicely on your fork and into your boca.
(As you can see, I break the rules a bit with my chopped salad. I like to make my carrots in long shreds with my julienne peeler. But they're skinny so they still work in a chopped salad.)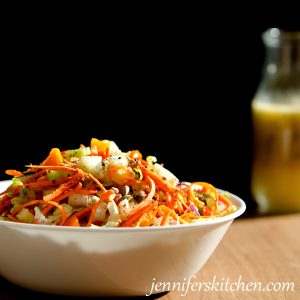 Print
Crunchy Chopped Salad
Salad with crunch and flavor in every bite!
Ingredients
2 stalks celery, finely diced
2 small to medium carrots, coarsely shredded
1 clove garlic, crushed
1/4 cup finely diced red onion or sweet onion
1/3 cup lemon juice
2 teaspoons dried basil
1/2 teaspoons dried oregano
1/2 teaspoon raw sugar, such as turbinado sugar or evaporated cane juice sugar
1 small to medium cucumber
1/2 sweet bell pepper
1 1/2 cups finely chopped Romaine lettuce
2 tablespoons olive oil
1/4 cup hulled sunflower seeds (raw or toasted)
2 tablespoons pepitas (raw or toasted) – optional
1 1/2 teaspoons granulated onion
1 teaspoon salt
Instructions
Prepare celery, carrots, garlic, and onion. Place in mixing bowl.
Place lemon juice, basil, oregano, and sugar in a saucepan and bring to low boil. Remove from heat and pour over celery, carrots, garlic, and onion. Quickly toss to coat.
Place mixture in refrigerator to chill.
Before serving, finely dice pepper and chop lettuce. (Be sure lettuce is dry.) Peel and finely dice cucumber.
Add to chilled mixture.
Stir in oil, seeds, granulated onion, and salt. Mix well. Serve.
Popular Posts