Oatmeal = boring breakfast, right?
Ah, but this isn't just any old oatmeal.
Whole oat groats – which lend a satisfying chewiness – are mixed with thick and rich carob-y deliciousness and topped with some toasty nuts and a drizzle of pure maple syrup. Oh, what a yummy way to start your day!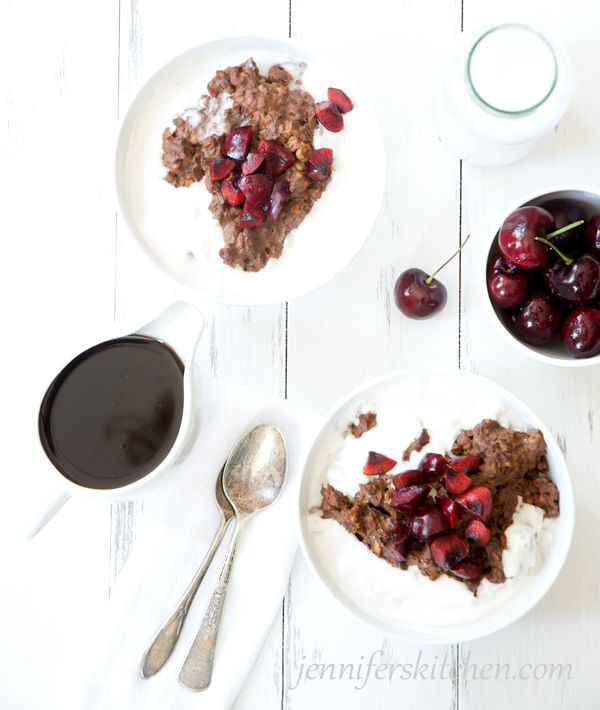 Why Use Carob Instead of Chocolate?
Cocoa comes from the cacao plant which is a source of beneficial phytochemicals; however, cocoa and chocolate also contain many harmful chemicals including phenylethylamine, theophylline, theobromine, and caffeine.
These chemicals have been shown to stress the kidneys, the adrenals, and the liver, contribute to lower bone density, cause a loss of vitamin B and vitamin C in the body, increase the risk of diabetes, aggravate PMS, and cause migraines and mood swings.
On the other hand, carob is a super healthy food. It does not contain caffeine, phenylethylamine, theophylline, and theobromine found in chocolate, so it doesn't carry with it the negative health effects that chocolate does.
Where Can I Buy Carob?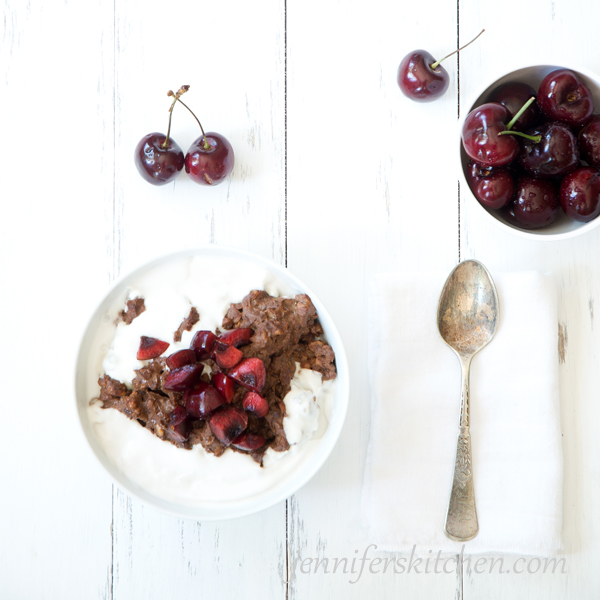 Here's where I buy my carob. Make sure you get good carob that is toasted.

Crock Pot Breakfasts
I use my crock pot (slow cooker) for breakfast several times a week. It's easy and I love the luxury of not having to cook breakfast in the morning.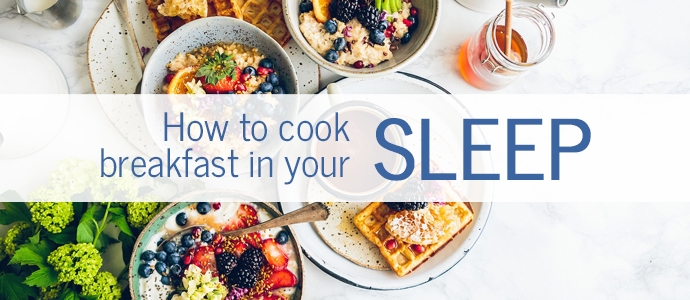 Click here for more easy crock pot meals.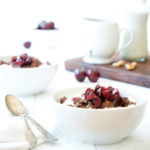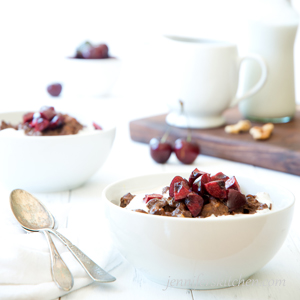 Carob Oatmeal
A delicious and healthy breakfast treat.
Instructions
Place dates, nuts, carob powder, salt, and 2 cups of milk in blender and blend until fairly smooth.

Pour blender mixture into a small slow cooker or Instant Pot and add oat groats. Gently stir in remaining 2 cups milk.

Cover and cook on low for 6 to 7 hours. (See note #2.) (If using an Instant Pot, use the slow-cook function.)

When cereal is done, stir in nut butter, vanilla, and chopped nuts. Stir cereal well as this will help it to thicken.

Serve hot with a drizzle of pure maple syrup and almond milk.

Carob Oatmeal is delicious topped with chopped nuts, coconut milk, frozen cherries, and sliced bananas.
Notes
1. This recipe is for a small (1 1/2- to 2-quart) slow cooker. Recipe may be adjusted for different size slow cookers.
2. All slow cookers cook differently.
If your crock pot cooks hot, then you may find that your overnight cereal tends to burn. To prevent this, be sure to cook on low and use an appliance timer to turn the slow cooker on and off automatically.
If your hot cereal turns out too thin or too thick, adjust liquid amount accordingly the next time you prepare overnight hot cereal. See this post for troubleshooting crock pot cooking.
Yield: 3 to 4 servings
>> One quick request: if you like this recipe, please leave a rating and a comment. Ratings help more people find these healthy recipes!
Print Recipe
More Carob Recipes
Would you like more carob recipes? Here are some of my favorites:
You my also like:
Before you go . . .
Did you know that you can eat all this delicious food AND lose weight? You can!
No calorie counting. No portion sizes.
Join my online weight loss program today!