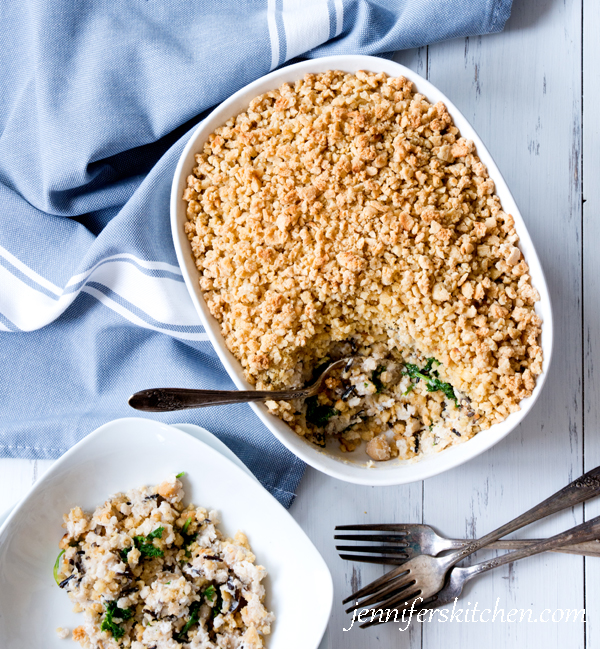 Here's a quiz for you.
Q: Is there such a thing as a comfort food that isn't fattening?
A: This Creamy Chickpea, Kale, and Wild Rice Casserole is comfort food at its best. Not only will it not contribute to weight gain, but with its high dose of fiber, it will actually help with weight loss.
Q: How long will it take you to whip up this delicious casserole?
A: Less than 10 minutes if you have leftover rice on hand and use the pre-cut kale you can find in just about any grocery store.
Q: What is one food you can almost always find in my frig?
Leftover cooked rice.
It comes in handy to make all kinds of delicious meals.
Q: How do you cook rice?
A: Here's a super easy tutorial for cooking rice. Once you cook rice this way, you'll never look back!
Q: What is one food that I do not like that somehow finds its way into lots of my recipes?
Tahini. It's a unique (and healthy) ingredient. You should get some.
Q: Should you try this casserole?
Yes. : )
Creamy comfort food, amazing nutrition profile, 10 minutes to make, pantry ingredients, leftovers for lunch the next day. Mmmmmm! What more can you ask for?
About the Wild Rice Blend
This recipe uses a wild rice blend. You can easily make your own by mixing 1/4 cup wild rice with 3/4 cups long-grain brown rice. Or you can go the even-easier route and buy this mix already mixed.
Soft, Tender Garbanzo Beans
Canned garbanzos aren't very tender and don't even compare to garbanzo beans (chickpeas) cooked in a crock pot or an Instant Pot.  While you can make this recipe with canned garbanzos, I try to have some slow-cooked garbanzo beans on hand in my frig or freezer because they are so much better and they take this recipe from delicious to fabulous.
Where to buy the best dried garbanzo beans?
Azure Standard carries the ABSOLUTE BEST garbanzo beans (chickpeas) I have ever tasted! They are super fresh and flavorful and always cook up tender and buttery. Once you try them, you'll never want garbanzo beans from anywhere else.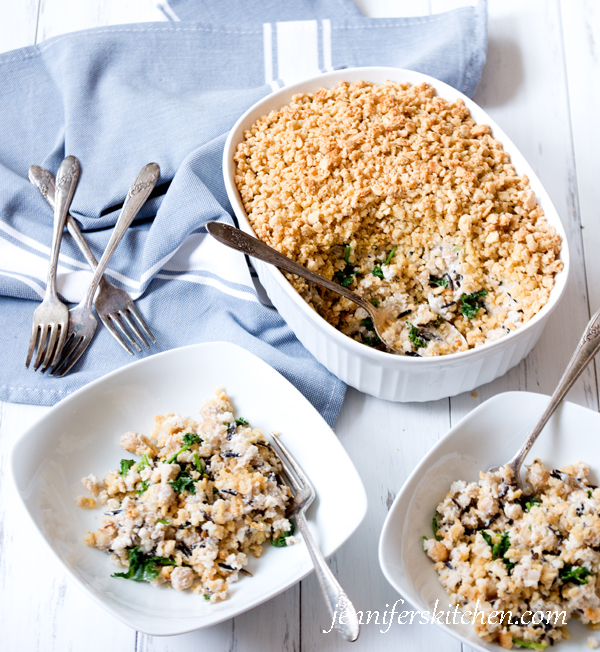 Print
Chickpea, Kale, and Wild Rice Casserole
Yield 4 servings
A comfort food that isn't fattening? Coming right up! This easy, warm, and comforting casserole is full of nutrition and goes straight from the oven to your table in minutes. Delicious served as a main dish with a large salad on the side.
Ingredients
4 1/2 cups cooked wild rice blend - see note in this post
2 1/2 cups chopped raw kale
1 1/2 cups cooked chickpeas (garbanzo beans) - See note
3/4 cup raw cashews
1 3/4 cups water
2 1/2 teaspoons granulated onion
1/4 teaspoon dried basil
1/4 teaspoon granulated garlic
1 pinch dried sage
1 1/2 teaspoons salt
1 tablespoon lemon juice
1 tablespoon tahini
1 1/2 cups seasoned bread crumbs (use gluten-free bread crumbs to keep this casserole gluten-free)
Instructions
Preheat oven to 400°F.
In a large mixing bowl, stir together cooked rice, chopped kale, and chickpeas.
Place cashews, 1 3/4 cups water, seasonings, lemon juice, and tahini in blender and blend until very smooth. (A heavy-duty blender works best for this recipe; other blenders may not get the mixture smooth enough. Mixture should be very smooth with no graininess.)
Stir blender mixture into rice mixture.
Transfer to a 1 1/2-quart, oven-proof casserole dish. Distribute bread crumbs over mixture.
Bake uncovered for 15 minutes or until bread crumb topping browns lightly. Serve hot.
Notes
I recommend washing cashews in a colander under very hot water before using.
You can use canned chickpeas, but if you cook your chickpeas in a crockpot or in an Instant Pot, they will be so tender and delicious.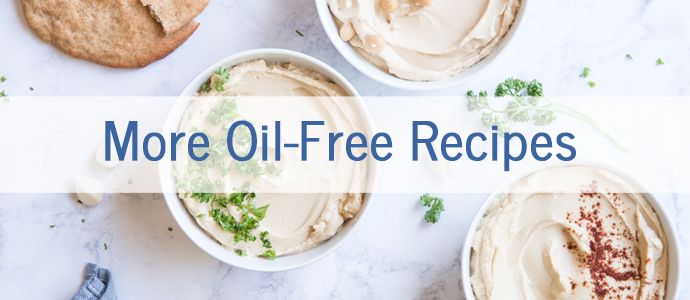 Popular Posts