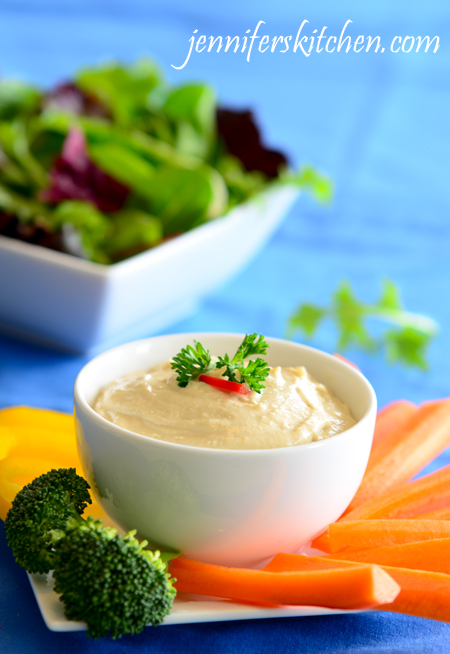 Once upon a time I used to hate tahini.  Now that I think about it, I still don't like the stuff.  It's very bitter.  Have you noticed?
You've never had tahini?  What is tahini?
Tahini is sort of like very bitter peanut butter. (My apologies to all you tahini fans.)
It's made by grinding sesame seeds into a thin paste … just like peanut butter is made by grinding up peanuts.  Only tahini is bitter.  I guess I already said that.
But tahini is very good-for-you.  It's rich in calcium (good for the bones) and B vitamins (good for the nerves).  And tahini is a good source of plant estrogens called lignans, which have antioxidant properties.  So it's healthy. And I wish I liked it, but I don't.
BUT I do like this awesome tahini dip.
With carrots.
With cucumbers.
Drizzled over cooked kale.
With celery sticks.
With pita chips.
On top of cooked broccoli.
On just about anything.  But not cereal.
If you've never tried tahini or if you don't like tahini, you should try this.
This recipe is quite user-friendly.  It takes about 5 minutes to make and you don't even need a blender.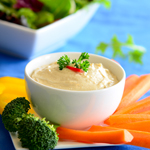 Print
Tahini Dip
A high-fiber dip that's free of refined fats and full of vitamins and minerals.
Ingredients
1/2 cup tahini
1/4 cup lemon juice, scant (fresh, if possible)
1 clove garlic, crushed or 1/8 teaspoon garlic powder
1/2 teaspoon onion powder
1/2 teaspoon salt
1/4 cup water (or to desired consistency)
Instructions
Stir together tahini, lemon juice, garlic, onion powder, and salt with a fork. Mixture will become very thick.
Add about 3 tablespoons of the water and whip together with fork until mixture is very smooth and dressing becomes thick. Add more water if needed to achieve desired consistency.
Did you make this recipe?
Share it on Instagram! Tag @jenniferskitchn and hashtag it #jenniferskitchn
Leave a comment
Your comments make my day! 🙂