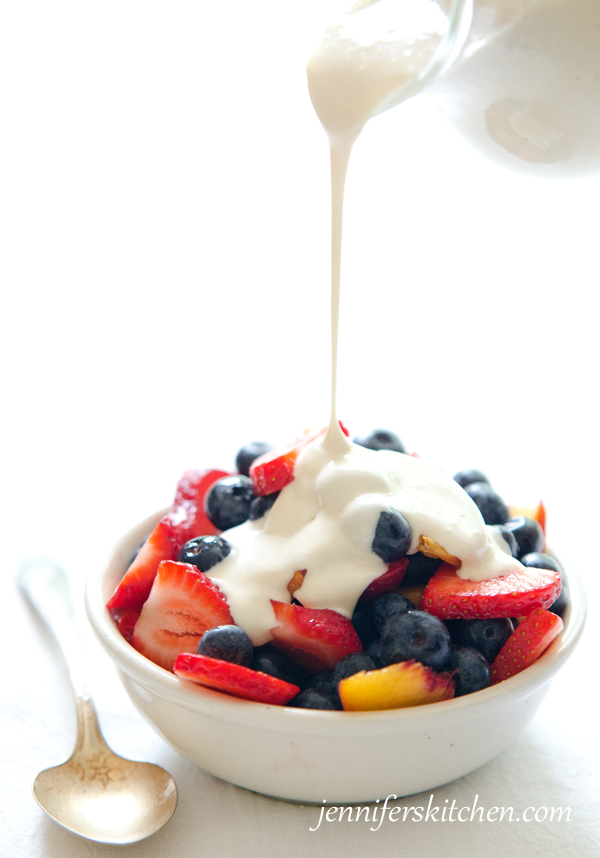 Yes, this fruit salad is fabulous! This recipe should probably make about 4 servings (or 8 if you go by the measly serving sizes set by the USDA), but I could almost eat the whole serving bowl myself! This is so good.
Why is this fruit salad fabulous?
1. It is so scrumptious!
2. Fruit! Fresh fruit! Whole, fresh fruit contains a perfect package of minerals, vitamins, fiber, enzymes, antioxidants, pectin, and other naturally-occurring "ingredients".
3. These "ingredients" (above) are very helpful for weight loss.
4. Eating fresh fruit for breakfast has been shown to help prevent overeating later in the day.
5. The sauce! Oh, the absolutely luscious sauce!
6. The best part about this fruit salad: licking out the bowl after you've eaten all the fruit.
Fabulous and Flexible Fruit Salad
By far my favorite fruits to use in this salad are blueberries and strawberries (the flavors go so well with the sauce), but other types of fruit work well also.
Wonderful Fabulous Breakfast
Have some of this Fabulous Fruit Salad on top of these Wonderful Waffles and you have a Wonderful Fabulous Breakfast! : )
Fabulous Fruit Salad
Naturally-sweet, naturally-slimming, fresh fruit and a creamy, vegan sauce make this fruit salad fabulous!
Ingredients
1 1/2

cups

full-fat, canned coconut milk

-

(one 14-ounce can)

1/4

cup

frozen pineapple juice concentrate

1/2

cup

raw cashews

1/8

teaspoon

salt

1/2

teaspoon

vanilla

1

banana, fresh or frozen
Fresh Fruit Mixture Options (4 cups total) – see note
blueberries

sliced strawberries

halved grapes

sliced bananas

sliced peaches
Instructions
Place coconut milk, juice concentrate, cashews, salt, and vanilla in blender and blend until smooth. (A

heavy-duty blender

works best for this recipe; other blenders may not get the mixture smooth enough.)

Add banana and blend until smooth.

Place fruit into serving bowl, add blender mixture, and gently stir. Serve immediately.
Notes
Fresh fruit works best for this recipe. The exception is frozen strawberries; they taste really good in this salad.
My favorite fruit combo: 1 1/2 cups fresh blueberries + 1 1/2 cups sliced frozen strawberries + 1/2 cup sliced fresh peaches + 1/2 cup sliced bananas.
* * * This recipe for Fabulous Fruit Salad  is . . . gluten-free, plant based, oil-free, sugar-free, high in fiber, dairy free, egg-free, vegetarian, vegan, and made from real, whole foods.
>> One quick request: if you like this recipe, please leave a rating and a comment. Ratings help more people find these healthy recipes!
Print Recipe
What's your favorite fresh fruit?
You my also like:
Before you go . . .
Did you know that you can eat all this delicious food AND lose weight? You can!
No calorie counting. No portion sizes.
Join my online weight loss program today!